KEF's Wireless Wizards – The new LS50 wireless active loudspeakers from KEF are an all-in-one solution that take up little space but pack a mighty punch, says Jon Myles.
A decent hi-fi system can take up a lot of space in your living room, with source components, amplifier, loudspeakers and the like. But need it be so? Not according to KEF whose new LS50 Wireless loudspeakers junk the clutter without sacrificing sound quality.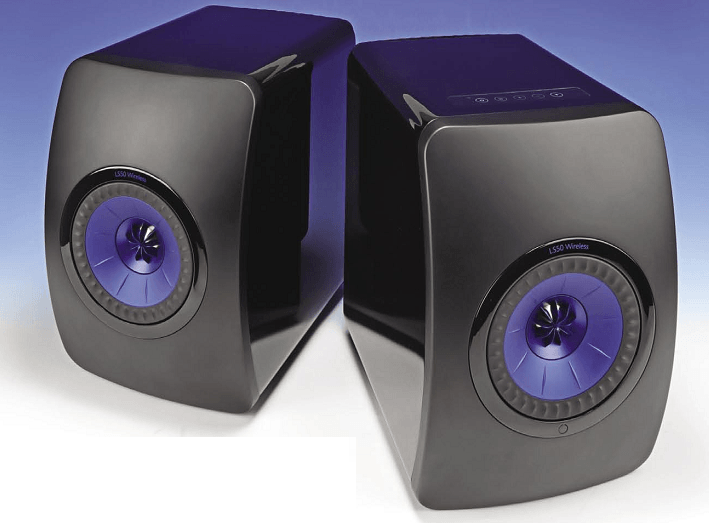 How so? These are a pair of active standmount loudspeakers incorporating their own amplification as well as built-in Spotify and Tidal compatibility for accessing streaming services, the ability to find music on your own home network (from a NAS drive or computer) as well as being able to deliver tracks from smart devices via Bluetooth.
Based on the excellent-sounding KEF LS50 passive loudspeakers, these new actives are slightly larger to accommodate the electronics and heatsinking but are still relatively small at 30cm x 20cm x 30.8cm (H/ W/D).
The drive units are the same though, in the shape of the tried and tested KEF Uni-Q array which uses a 25mm aluminium dome tweeter sitting in the center of a 13cm magnesium/aluminium mid/bass cone to provide a point source arrangement.
A proprietary Tangerine wave-guide is fitted in front of the tweeter that, KEF say, helps dispersion.
But it is on the inside where things get truly interesting. Each loudspeaker has an internal DAC for processing digital signals as well as amplification developed in cooperation with KEF's sister company Gold Peak Electronics.
Designer Jack Oclee-Brown told me this involved extensive listening tests until the exact specifications were decided — which resulted in a Class D module being employed
for the mid/bass unit with separate Class A/B amplification driving the tweeter. It means there's 200 Watts per channel feeding into the former with 30 Watts per channel going into the latter – giving a healthy dose of power.
The 'speakers operate in a master/slave configuration with the right-hand unit containing the inputs and connected to its partner by a (supplied) cable. Take a look at the back of the master loudspeaker and you'll find analogue stereo inputs (RCA phono sockets), plus digital optical S/PDIF and USB type B inputs, as well as an ethernet socket for connecting to a home network. The internal DAC is capable of handling 24-bit/192kHz files through the USB and network connections with the optical going up to 96kHz signals.
Each loudspeaker also has controls for adjusting the sound for different speaker placements with options for close-to-wall or free space positioning. Download the free KEF app for tablets or smartphones and there are even more options for tailoring the sound.
And, of course, while they may be dubbed Wireless that's not quite accurate – you'll still need to plug each unit into a power outlet and connect them together.
SOUND QUALITY
Active loudspeakers have much going for them, not least the fact that the designers can precisely match the amplification to the characteristics of the drive units. They also remove the influence of 'speaker cables on the sound.
Done well they have a punch and authority passive loudspeakers struggle to match – and that is exactly how these KEFs sound.
Despite their relatively small size they have a big soundstage, the internal amplifier configuration projecting music well into the room with excellent left to right dispersion.
Playing Massive Attack's 'Safe From Harm' (24/96) I couldn't help but be struck at how deep and insightful the bass sounded. There's no overhang or unsettling boom but just a clean, precise rendition of the notes.
The same goes for the mid-range and treble. With Arvo Part's haunting 'Tabula Rasa' the Uni-Q driver brought out the space around the sparse piano parts while also retaining the natural decay of the notes.
Compared to the original passive LS50s these active versions have a touch more dynamism to them which works superbly with up-tempo music. Using the Bluetooth facility via an iPhone 7 Plus, the electronic synth bass of Lady Gaga's 'Bad Romance' throbbed with power yet never overwhelmed the vocals. Instead the whole track hung together beautifully combining a great sense of timing with superb detail.
Such was the performance on offer I couldn't help but turn the volume up – and the KEFs didn't complain. Even at, frankly, ear-splitting levels they stayed composed and tuneful – a testament to how well active loudspeakers can sound.
Those looking for the subsonic bass and overall scale that larger floorstanding loudspeakers can provide won't find it here. But the LS50s are so well-judged that you never think of what is missing but simply revel in the overall sound on offer.
CONCLUSION
KEF has fashioned something special with the LS50 Wireless package. You are getting an excellent loudspeaker with a streamer, DAC, pre-amp and amplification built- in which won't take up too much room but more importantly sounds superbly entertaining. Simply plug in, listen and enjoy.
MEASURED PERFORMANCE
The LS50 Wireless has a very smooth frequency response our analysis shows, free of variation except at 1.5kHz where a dip corresponds to a peak in port output, suggesting an internal cabinet mode responsible for phase cancellation – not uncommon in small cabinets. Subjectively this will not be easily audible.
The LS50's smoothness of output suggests very low coloration due to an absence of minor resonances. The slight downward tilt toward high frequencies ensures there's good body to the sound and the absence of a crossover dip and treble peaking tells of strong detail, yet smooth treble. This makes for amenable long term listening.
Set to Free Field (no close rear wall) and Stand Mounting bass is strong and extends smoothly down to 50Hz, the port (red trace) contributing to output around 40Hz. The speaker produces plentiful bass, but not subsonics. Selecting Desk mounting reduced upper bass and gave the flatest measured result. Selecting Wall reduced lower bass by a few dB.
The LS50s needed a low 93mV input to Aux to produce 90dB sound pressure level (very loud) so they can be connected to any mobile phone or tablet headphone output and reach full volume.
The LS50 Wireless will sound smooth, mild yet strong in bass output. Selecting Desk gives a drier bass delivery but one that is more accurate. In all, this is a very well developed loudspeaker of great ability, measurement shows. NK
FREQUENCY RESPONSE
Green – driver output
Red – port output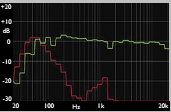 KEF LS50 WIRELESS
OUTSTANDING – amongst the best.
VALUE – keenly priced.
VERDICT
Enthralling sound from a pair of loudspeakers which pack in a DAC, pre-amp, streamer and Bluetooth. A truly innovative package from KEF.
FOR
clear and detailed
tight bass
connectivity options
sound bigger than they look
AGAINST