This entry is part 10 of 73 in the series
HeadPhone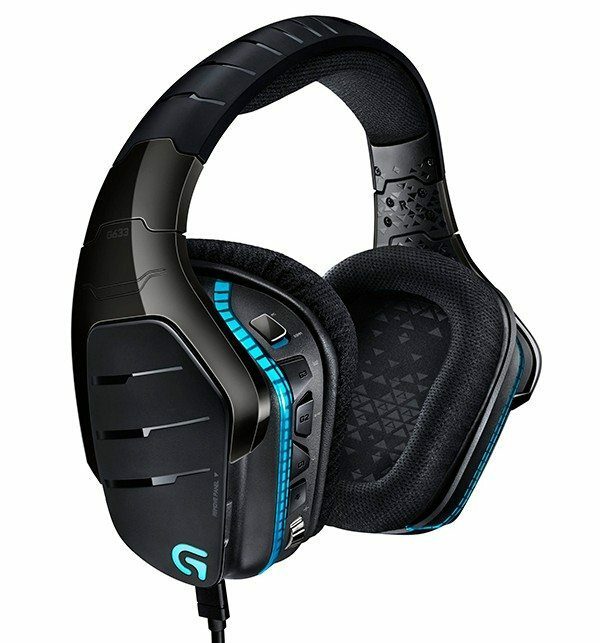 In development for 18 months at its expansive US audio facility which I recently visited, Logitech's new gaming headphones aim high, and hit most marks. These are gaming cans we can recommend highly; although they certainly aren't the cheapest you can buy. Ostensibly the two models are identical, with the cheaper 633's eschewing wireless, though in testing the wireless G933's gain a smidge of amplifi cation from the wireless circuitry and as a result have a slightly fuller tone.
Both sound fantastic, though. The sound is very clear and unadulterated by stealthed EQ stuŠ ng things around behind the scenes. Our resident audiophile, Jez Ford, was impressed, describing a "slight squeezing of some female vocals at the high end, but otherwise perfect for music". In my game testing the sound is also top notch. Bass is tight and doesn't smother higher frequency ranges, and the mid range is well fi lled out – something many game headphones deliberately equalise out of the equation for more pronounced trebly gunfi re and bassy explosions. Not so here, they cover all sounds without messing with each other, are thus accurate for competitive and yet most pleasant to listen to for long spells, bringing out the best from your games.
Surround imaging is impeccable. Better than any other gaming headphones we tested, and by some margin. This, mostly, is thanks to using the fairly rare DTSB Headphone X standard, in conjunction with Dolby 7.1, which replicates surround as it was created in the studio, thus giving you surround exactly as the game designer intended it in their studio, not some vague interpretation.
All this is achieved with a single custom 40mm driver in each cup. Compared to other cans with 40mm or even 50mm drivers – or several such in a single model – these sound so good yet are also supremely comfortable is a huge win.
The design is a closed type, which is a concession most gaming headphones need to make to not drive friends and family mad. Open almost always sounds better, but the general sense of airiness is nevertheless good with these.
They're also super comfortable, up there with the best, although on occasion they will slip o¡ your head if you're the animated type, or want to use these as simple music cans when out and about. They don't like to stay on with any sort of movement, in part because the band isn't especially tight (but good for comfort), and because the design puts the centre of gravity on the outer edge.
Three macro buttons are on the side of one cup, and with the included software each macro can cover personal sound profi les (EQ, voice morphing etc), as well fi ring up a custom lighting profi le for the glowy bits, should you be into that.
If you're eyeing headphones of this quality it's a good chance you also take your PC audio seriously and have a nicer solution than the included USB sound card can provide — although it is very good and if you've never used a nice sound card you will blissfully enjoy these, not knowing what you're missing. To get surround sound and macro support you need to use USB, but that's a standard game headphones thing. Both models do include a 3.5mm jack if you prefer to use your sound card or motherboard audio, but the supplied 3.5mm cable doesn't split into audio and mic, as it's intended to be plugged into your smartphone (it has an inline control, too), the idea being you can take calls while you're playing. If Logitech had included a cheap 3.5mm Y-cable, or splitter, in the box, sound card users could use it for game audio as well as their mic. Alas, you'll have to go out and buy one if that's your intended confi guration, but at least that's an option. That all said, it's exceedingly rare that you get both USB and 3.5mm, so that's a plus.
The flip out mic is noise cancelling and as clear as you would ever want. My online gaming group all commented on how clear my voice was.
Logitech's pulled comfort, audio quality and features together in what seems to be a well built, sturdy device which is equally adept at gaming as it is at music. Ben Mansill
Driver: (40 mm), frequency response • 20Hz-20KHz, impedance • 39 Ohms (passive), 5k Ohms (active), sensitivity • 107dB SPL/mW.