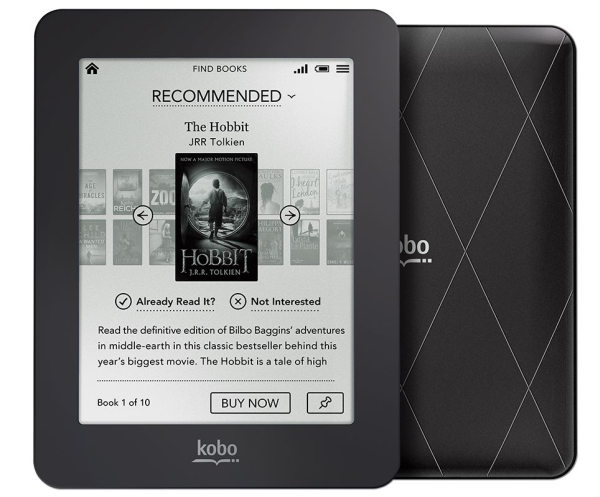 The second Kobo e-reader of the group, the Kobo Mini, isn't actually being produced any more, but it's being sold online and through a number of high-street shops and online, which is why we've included it here.
It's certainly a small e-reader. Weighing 134g, it has 5″ touchscreen and measures 102 x 10 x 133 mm. The 800 x 600 e-ink screen has 16-grey levels, and the Kobo Mini contains roughly the same features that the previous e-readers in this group have: 802.11b/g/n wi-fi, 2GB of storage, and the ability to read ePub, PDF, TXT, HTML and so on. Sadly, though, it lacks a backlight, but you can alter the contrast, and you can further improve the reading of the screen by tweaking the sharpness of the font.
It's also one of the oldest models we have in the group, and as a result, the Kobo Mini is somewhat slower than the other e-readers this week, but not enough that it will affect your reading pleasure. The user interface is simple enough, and navigating the home page is responsive and allows you to get to the act of actually reading before sheer annoyance starts to set in.
The Kobo Store offers a fair selection of e-books, with millions available, and it makes your purchase a simple enough affair. There's also not as much advertising as in Amazon's case, but you could also argue that less advertising means you could miss something that would be right up your street.
Being pocket-sized has its advantages. It's ideal for a spot of reading on a commute, and it's light enough to be held by a child, for example. The design of the Kobo Mini is basic, coming in only black or white and feeling more like a cheap import rather than a bona-fide product, although you can improve the look and feel through a series of colourful snap-on cases, if you feel the need to brighten up your e-reader. Some users have also 'enhanced' the Mini to make it function as a flight computer for paragliding and other such activities.
The Kobo Mini is okay, although it's certainly starting to look its age. But considering you can pick one up from Amazon for around £49, it might be enough to make for a cheap, first time e-reader. On the other hand, for another £60 you'll get the far more capable and modern Kindle.
Ideally, Kobo or whoever, is planning on keeping the product going and updating it in the near future. Then again, Kobo could very well wash its hands of the Mini and focus on the newer line of Touch 2.0 readers. In short, you'll need to seriously look into the Mini and consider its future before committing to a purchase.