VERDICT
A cheap 4G phone with a good camera, but its rough screen and unresponsive buttons make it a chore to use on a daily basis.
HUAWETS ASCEND G6 is a 4G-enabled phone that only costs SIM-free, so it's an enticing prospect for those who want superfast downloads without having to spend a lot.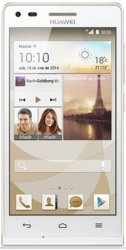 From the outside, the Ascend G6 looks very similar to its larger cousin, the Ascend P7 (see Reviews, Shopper 318). Measuring a mere 7.9mm thick and weighing 115g, it's light and comfortable to hold, and the rounded bottom is a refreshing change from the angled edges seen elsewhere The Ascend G6's matt plastic back doesn't provide a lot of grip, though, so it's slippery to use one-handed.
As with all Huawei phones, the company's custom Emotion Ul runs on top of the G6's Android 4.3 operating system. This means you'll have to fit all your apps on the G6's nine home screens, as there's no general app tray. Sadly, the G6 still uses the old-fashioned 2.0 Lite version of Emotion rather than the newer, sleeker 2.3 iteration on the Ascend P7, so app icons and menu settings look a little dated by comparison. There are four themes to choose from to alter the appearance of your home screens, but none is particularly attractive; two of them are different shades of brown.


We weren't big fans of the 4V£in display either, as there was a non-removable screen protector on our review sample that made it feel rough and brittle. It's a different type of protector to the one on the P7, and when we swiped our thumb down the G6's screen, it sounded like we were cleaning windows with a rubber squeegee. The touch-sensitive buttons below the screen weren't very responsive, either, and we often had to tap them twice for our touch to register.
The screen's image quality was equally underwhelming, as our colour calibrator showed it was displaying just 88.8 per cent of the sRGB colour gamut. This is below average for an IPS display, and so colours weren't as rich or vibrant as we might expect from this type of panel. Black levels weren't much better, measuring 0.50cd/m2. This meant our darker test images showed strong traces of grey in deeper areas of shadow, but at least the screen's contrast ratio of 885:1 meant we could see still a reasonable amount of detail onscreen, even when we had the phone lying on a table.
QUAD REPORT
Inside, the G6 has a 1.2GHz quad-core Qualcomm Snapdragon 400 processor. This is fast becoming the standard processor for mid-range phones, but much cheaper phones such as the Motorola Moto G also use this processor, and that makes the G6 look a little sluggish for its price. This was particularly evident in our SunSpider JavaScript test, as the G6 scored 1,406ms in its default browser, putting it just 4ms ahead of the Moto G.


In practice, web browsing on the G6 was very smooth with almost no lag or delay when scrolling up and down the screen. You'll have to zoom in to read most of the headlines in desktop-based web pages, though, as the G6's tiny 960×540 resolution doesn't leave a lot of room for text. Movement could appear a little jerky when zoomed in and panning around a web page, but on the whole we're pleased with the Ascend P7's web browsing performance.
The G6's graphics performance was good, but it was still only a few frames quicker than the Moto G in our 3DMark Ice Storm test. The G6 scored 5,749, which equates to 26.3fps, while the Moto G's score of 5,412 isn't far behind. The G6 should still be able to handle most apps in the Google Play Store, as its score of 45.8fps in Epic Citadel on Ultra High quality settings is a lot quicker than the Moto G's score of 34.7fps. This is partly because the Ascend G6 has a smaller resolution, so it doesn't need to render so many pixels.
The G6's battery life was mediocre. Its 2,000mAh battery lasted for nine hours in our battery test with the screen set to half brightness. We got this result using the G6's Normal power saving mode, but there are also Smart and Endurance options intended to improve battery life by limiting CPU and network usage.
The Ascend G6's one redeeming feature is its 8-megapixel camera. Colours were a bit cool in our outdoor test shots, but photos were a lot brighter and more vivid than shots we took with the Moto X at the same time. The sky was slightly better exposed and we didn't see much noise in larger areas of a single colour, either.
We also tried the G6's HDR mode. Again, pictures looked more natural and accurate than those we took with the Moto X, and the effects never felt too harsh or artificial. There's also a Smart, Beauty, Panorama, Effect and Sound & Shot modes to choose from, the latter of which takes shots via voice commands.
ASCEND INTO MADNESS
Huawei's Ascend G6 may have price on its side as a 4G handset, but it's not that pleasant to use and there are far better phones available for less. With the 4G version of the Motorola Moto G on sale for £160 SIM-free or £19-per-month on contract (from www.phones4u.co.uk), there's no reason to choose the Ascend G6 over Motorola's budget marvel.