Do you get sick of entering your username and password every time you go on an Internet forum or shopping site? With iCloud Keychain, you can store all your password information on the cloud and sync it between your Apple devices using iCloud.
SETTING UP THE KEYCHAIN
iCloud Keychain is a great way of storing passwords in the cloud, so you don't have to remember them. Follow this procedure to set it up.
Open the System Preferences link from the main Apple menu and select the iCloud option,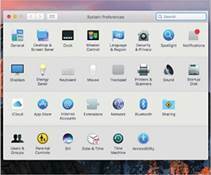 From this pane, select the Keychain option and enter your Apple ID password to move on,
You're now required to enter the password you set up initially to protect your Apple ID.
You will then receive a code, that will be sent to the phone number you added to your Apple ID. Enter it here and the process is complete.