Desktop PCs aren't the only computers you can spruce up with a few new parts – laptops can be upgraded too. But which components should you replace, and how?
Memory
Laptops typically give you a lower spec than a desktop PC for your money. If you bought yours with 4GB, 2GB or even less, it may be struggling to keep several Windows 10 programs running smoothly. Expanding the memory won't speed everything up, but should make loading programs and switching between them noticeably faster.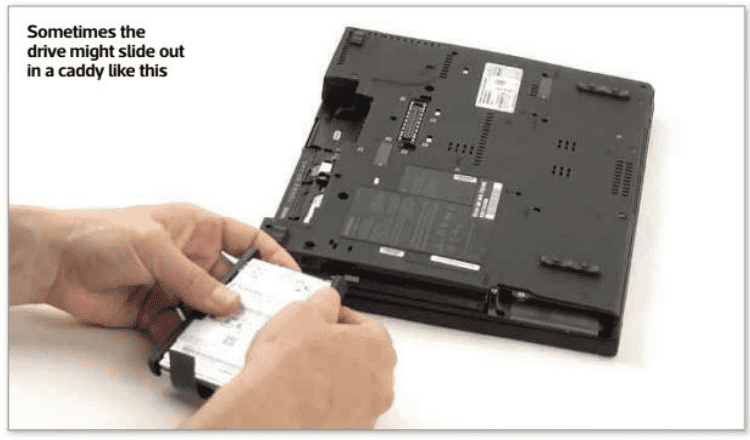 Use a memory processor sales site such as Crucial's (https://uk.crucial.com, see screenshot below middle) to see what upgrades are available for your laptop. There's no need to buy processors from your laptop's own brand; they're highly standardized. You'll usually have to throw out what's already installed and replace it with higher-capacity modules, 8GB should suit most purposes.
Replacing your laptop's battery could give it a new lease of life if the original one isn't lasting as long as it used to
To get at your laptop's memory, there may be a small hatch, or you may have to remove either the back panel or the keyboard. Next, pull apart two clips to release the module, which will flip up so you can pull it out. Slot the new one in the same way round and push it beyond the clips until it sits completely firm. Check your laptop maker's support website for specific instructions.
Hard drive
Some laptops now come with NAND processors soldered to the motherboard, making storage upgrades impossible. Others have them on a small PCI board, which is tricky to replace. But most have a hard drive or SSD in a standard 2.5in format, and you should be able to get at this to replace it. Removing a panel or the back cover may reveal the drive plugged into a SATA connector, or it may slide out in a caddy, in which case you remove the old drive, replace it with the new one and slide it back in (see picture above).
If you have a 1TB or smaller hard drive and need more room, swap it for a 2TB drive. If speed is more important, replace the drive with an SSD. This will make your laptop start faster and load programs quicker. It could well be three times faster than your old hard drive.
Assuming your laptop has one drive with Window's installed on it, you'll need to clone it to the new one so your PC can boot from it. This requires a drive-cloning program and an external caddy to connect the new drive temporarily, via USB. You can do this using free software such as EaseUS Todo Backup Free – pick the System Clone option (see screenshot below) – but make sure you untick all the options to download unwanted extras. Kits are available (see Kingston review' above) that pair an SSD with a caddy and software to get you through the w'hole process.
Battery
Replacing your laptop's battery could give it a new lease of life if the original one isn't lasting as long as it used to. Search online for 'authorized replacement laptop battery' and you'll find official sources for the big manufacturers. Batteries typically, so you'll need to consider if it's worth it for an older laptop. Cheaper 'compatible' batteries can be found on eBay, but obscure foreign suppliers and flammable lithium-ion technology are not reassuring bedfellow's. One option is to buy a compatible battery from a reputable vendor such as Maplin: search for your model at http://www.maplin.co.uk/battery-finder.
Processor
We've left this until last to remind you to think about it first Replacing a laptop's processor is unlikely to be practical. So before planning any upgrades, consider whether a slow processor means your laptop isn't worth improving. If you have an Atom, Pentium or Celeron processor – anything less than a Core i3, i5 or i7 – Windows 10 will feel sluggish even with more memory or an SSD.
If you're happy with your laptop's performance but need more storage, a drive swap could make sense. But if speed isn't a concern, plugging in a USB stick or SD card is a simpler way to make room for your photo collection, for example.
Older machines running Windows XP, Vista or 7 may not be able to upgrade to Windows 10 (use Intel's 'Processor Support' page for help: https://www.intel.com/content/www/us/en/support/processors/000006105.html), meaning their useful life is limited. Upgrading is great, but the time comes when your money is better put towards a new' PC.
---
UPGRADE KIT
Kingston SSDNOW UV400 Upgrade Kit 480GB
Laptops aren't as easily upgradable as desktops, and some not at all, but if yours has a standard 2.5in hard drive this Kingston kit helps you swap it for a much faster 480GB SSD.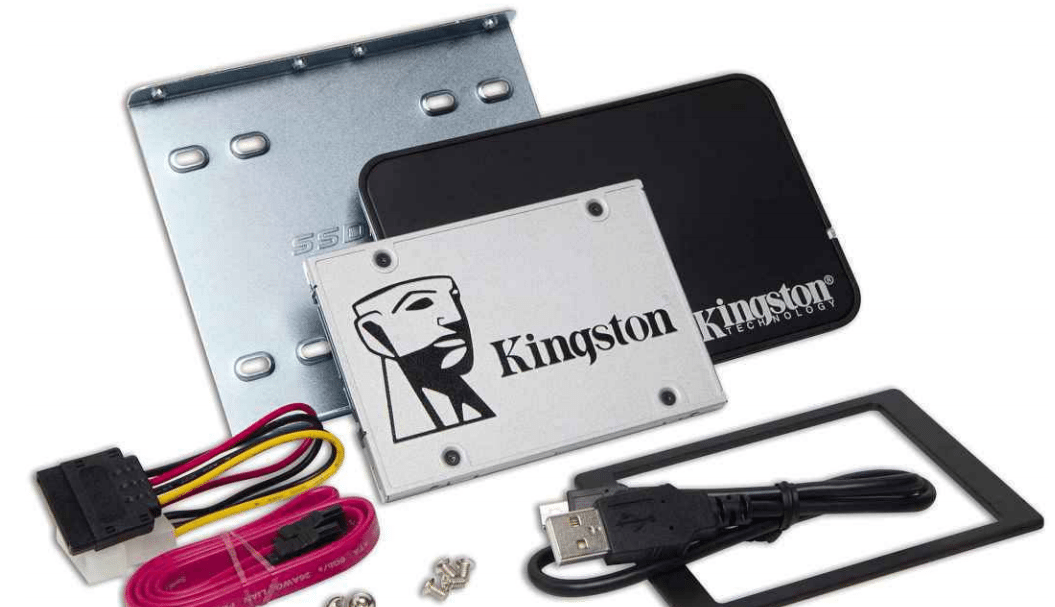 Your laptop should boot up as before, but quicker
Costing £10-£15 extra over the drive alone, this bundle adds an external caddy that lets you plug in the SSD via USB before you start. Using the supplied Acronis True Image HD software, you clone your existing hard drive to it. I hen it's out with the screwdriver to swap the drives, using the included foam spacer if necessary, and your laptop should boot up as before, but quicker. Our tests showed write speeds over 500 megabytes per second (MB/s) and read speeds over 550MB/S, falling to 320-440MB/S with awkward sets of small files.
These are good results, although Crucial's 525GB MX300 SSD is slightly better value as a bare drive.
VERDICT: Rating 4/5, Recommended
This kit is an excellent way to upgrade your laptop
SPECIFICATIONS:
480GB SATA III SSD2.5in upgrade kit • 3.5in mount and Molex power adapter for desktop PC • External USB caddy, cloning software and foam spacer for laptop • Three-year warranty
Check Intel's website to see whether your laptop's processor works with Windows 10
Many laptop batteries, like this one. can be popped out easily