YOU'LL NEED THIS ZENTYAL LINUX
A tailor-made server distro based on Ubuntu Linux. Its community edition is available for free as a 64-bit installable ISO.
BLANK HARD DISK
This will be taken over by Zentyal. You can test it inside a Virtual Machine.
THERE'S NO SHORTAGE OF ENTERPRISE-GRADE OPEN SOURCE APPLICATIONS for Setting up everything from firewalls and web servers to creating virtual private networks. But setting up and configuring gateway servers requires time and effort, which is where Linux distro Zentyal comes into play. Unlike a regular desktop distro, Zentyal is designed as a one-stop server for small/home office users. You can roll it out as a unified threat manager, office server, communication server and more, thanks to the distro bundling some of the best open source server tools, such as the OpenLDAP directory server, Bind DNS server, Jabber IM Server, Zarafa groupware, Asterisk VoIP and DansGuardian for content-control management.
It also has a great collection of custom management tools for setting up, controlling and monitoring the various components. Although configuring these network services does require a certain level of familiarity with networking, Zentyal does its best to ease you through the process.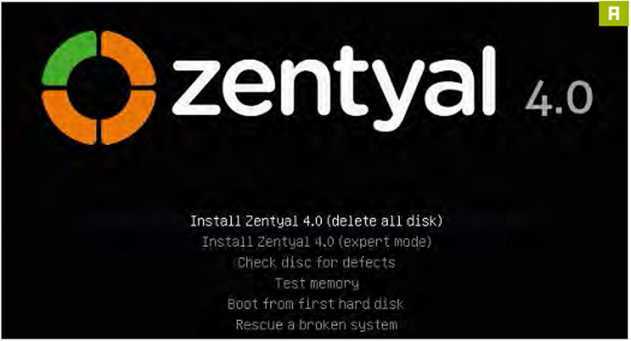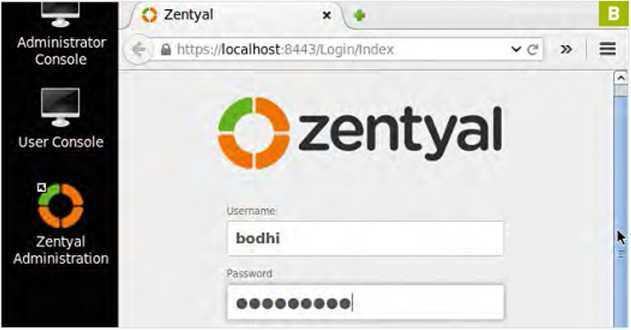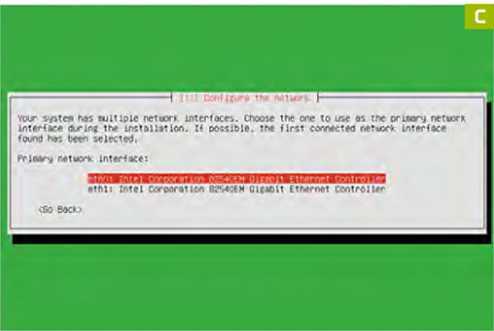 1
INSTALL ZENTYAL
A good server distro must be easy to deploy, set up and manage, which is why Zentyal releases are based on the Ubuntu Server Long Term Support (LTS) releases. The current stable release, Zentyal 4.0, is based on Ubuntu Server 14.04 LTS. Thanks to its Ubuntu underpinnings, installing it is simple – it's almost completely automated, as the distro is designed to take over the entire disk. However, you can do an Expert installation to manually partition the disk. You can also install the Zentyal server and its components on top of an existing Ubuntu Server installation.
» Head to www.zentyal.org/server and download the free community edition of Zentyal, burning the ISO image to a disc. Boot from this disc and select the default installation option, unless you're installing on a server with RAID or want to define your own partitioning layout – in which case select Expert mode (Image A).
» During installation, you'll only be prompted for basic requirements like your location and keyboard layout. When prompted to select a network card, choose the one connected to the internet, not your internal network. Also enter the login details of the admin user. The installer will transfer the core modules to your hard disk. When it reboots, the system automatically launches a desktop session with a browser to configure the server.
2 BOOTS 'N' ALL
When the distro boots for the first time, it will install some core packages by downloading them from the internet, so make sure it's connected. You'll be logged into Zentyal's sparse desktop, which has an open browser window to Zentyal's web-based administration console. Log into the administration section with the admin details you created during installation (Image B).
» Zentyal will then fire up a configuration wizard. From here you can install various servers and services such as DHCP Server, Firewall. Domain Controller and Jabber. The server will automatically resolve any dependencies, inform you about the additional components it will install and then fetch them all from the internet. You can skip this step and install them later if you prefer.
» One important part of this initial configuration wizard is the networking step. Typically, a Zentyal server will have multiple network interfaces – one pointing to the internet and the other pointed towards the internal intranet. In this step Zentyal shows you all the available network interfaces on your server and asks you to configure them (Image C). You'll first have to mark all available interfaces as either External (connected to the internet) or Internal (connected to the intranet). This will impact several settings, such as the default policies for the firewall, and sets up the default listen interfaces for other modules. Next you'll get the option to configure these interfaces by manually specifying an IP address or asking the server to use DHCP.
» The closing steps in this initial configuration wizard will vary depending on the servers you selected. For example, if you select the Domain Controller and File Sharing server, Zentyal will prompt you to select the type of server as well as the domain name of the server. Similarly, if you've selected the Mail and Groupware server you'll be asked to specify the domain name for your mail account. Again, you can skip configuring these servers for now and set them up later.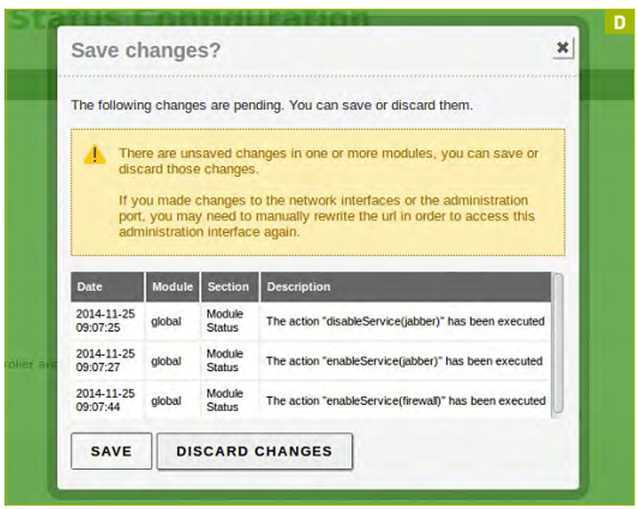 3
ACCESSING THE DASHBOARD
When you've finished with the initial configuration wizard, Zentyal will take you to the Dashboard. You can administer and monitor the Zentyal installation from this Dashboard. In addition to Zentyal's minimalistic LXDE-based desktop, you can also access this Dashboard remotely from any computer on the same network as the Zentyal server.
» To access it, simply enter the Zentyal server's IP address followed by the port it's running on, so for example https://192.168.2.5:8443. Dashboard can only be accessed through Secure HTTP and runs on port 8663 by default. Also note that since the admin portal is served via the HTTPS protocol, your browser will initially ask you to add a security exception (which you should), as the server lacks a signed certificate.
» From the Dashboard you can watch various server components, such as the CPU load, plus the status of all the installed components. From here you can also installany available updates to the underlying core Zentyal distribution. The navigation bar on the left of the Dashboard will list the various installed modules, as you add them.
4 SET UP A JABBER IM SERVER
I You'll want to keep communications under your control, so to configure an instant messaging server, make sure you've installed the Jabber component. Head to 'Software Management -> Zentyal Components' and click the View basic mode' link. Select 'Jabber' under the Additional services' page, scroll down and click the 'Install' button. Zentyal will show you a list of additional dependency modules that need to be installed. Click 'Continue' to install them all.
» Next head to Module Status, tick the Jabber box to enable the Jabber module and click the Save' button to activate it (Image D). To configure the service, go to Jabber in the left-hand menu and set the parameters for the server. Make sure you enter a Jabber domain – you'll then have to pass this on to your users so they can connect to this server (Image E). Feel free to enable/disable the other settings on this page. It's advisable to use the Allow SSL option' to make sure the chats are encrypted.
» Head to 'Users and Computers -> Manage', which displays a list of Groups and Users on the Zentyal server. Click the [+] button to add a new user. You can similarly add Groups and associate users with them. Click a username, scroll down to the Modules configuration section and use the pull-down menu to 'Enable Jabber' for this user. You can also tick the box to give this user admin privileges if you want to.
» That's all there is to it – but before your users can begin chatting with each other they'll need to configure their Jabber client. Head to xmpp.org for a list of supported Jabber clients. The exact configuration steps vary for each client. Make sure you select Jabber' or 'XMPP' as the protocol (Image F). Then enter your username and password in the appropriate boxes, along with the domain name you specified when you were installing Zentyal.
» All users will have to follow the same process. Once they've authenticated with the Jabber server, they can add each other and start communicating. Users can also change their password and other details. The Admin user gets some special powers and can see which users are connected to the server, set the message of the day, and broadcast a notice to all connected users.
INSTALL ZENTYAL OVER UBUNTU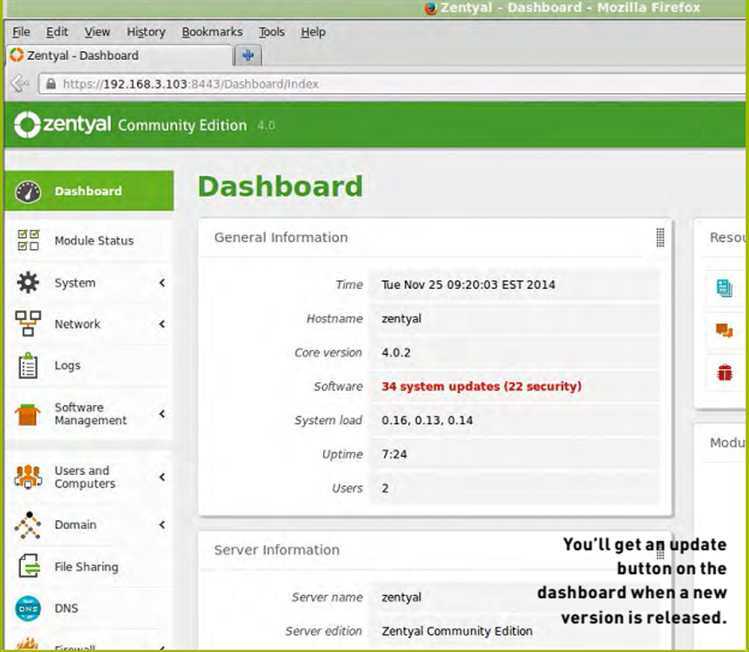 While it's advisable to use Zentyal's own ISO image to set it up, you can also deploy Zentyal on top of an existing Ubuntu Server installation. Begin by adding the Zentyal to your repository list with sudo add-apt-repository "deb http://archive.zentyal.org/zentyal 4.0 main".
Then import its key to authenticate the packages with "wget -q http://keys.zentyal.org/zentyal-4.0-archive.asc -0- | sudo apt-key add -"
Now update the package lists with "sudo apt-get update" and then install Zentyal with "sudo apt-get install zentyal". After the core packages have been installed, you can use the web-based Dashboard and set up the Zentyal install as detailed in the tutorial. You can also optionally fetch the required Zentyal modules using Ubuntu's apt-get package manager. For example, "sudo apt-get install zentyal-gateway" will install all of the components required to use the Zentyal installation as a gateway server and "sudo apt-get install zentyal-firewaU" will add firewall capabilities.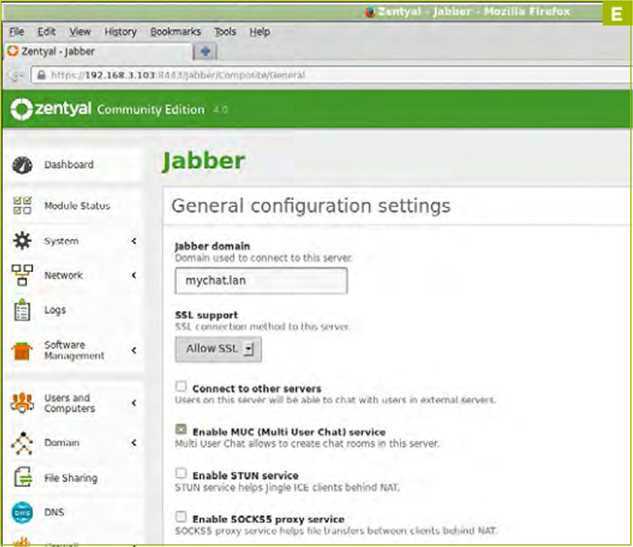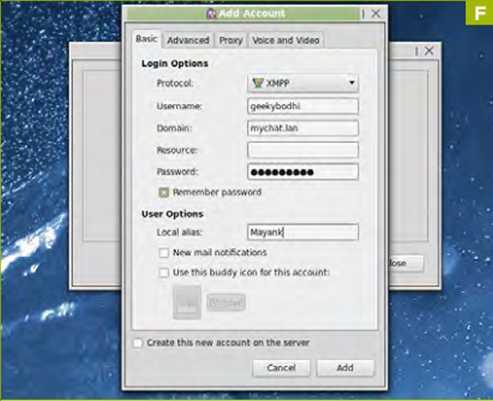 5
KEEP YOUR SERVER SHIP-SHAPE
You can monitor the health of the server from the main screen of the Dashboard. From here you can get general information about the server, such as its load average, uptime and number of connected users (Image G). Other sections give you details about the running status of the enabled modules and visualise network traffic. Head to the Logs section to configure and view detailed reports about all the enabled modules.
» To share your duties with another user, head to 'System -> General' and click the 'Add New' button inside the Administrator Accounts section. On the following page you can define the login credentials of the new admin user. Other settings include changing the hostname and domain name of the server, as well as changing the default port for the dashboard from 8443 to something else.
» Zentyal can also save your server's configuration. Head to 'System -> Configuration Backup', which allows you to save the settings either on Zentyal's cloud server or on your PC (Image H). For cloud backup, enter an email address and a password. Once set up, Zentyal automatically backs up settings daily. To restore them, browse the list of back-ups and use the 'Restore' button adjacent to the configuration you wish to restore.
»It's also important to keepyour system updated. The Dashboard lists the number of system and security updates available under the General Information section. Click the number listed there or head to 'Software Management -> System Updates' for more details. Security updates have a red shield in the component name. To update them all, scroll down the page and tick the Update all packages' option.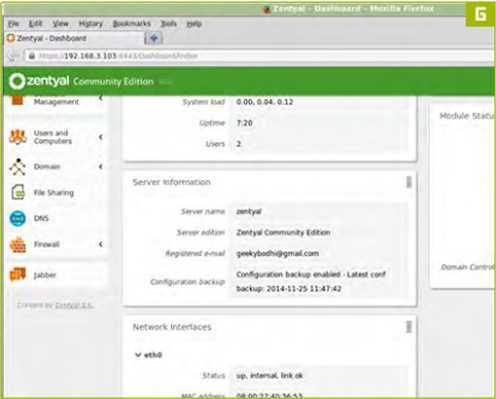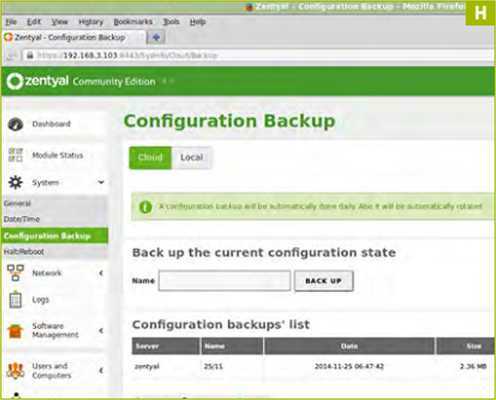 DOCUMENTATION AND SUPPORT
While it isn't too complex to set up, Zentyal's offers plenty of options if you need some handholding. For starters, there's a dedicated website where you'll find extensive, well-illustrated documentation for the various components of the distro.
The distro also has very active forums where users share their tips and tricks based on the setup of their own networks. It might range from something that'll be of use to only a handful of users – such as a step-by-step guide to resizing Zentyal's default root partition – to something more general, such as connecting a network printer to Zentyal and mapping it automatically to Windows XP users.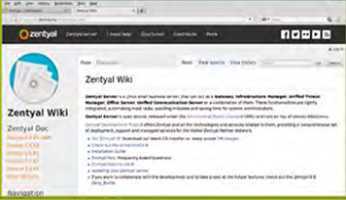 Besides the freely available Community Edition, Zentyal also offers a commercial edition for larger setups that you can test-drive free for 30 days. This edition includes Zentyal's flagship Mail and Directory servers that are compatible with Microsoft's Exchange Server and Active Directory, along with thoroughly vetted software updates, regular detailed reports and alerts from your deployments, plus the ability to remotely monitor and manage the servers. Zentyal also has resellers all over the world.
Zentyal also runs a variety of online and offline courses through its training program to teach the ropes of server management. There are courses for network technicians and for network administrators on how to deploy Zentyal most effectively, as well as advanced courses to help troubleshoot deployments and develop new Zentyal modules. The price for these courses starts from about £220.