Which platform?
The first question is whether you want an iPad or something else. The iPad is the natural choice if you already have other Apple hardware: most iOS apps can be shared across an iPhone and an iPad, and when the tablet's connected to your phone it can even receive calls and send text messages. For Mac users, the iPad can serve as a second display, or work with a stylus to draw in Mac apps.
Even if you're not an Apple fan, there are good reasons to pick the iPad. It has the biggest range of software and accessories, and it comes with two superb creative apps that Android can't match, namely GarageBand and iMovie. It also has a more mature multitasking system, so it may be better suited as a laptop replacement.
Yet Android has benefits of its own. There's a far wider range of tablets to choose from, starting at much lower prices. Android tablets also often have slots for microSD media, so you can expand your storage if you need to, which isn't the case with an iPad.
And while iPadOS wins out for high-end apps, the Google Play store offers half a million games, and can handle more or less any productivity task. You can write documents, study spreadsheets, mark up PDFs, edit photos and videos, sync files to the cloud, fire off emails and join Zoom meetings – everything most people will need.
However, not all Android-based tablets will give you the same software experience. Most manufacturers like to tailor the interface to give it their own flavour, while Amazon uses a customised fork of Android for its Fire tablets. If you need a specific app or feature, check before you invest.
Displaying around
This month we test tablets with screens ranging from 7in to 13in, and obviously this has an impact on the size and weight of the tablet. Just as important, though, is image quality. Thankfully, as you can see from our graphs on p92, every model on test delivered good brightness and contrast.
A high resolution ensures that text is clean and sharp, while if you want images to look colourful and lifelike, it's worth checking sRGB coverage and Delta E measurements. The former quantifies a tablet's ability to reproduce the full range of colours used online; the latter measures tonal accuracy.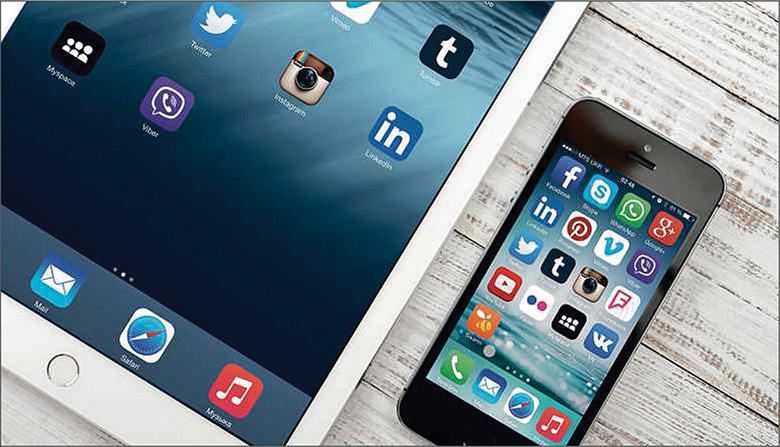 If performance is your priority, Apple is the way to go. Even the cheapest iPad beats any Android tablet for CPU-based computations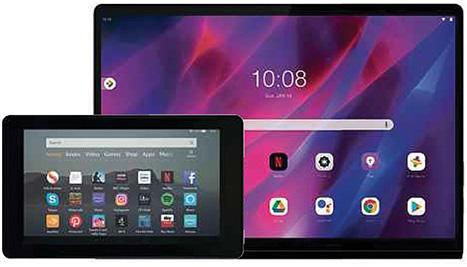 An average of less than 1 means that any deviations are too small to be perceived with the human eye.
We also test each tablet's coverage of the DCI-P3 colour space, which has a richer, wider range of colours than sRGB. You don't need this for everyday tasks, but it's used in digital cinema, so can lend some extra depth to online media. It's also a plus point if you want to use a tablet for your own photo or video editing.
How fast?
If performance is your priority, Apple is the way to go. Even the cheapest iPad beats any Android tablet for CPU-based computations, and gaming performance is just as impressive.
Not all applications need this sort of power. If you're into photo and video processing it can make sense to opt for a high-end chip, but browsing the web, watching videos and communicating with others are relatively lightweight tasks. Most 3D titles let you dial down detail settings so they'll play smoothly on any almost current hardware.
Don't go too low, though. The slowest processors can make Android feel sluggish, and things get worse if the system's starved of RAM: based on this month's tests we'd say 2GB is a viable minimum, while 4GB gives you a degree of headroom for multitasking.
Battery matters
As detailed opposite, we use a video-rundown test to measure each tablet's stamina. Longevity isn't the whole story, though. Most devices with USB-C connectors support fast charging, which lets you recharge a depleted battery fully in a matter of hours – or grab a quick top-up in a few minutes before you head out. You may, however, need to replace the bundled charger with a high-wattage model to get the fastest recharge times.
Some tablets also support wireless charging. This can be more convenient than fiddling about with cables, but you'll need to buy a separate charging pad as it's never included. And bear in mind that a big-screen tablet won't sit nicely on a phone-sized charging pad.
Skype calls and snapshots
A tablet is a wonderfully convenient platform for video calls. All the models on test this month have front-facing cameras and integrated microphones, so you can fire up Zoom, Teams or whatever app you prefer and instantly join and host calls.
Picture quality can vary, however. Manufactures often fit their tablets with mediocre cameras compared to high-end smartphones. Megapixel counts provide a clue to the camera quality see our table on p78), but if you want to be sure you'll look natural and detailed on calls – or if you hope to capture good-looking landscapes and portraits – we suggest you read our reviews for a verdict.
Socket to 'em
While we're on the subject of video calls, headset users should that note fewer than half of this month's tablets have a traditional 3.5mm audio socket. It's a frustrating trend: omitting the headphone jack might make phone slightly lighter and more compact, but that excuse doesn't really wash for a tablet. Our feature table indicates which models offer an audio output; for the rest you'll have to use Bluetooth or an adapter that plugs into the charging port.
The charging port itself could be a minor point of contention too. Almost all tablets now use a standard USB-C socket, but Amazon's Fire 7 tablet has a distinctly old-school micro-USB port, while the base iPad still uses Apple's own Lightning connector.
As for wireless, you'll note that not all tablets have yet moved up to Wi-Fi 6 technology: this isn't a disaster, but Wi-Fi 5 tends to be slower. For mobile internet access you can choose an LTE model that connects to the 4G or 5G mobile network, but your tablet will need its own SIM and data plan. It might well be more cost-efficient to simply tether it to your phone.
A final feature to look for is a fingerprint reader, which lets you unlock the tablet and confirm your identity without having to enter a PIN or pattern. Several Android tablets also feature Face Unlock, so you can get into your tablet simply by smiling at it; you won't find this on an iPad, outside of the super-expensive iPad Pro models.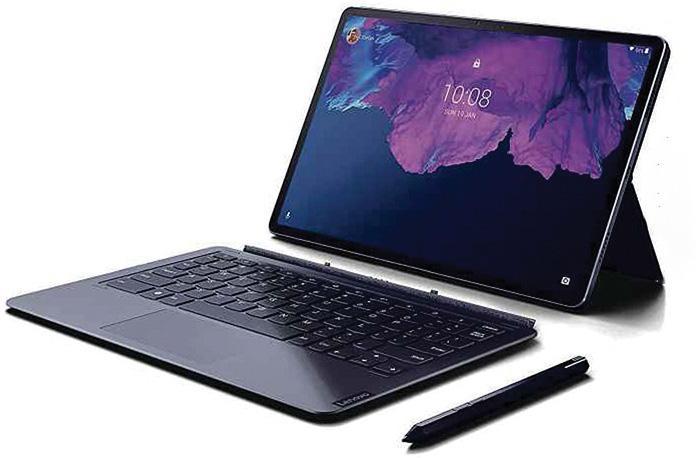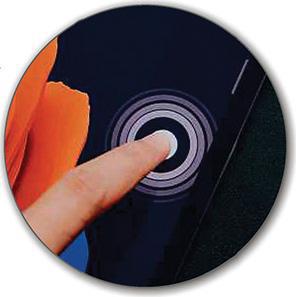 You can use a tablet perfectly happily on its own, but a few accessories can sweeten the experience
Accessories
You can use a tablet perfectly happily on its own, but a few accessories can sweeten the experience. The obvious one is a folding case, which not only protects the screen but can prop the tablet upright on a flat surface – useful for video calls and watching videos.
Many tablets support an optional stylus. You can use this as a more precise alternative to prodding buttons with your finger, or employ it more productively to jot plans or make notes on virtual documents You can even handwrite instead of typing: there's some astonishingly good handwriting-recognition software for both Android tablets and iPads.
The most transformative accessory is a keyboard, which turns your tablet into a minilaptop. Some models have official snap-on keyboards; otherwise you can always buy a standalone Bluetooth keyboard and pair it with your tablet. If the keyboard has a trackpad, you can choose to open and use apps with a traditional mouse pointer, rather than prodding the screen. Keyboard pricing can vary considerably, though: Lenovo includes one in the price of its Tab P11 Pro, while Apple's Magic Keyboard costs £ on its own.
Updates and support
Apple has record when it comes to longterm software support, typically providing OS updates for many years after you've bought your tablet. For example, latest iPadOS 15 release the works on iPads dating to 2017, and on iPad Air models going the way back to 2014. While the company doesn't back to 2017, and on Air models going all the way promises about any future upgrades, you can expect to keep up with the curve for a few years.
Google releases a new edition of Android roughly every 12 months, but whether you'll get it depends on the manufacturer's own update policy. The Lenovo Yoga Tab 13, for example, is sold with the promise of an update to Android 12 when it becomes available, while Nokia states merely that its T20 will receive updates for a period of two years after launch. You can normally expect one or two OS upgrades during the life of a product, and most manufacturers will continue to offer security updates even after they've stopped rolling out major platform updates.
Since Amazon's Fire OS is officially a separate platform to Android, it follows its own upgrade cycle, which happens to be rather slower. The current Fire OS 7 dates back to 2019, and is still underpinned by Android 9 – although it's so heavily customised by Amazon that you'd never know.
Which generation?
The biggest tablet brands have been around for as much as a decade now, and in that time the hardware has gone through numerous revisions. The entry-level iPad is now in its ninth generation, while the Kindle Fire HD 10 actually goes up to 11.
We've tested the current models of all of these tablets, and if you buy brand new then this is what you'll get. But if you're looking at refurbished or pre-owned hardware, check the date or the generation number: generally speaking, the arrow of progress only moves forward, so older models are likely to be shorter on power and lighter on features – and used batteries will have a shorter lifespan than new ones.
How we test
Every tablet in this Labs is subjected to a series of performance and quality tests. We test everyday app performance using the Geekbench 5 CPU and GPU computing benchmarks, and run a selection of modules from the 3DMark and GFXBench suites to compare 3D gaming performance.
We then use dedicated colorimeter hardware to measure the peak brightness and contrast ratio of each tablet's screen. We measure colour gamut coverage across both the web-friendly sRGB colour space and the wider DCI-P3 gamut, and calculate a Delta E value that reflects colour accuracy.
To measure battery life, we fully charge each tablet's battery, set the display to a standard brightness of 170cd/m2, activate flight mode and play a looping full-screen movie file in the platform's native video player. We then time how long it takes for the tablet to power down: the results, along with our performance and screen measurements, are all detailed from p92.
Finally, we spend some time getting hands-on with each tablet, trying out typical tasks such as listening to music and browsing the web; you'll find our impressions detailed in the full reviews on the following pages. Combining our hard data and subjective ratings, along with considerations of value for money and level of support, we then award each contender an overall rating out of five.