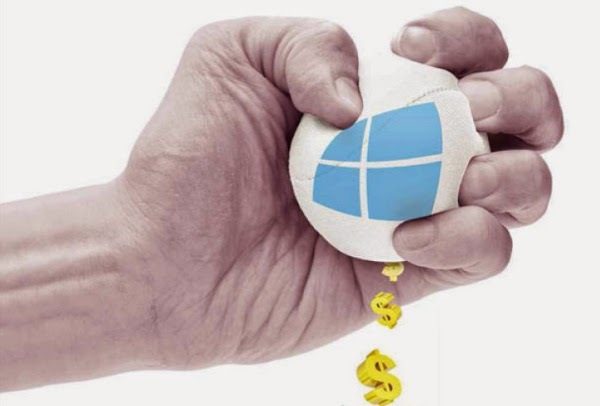 If Microsoft won't be charging for upgrades to Windows 10, and it's being bundled free with tablets, how will it keep the cash rolling in? Barry Collins investigates
It's free on phones, on compact tablets, and now for those who already have Windows 7 or 8 installed on their PCs. Is Windows, as Microsoft's chief operating officer was asked recently at the Credit Suisse Technology Conference, becoming a "loss leader"? Will it be given away for peanuts to lure people towards more lucrative products, such as Office 365?
Kevin Turner's answer was "no", but the fact that Microsoft is even being asked whether the Windows cash cow has been flogged to death is indicative of the predicament in which the company finds itself. It's still the only operating system most people would even consider running on home or business PCs, but it's also the last operating system most people want on their phones and tablets.
Can Microsoft still get away with charging consumers and businesses for an operating system? Will it become a subscription product, along the lines of Office 365? And are we witnessing the last of the major Windows releases? We've canvassed the opinion of the experts to find out.
Let's be clear: despite the headlines proclaiming I otherwise, Microsoft is not 7 giving Windows 10 away for "free". Although the company has announced it will be a free upgrade for the vast majority of PC users, it only ever collected a tiny proportion of its revenue from those paying to upgrade Windows V on their PCs. "Are they giving away billions of dollars?'' asked Al Gillen, a vice president at analyst firm IDC. "No. I don't even think they're giving away hundreds of millions of dollars."
The vast majority of Microsoft's Windows revenue comes from charging PC manufacturers to preinstall the OS on new PCs, and from volume licensing to businesses -and those enormous revenue streams aren't about to disappear overnight. Even with Microsoft waiving Windows license fees for compact tablets, it isn't really costing the company money. "Microsoft had no revenue in that marketplace in the first place, so it isn't giving anything up," Gillen pointed out.
Gillen compares Microsoft's predicament on phones and tablets to that of its problem with piracy. The company makes virtually no revenue from Windows in countries such as China, where piracy rates are sky high, and could probably "shut piracy down tomorrow if it wanted to." But it would rather have people participating in the Windows ecosystem, even if they aren't paying for it, than have them using an alternative OS.Yet, with Windows 10 now spanning everything from phones to workstation PCs, will the likes of Dell and HP resent paying Microsoft huge licence fees to preinstall Windows on PCs and laptops while others are getting a free copy of the same OS for their compact tablets? The real question might be: what choice do they have? "Microsoft will continue to charge on the PC because it can," said Gillen. "Yes, Linux is viable and free, but nobody really uses Linux [on the desktop]."Microsoft hasn't completely given up on earning revenue from phones and compact tablets, even if it isn't charging a traditional license fee. "We have to monetize it differently," said Microsoft COO Kevin Turner when asked at that Credit Suisse conference if the company was prepared to lose money on Windows.
"There are additional opportunities for us to bring additional services to the product and do it in a creative way., finding new ways to monetize the lifetime of that customer on those devices."
Many commentators interpreted that final comment as a signal that Microsoft intended to turn Windows into a subscription product, in the same way that it's managed to convert more than nine million Office users into Office 365 subscribers. "I really don't believe that's what we're going to see," said Wes Miller, research vice president at Microsoft analyst firm Directions on Microsoft.Instead, Microsoft will attempt to sell other products and services to those users who are getting Windows for free: Office 365, Skype subscriptions, Xbox Live, and services that might not even exist yet. "Services are going to be absolutely critical for Microsoft going forward," said Nicholas McQuire, vice president of enterprise at analyst CCS Insight.
"The Office experience is obviously the jewel in the crown for Microsoft, [but] it's up to Microsoft to find new services."
One thing's for sure: Microsoft is going to need to step up the rate of new Windows releases if it's to keep both consumers and businesses hooked. The company has talked of accelerating product release cycles for the past couple of years, not least because it hooks subscribers on the promise of getting access to the latest features as soon as they're released. Yet, Office 365 subscribers have seen no major changes to the desktop software since Office 2013, and those businesses on Software Assurance deals – which give volume-licensing customers the right to upgrade to the latest major versions of Microsoft products as they're released – have rarely seen much benefit.
Miller said the hit/miss cycle of Windows releases over the past couple of decades means businesses have often received a raw deal from Software Assurance. A company signing a Software Assurance deal at the beginning of the Windows XP life cycle would have had to have waited six years for the next major OS release, "and even when I did get something, it was Windows Vista," said Miller. Likewise, many of those who moved to Windows 7 in the early part of this decade have ignored Windows 8.
If, however, Windows 10 becomes the last major release of Windows – with Microsoft releasing lots of small, iterative updates to the current OS instead of major new versions – Software Assurance becomes even less attractive. "We're not going to see Windows 11, 12 or 13," said Gillen. "We'll see Windows 10 remain as the basic brand [for years to come]." Miller agreed, arguing: "Why would a business go and get Software Assurance now?"
McQuire added that Microsoft faces a "monumental" challenge in keeping Windows 10 updated at roughly the same rate across all of its device categories: that is phone, tablet and PC, not to mention the emerging Internet of Things market. "The underlying experience of a single operating system across different form factors is an important point of differentiation for Microsoft," he said.Microsoft has thrown an enormous number of balls into the air. We're about to find out if W the company can juggle.