AFTER YEARS OF dishing out cheap, but good, Android handsets, Google switched tack last year with the Pixel. It was a great handset with a fantastic camera, but lacked some of the polish of its flagship competitors.
Now Google is back with the more refined Pixel 2 and Pixel 2 XL. We're focusing on the larger, 6in XL here; we've covered the Pixel 2's differences in a short review opposite.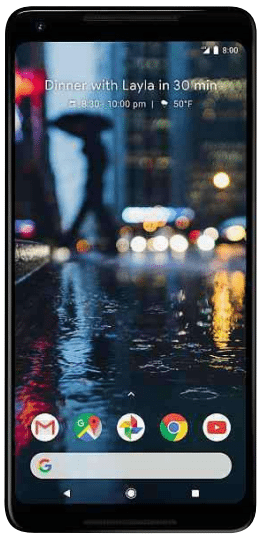 HEY, GOOD LOOKING
The Pixel 2 XL looks fantastic. The front of the phone is practically all screen, with just a thin strip at the top for the front-facing camera and speaker, and the same at the bottom for the microphone. It's available in black or white.
The curved Gorilla Glass 5 blends into the main case. With new textured material for the rear, the Pixel 2 XL looks and feels better than its predecessor. The Samsung Galaxy S8 and Note 8 range still has the slight lead for looks, but it's a far closer thing this year.
Despite its larger screen, the Pixel 2 XL has roughly the same footprint as the Pixel XL, and it's thinner, too, at 7.9mm, with a weight of 175g. The Pixel 2 XL is still a big phone, but if you were happy with the size and feel of the original, you'll be pleased with the new model.
The rear fingerprint sensor is sensibly placed in the middle of the phone where it's easy to reach, while full IP67 certification means the Pixel 2 XL is water- and dust-proof.
As with the Galaxy S8, Google has used an 18:9 aspect ratio for its 6in screen. With a resolution of 2,880×1,440, the display has a sharp pixel density of 538ppi.
Measuring the pOLED screen, we found it had a near-perfect sRGB color gamut coverage of 99.8%, with a bright screen coming in at 445cd/m2.
Needless to say, OLED produces perfect blacks, so contrast ratio is excellent.
In use, however, the screen isn't as good as the measurements might suggest. Tip the phone to either side, and the display takes on a bluish tinge. It also lacks vibrancy.
Samsung's Galaxy S8, in comparison, has more vibrant colors. Its screen can go brighter in sunlight, too, so it's easier to read.
The always-on display shows you the time, date and system notifications.
It's a neat feature, as you can see what's going on without having to power up your phone.
PLAYING FOR TIME
Unique to the Pixel 2 range is the Now Playing feature, which constantly listens and then displays the name of any music playing in the background on your lock screen; this won't be popular at pub quizzes.
While the iPhone 8 Plus and Note 8 have dual cameras (one wide-angle, one zoom), Google has stuck to a single camera. It's a 12.2-megapixel sensor with an f/1.8 aperture, with optical and electronic image stabilisation.
But who needs two cameras, when the single one is so good? Thanks to a combination of smart processing and some smart camera tech, photos look amazing.
Google has used a dual-pixel sensor, which effectively means that each pixel is split in two. This allows for super-fast autofocus, but it also means that two images, slightly offset against each other, can be taken at once. This provides depth information, which the Pixel 2 can use to blur the background for its amazing portrait shots.
For regular photography, the Pixel 2 takes a burst of shots, combining them to reduce noise and improve the dynamic range.
The results are stunning, and the camera shoots well-balanced, clean and accurate shots in everything from the brightest sunlight to the darkest night.
Motion Photo works a little like Apple's Live Photo mode, capturing three seconds of video in an image, to bring moments to life. If you find it annoying, you can turn it off through the camera app.
Video quality is on a par with last year's Pixel, shooting up to a resolution of 4K at 30fps.
Anyone who buys a Pixel 2 handset gets unlimited Google Photos storage for images uploaded through the handset.
GIVE US A SQUEEZE
Eventually, the Pixel 2 range will be able to use Google Lens, which will identify objects and landmarks by analyzing the live image through the lens. Currently, the feature is disabled, and Lens lives inside the Photos app, where it can analyse still images only. Results are hit and miss; some images are just labelled as a rough overview ('an alley', for example), but others do better. For example, Lens identified Cornwall's Minack Theatre correctly. It will be interesting to see what the full version of Lens can do.
Squeeze the handset and the excellent Google Assistant launches. We've seen this squeeze feature on HTC's handsets before, but it remains an intuitive and smart one-handed way of launching the Assistant.
Google has used the Qualcomm Snapdragon 835 SoC, and it's fast, scoring 6,263 in the Geekbench 4 multicore test, 1,895 in the single-core test, and 54fps in the GFXBench Manhattan offscreen test. That puts the Pixel 2 XL up there with other flagship Android phones, with only the iPhone 8 pulling ahead slightly.
As this is a Google phone, you get a clean, unskinned version of Android 8.0. We're big fans of the pure Android experience, as we find it easier to use and you're guaranteed to get the latest updates faster. With the powerful SoC inside, Android runs beautifully smoothly.
Battery life in our video playback test came in at 15h 7m. That's similar to last year's result, although anecdotally in everyday use, we found that the Pixel 2 XL lasted longer between charges.
The Pixel 2 XL charges via its USB Type-C port, which is also the only way you can use wired headphones; despite knocking Apple for removing the headphone port last year, Google has also ditched the 3.5mm jack, though at least it includes an adaptor. There's no wireless charging.
There's no microSD card slot. The Pixel 2 XL is expensive. Given the screen's flaws, the Galaxy S8+ is a better choice for most. Still, if you want a pure Android experience, and a high-quality camera, fast processor and large display, the Pixel 2 XL is a great handset.
David Ludlow
Specifications
PROCESSOR Octa-core 2.35GHz Qualcomm Snapdragon 835 • SCREEN SIZE 6in • SCREEN RESOLUTION 2,880×1,440 • REAR CAMERA 12.2 megapixels • STORAGE 64/128GB • WIRELESS DATA 4G • DIMENSIONS 158x77x7.9mm • WEIGHT 175g • OPERATING SYSTEM Android 8.0
VERDICT
Despite its slightly lackluster screen, the pure Android experience and quality camera make this a flagship to contend with
GOOGLE Pixel 2 XL Battery Life
15h 7m