7th Gen. Intel Core i7 Processor
NVIDIA GeForce GTX 1060 GDDR5 6GB
512GB M.2 SATA SSD (2 M.2 SSD slot, Type 2280, supports NVMe PCIe X4 & SATA)
DDR4 2400 16GB*1 (2 slots, max 32GB)
Last update was in: 2018-07-20 7:39 pm
NVIDIA GeForce GTX 1060: The Ultimate Performance
7th gen Intel quad-core i7 processor
Full HD IPS Display with Wide Color Gamut
DDR4 - Data Storage's Limit Breaker
Thunderbolt 3
Free shipping
Last update was in: 2018-07-20 7:39 pm
THANKS TO MORE power-efficient CPUs, gaming laptops are finally getting thinner.
The latest example is Gigabyte's Aero 15, a radical departure for a company whose high-performance offerings have tended to be rather hulking.
The price is a sticking point: besides being a huge chunk of change in itself, the entry-level Full HD Razer Blade. This includes the very same quad-core Intel Core i7-7700HQ processor and GeForce GTX 1060 graphics card as the Aero 15, and also benefits from a slim chassis, so Gigabyte's laptop might be a tricky sell.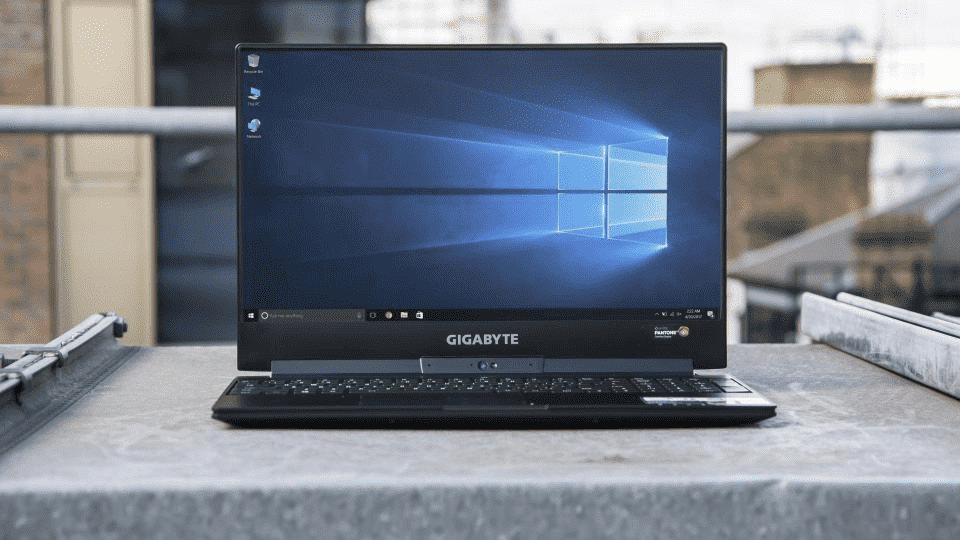 That said, there's absolutely nothing lacking about those specs, especially since the Aero 15 has a larger, 512GB PCI-E-based SSD. Performance in our benchmarks was exemplary, with an overall score of 128 in our 4K tests – the highest we've ever seen on a slimline gaming laptop.
GAME AND FORTUNE
As expected, it particularly excelled in our gaming benchmarks, running at the Aero 15's native 1,920×1,080. Metro: Last Light Redux, our most demanding game, ran at a silky 86fps on the Ultra preset with SSAA turned off, and even managed an impressive 54fps with SSAA turned on. Dirt Showdown also ran flawlessly, scoring a 112fps average with maxed-out settings.
For a device of this stature, battery life is usually the big downfall. Even the Razer Blade struggled to breach the three-hour boundary when unplugged from the mains. The Aero 15, however, squeezed enough juice out of its battery to last 7h 17m.
It's worth noting this is a relatively undemanding test based on video playback, and that gaming on the go will hit battery life harder. Still, with conservative use you'll just about eke out a full workday without needing to recharge, and it means you could conceivably use the Aero 15 as your everyday laptop as well as a gaming device.
Design-wise, the Aero 15 is a cracker.
With the exception of the lid, which comes in your choice of green, black or orange, it has an all-black finish that looks fantastic.
You'll be flaunting it often, too, as it weighs only 2.1kg. This may not be ideal for the morning commute, but at least you won't be tied to your desk.
Despite its 19.9mm-thin frame, there's a decent selection of ports. On the left edge, you'll find an Ethernet port, a solitary USB3 port, a mini DisplayPort and HDMI video output. On the right, there are two more USB3 ports, one USB Type-C and a full-size SD card slot.
EDGED OUT
Gigabyte has also taken a leaf out of Dell's book by slimming the display bezels to a mere 5mm, which helps keep the overall dimensions down to a remarkably palatable size. Essentially, you're getting a big 15.6in screen crammed into a chassis the size of your typical 14in laptop, and that's a wonderful thing.
Intriguingly, the Aero 15's 15.6in Full HD display is X-Rite Pantone certified. Gigabyte is somewhat quiet about what this means precisely, but in theory it should mean accurate colors straight out of the box, with no calibration required.
In reality, this is true to an extent; using an X-Rite colorimeter, we measured the Aero 15's Delta E at 2.18, which isn't too shabby at all.
Colors did lack in a little vibrancy, with sRGB color gamut levels sitting at 84.2%, but the display was still capable of producing some notably detail-rich images. That, and a contrast ratio of 1,248:1, makes for a screen that's very easy on the eyes.
If you're looking at venturing beyond Full HD, a UHD (3,840×2,160) model is expected to launch sometime later in the year, although official pricing is currently unknown. Naturally, you can expect it to be more expensive, with less battery life.
CLICK QUESTION
The keyboard is spot on. It's just what you want when you're strafing left and right in shooter games: wonderfully tactile, with oodles of satisfying feedback. Another feature we wish more laptops shared is the ability to cycle through different fan speeds by simply pressing Fn-Esc. As is the case with most premium notebooks these days, its RGB backlighting is also fully customisable.
The touchpad, which sits just below and to the right of the spacebar, isn't quite so noteworthy. Its matt black surface may feel nice on the finger, but it isn't Microsoft certified and, as such, can't be used for multitouch gestures. If you're used to switching between windows with just a swipe of a few fingers, this will be a real pain.
That aside, the Aero 15 is a seriously impressive laptop. Everything's top of the range here, with first-class performance and a superb display, plus a compact, lightweight chassis that means it can double as your day-to-day laptop as well as your go-to gaming notebook.
The Aero 15 is a viable alternative to the Razer Blade and while it may not have the MacBook-like looks of that laptop, better battery life means the Gigabyte is a touch more practical. That's why it takes over as our favorite slimline gaming laptop.
[Nathan Spendelow]