G.Skill Trident Z RGB Review
16GB G.Skill Trident Z RGB
32GB G.Skill Trident Z RGB
The colours adhere precisely to the hues you set in the software
/SPECIFICATIONS Frequency3200MHz Timings 16-18-18-38 Voltage 135 V Height (from base) 44mm Lighting Yes (RGB)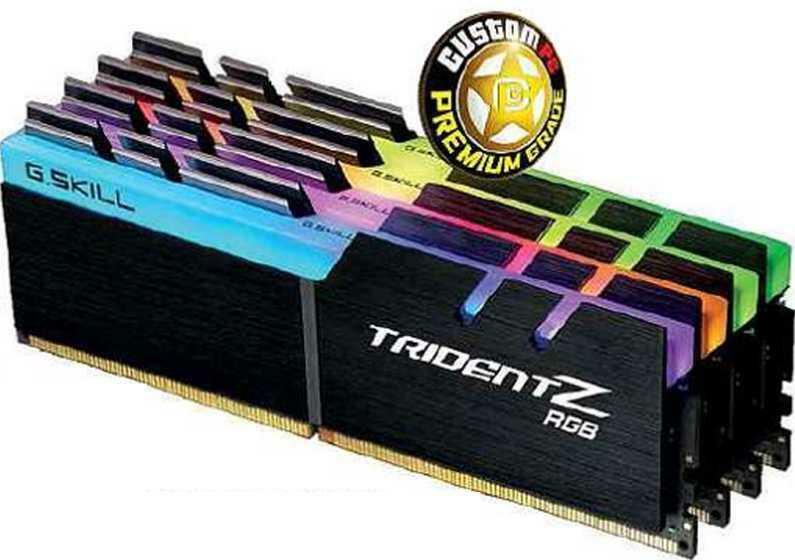 The RGB lighting trend shows no signs of abating, with most recent high-end Intel and AMD motherboards including on board LEDs now. Memory manufacturers have been a little more reluctant, though, and we're still left with a mere handful of kits with tweakable lighting. We've already looked at Corsair's Vengeance RGB memory. but there's now a new kid on the block In the form of G.Skill's Trident Z RGB Like Corsair's RGB RAM. G. Skill's memory communicates with its lighting software over the memory bus, so there's no need for extra cables. Corsair has also since released a range of speeds and capacities for its Vengeance RGB kits, which is just as well because G.Skill has a whole host too. It sent us the 32GB 3200MHz quad-channel kit fortesting. That's a tad more expensive than the Corsair equivalent, while the 16 GB dual-channel kit also costs a little more. However. G.Skill is the clear winner in terms of aesthetics – the Trident Z RGB modules look absolutely stunning.
They combine brushed grey and black aluminium heatsinks with a thick slab of opaque plastic between them, which diffuses the light from five RGB LEDs underneath it. This setup has the effect of merging the lights, so they appear like one fluid colour, resulting in a spectacular light show. The colours are very accurate too, adhering precisely to the hues you set in the software.
You have full control overall the individual LEDs, or you can choose from 11 preset modes, such as rainbow, wave or strobing effects.
At least, you're meant to have full control but with our sample, we could only control individual rows using our Gigabyte AorusZ280X-Gaming 7 motherboard.
The situation improved with an Asus Aura-compatible ROG Strix Z270F motherboard, as it seems G.Skill's software, which is still in beta, is based on it. Once we'd followed G.Skill's instructions and enabled DRAM SPD Write in the EFI. we did indeed have full control over every LED on the Asus board, plus many preset animations, offering effects that not only flow from one module to another, but can also synchronise with the motherboard's lighting.
The modules are quite wide, and touch each other when inserted in adjacent slots, giving you a great – looking, solid lighting array with no gaps. Placing modules next to each other looks considerably better than spacing them too.
Although such a setup will require you to opt for four modules in a standard ATX motherboard.
Sadly, though, the kits only offer 8GB modules, so you'll be forced to buy an expensive 32 GB kit if you do want to use all your board's slots.
There's some overclocking headroom too We managed to overclock our kit from 3200MHz to 3466 MHz by raising the DDR voltage to 1.37V. and keeping the stock timings of 16-18-18-38.
Conclusion
Despite some limitations non-Asus motherboards, G.Skill s Trident Z RGB memory is a stunning addition to your PC. It looks better than Corsair's Vengeance RGB memory. it's more customisable and it's also around half a centimetre shorter at 44mm, making them less likely to clash with a cooler. The lighting effects are more effective and vivid than those of the Corsair memory too, all of which justifies the premium over Corsair's RGB RAM
You don't appear to get full control overall the LEDs outside of Asus Aura software, which is only available with certain Asus motherboards, although it still looks great on other motherboards, even if it isn't as flexible. If you want some RGB memory, a Trident Z RGB kit is now your best bet.

VERDICT
The best-looking and most tweakable RGB memory we've seen.
ANTONY LEATHER