Free File Unlocker 4.0 Review
What you need: Windows XP. Vista, 7.8/8.1 or 10
There are worse ways to spend an afternoon than being stuck in traffic in a heatwave. Really, there are – such as spending hours trying to delete files that won't delete. Select the files, press Delete and see the message 'Cannot read from the source file or disk*. OK then- right-click a file, select Delete and get a message saying 'Cannot delete file: Access is denied' or 'in use by another program or user'.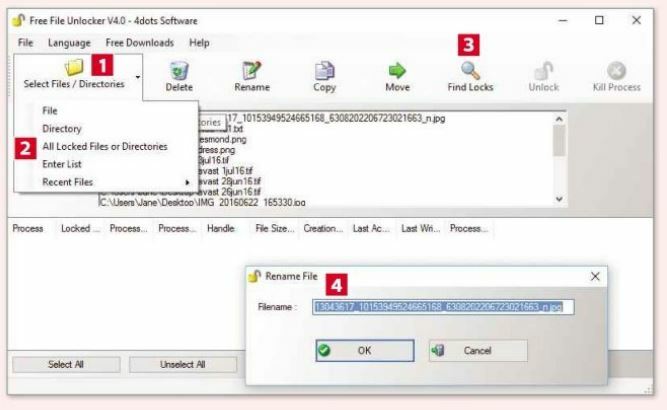 Now don't wipe your hard drive in a fit of pique. Instead, use this much-improved free tool to override Windows when it refuses to let you delete, move or rename files and folders because they're inexplicably locked or 'busy'. The program is now powerful enough to terminate and remove malicious files, including the latest Trojans and adware. Handle it with care because it potentially lets you remove vital system files as well, and that's not something we'd ever recommend doing.
This new version is fully integrated with Windows/File Explorer, so you can use it to unlock and delete files with a single right-click. The program window has been revamped (see screenshot below) with new menu options that include Recent Files, so you can come back and work on a list of troublesome files after closing and re-opening the program.
Free File Unlocker comes in installable and portable versions, both of which now work in Windows 10. Only the portable version is safe to use in Windows XP and Vista, but this doesn't include right-click options. To get the installable version, scroll down the page and click Download, then run the setup file ('FreeFileUnlockerSetup.exe'). There's nothing dubious in the installer, but you don't need the 'Product Catalog Desktop Shortcut', which is pre-ticked on the Additional Options page of the setup wizard. Untick it, then click Next to complete installation.
1 Run Free File Unlocker as administrator, then press Enter to set your language. Click 'Select Files/Directories' then File or Directory, and then navigate to the locked item.
2 The 'Select menu also lets you type multiple file paths ('Enter List'). Avoid All Locked Files or Directories' because It lists vital system files and other items that your PC requires to work property.
3 Your selected files and folders appear in the top window. Click Find Locks to identify whats preventing them from being deleted or modified.
4 Click an action on the top bar. such as Rename or Delete. If you click Rename, you can then change the file name(s) in the box that appears. Restart your PC to apply.