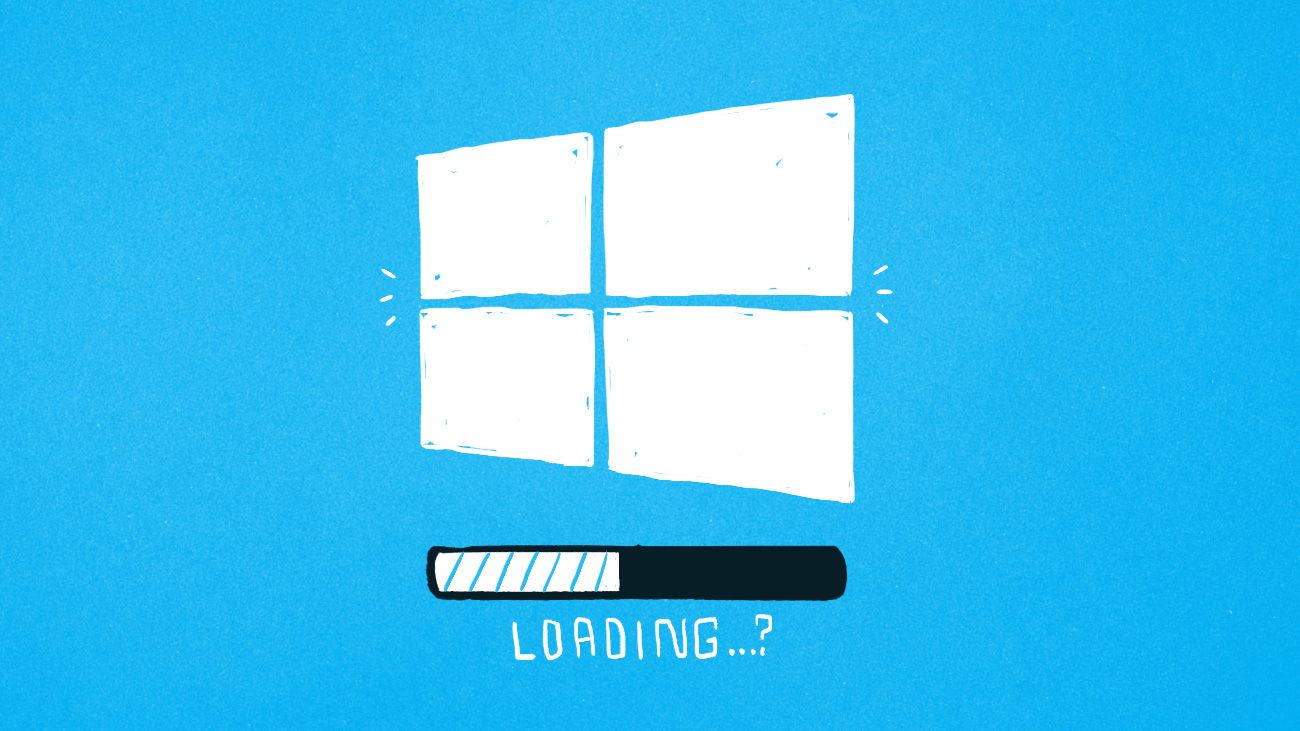 Solve the more frustrating oversights and problems in Microsoft's latest and greatest operating system with these tips and tricks. By Nick Peers
Windows 10 blends the best features of Windows 7 and 8.1, but there are still hurdles to overcome if you truly want to enjoy it. In this feature, we round up the most frustrating annoyances you're likely to come across with your new operating system, and show you how to get the OS to work the way you want it to once again. You'll discover how to restore features taken out of Windows 10, such as Windows Media Centre, make sure settings are correctly applied to protect your privacy and security, and resolve other issues with the minimum of fuss.
Once you've worked your way through our list, you'll have a Windows computer that's working for you, and not the other way around. Without further ado, then, it's time to get Windows 10 firmly in line…
Watch DVDs again
WINDOWS MEDIA PLAYER lost the ability to play DVD video in Windows 10 as it did in Windows 8 before it). You can purchase Microsoft's Windows DVD Player for .59 () from the Windows Store, but why do that when VLC Media Player enables you to watch DVDs for free? Just download and install it from www.videolan.org/vlc. Before you play any movies, open the Video menu and choose Deinterlace > Automatic to improve the picture quality.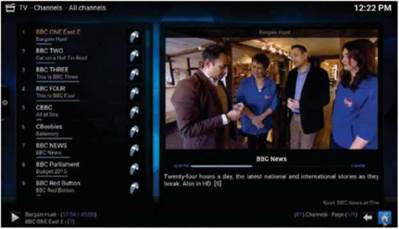 Replace Windows Media Centre
WINDOWS MEDIA CENTRE has also been dropped from Windows 10. There are plenty of free alternatives, but our personal recommendation is Kodi (www.kodi. tv), which also has a built-in DVD player. If you have a TV tuner attached to your PC for watching and recording live television, you'll also need NextPVR (www.nextpvr.com), along with video codec pack CCCP (www.cccp-project.net). Visit http://kodi.wiki/view/NextPVR for a guide to pairing NextPVR with Kodi.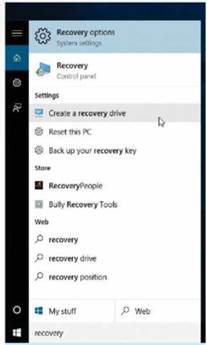 Prepare to recover
WHAT HAPPENS IF Windows 10 fails to boot? You need a system recovery drive that gives you access to Windows 10's repair options. You can create a full-blown reinstall disc with these tools (see right) or you can press a spare 1GB USB flash drive into service instead with just the repair utilities in place. To do the latter, plug the drive into your PC, type 'recovery' into the Search box, and click 'Create a recovery drive' under Settings. Untick 'Back up system files to the recovery drive', and follow the prompts to create your drive. Should you need to use it, restart your PC with the drive plugged in to access the repair tools you've installed.
Create a reinstall disc
IT PAYS TO be able to reinstall Windows from scratch should you ever have the need to. To do that, you need a blank DVD or spare 8GB USB flash drive and to download the Windows 10 Media Creation Tool from www.microsoft.com/en- gb/software-download/windows10. Be sure to choose either the 32-bit or 64-bit version depending on your system – press [Win] + [Pause/ Break] and look under System if you don't know. Launch the tool. Select 'Create installation media for another PC', click Next and follow the prompts to select your chosen language, edition, and architecture (32-bit or 64-bit). Insert your USB flash drive, or create an ISO file you can then burn to a single DVD.
Save bandwidth
WINDOWS 10 USES peer-to-peer technology to deliver Windows updates. This means your Internet connection is used to share the updates you've downloaded with other users. If you're on a slow broadband connection – or you'd rather not let Microsoft do this – you can change it. Click 'Start' and choose Settings. Select 'Update & security', and click 'Advanced options' under Windows Update. Next, click 'Choose how updates are delivered', and either switch the feature off or select 'PCs on my local network' to further cut bandwidth usage by only sharing the updates between the PCs you have in your home.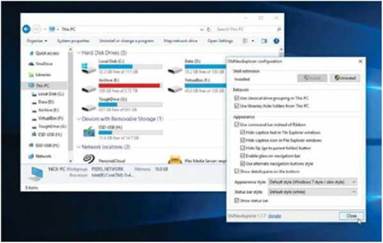 Lose the File Explorer Ribbon
WE'VE LOVED the File Explorer since its introduction in Windows 8, but if you're not a fan of its Ribbon interface, you can disable it and restore the Windows 7 look using a program called OldNewExplorer – download it from http://tihiy.net/files/OldNewExplorer.rar. You need a program capable of extracting RAR files to use it – try 7-Zip (www.7-zip.org). Once extracted, launch the program and click Install, then tick the various boxes to change how File Explorer looks – close and reopen any existing File Explorer windows to see the effects.
Change default app by file type
IF YOUR APP ISN'T LISTED when trying to set it as the default via Settings, try this instead: Browse to a file you want to open, right-click it, and choose 'Open with' > 'Choose another app'. Tick 'AIways open this app…' before selecting your chosen default. If it's not in the list, click 'More apps' to reveal further choices, and if your chosen program still isn't there, click 'Look for another app on this PC' to manually select the one you want. Start your search under Program Files or Program Files (x86).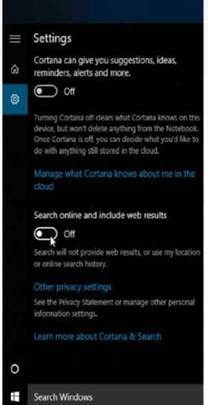 Disable Cortana
THERE'S LITTLE DOUBT that the Windows 10 Search bar is useful, but it links into Microsoft Cortana by default. If you decide you don't like Cortana's additional tools, you can reduce its functionality to that of previous versions of Windows. Click the Search bar to open Cortana. If you're using it for the first time, click 'Not interested' to disable it; otherwise, click the Settings button and flick the Use Cortana switch to Off. You can also disable the web portion of Windows 10's search capabilities from here, too, restricting searches to the files, programs, and settings on your computer.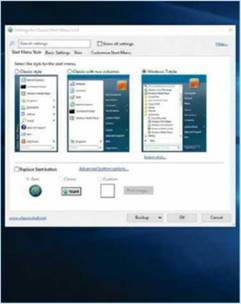 Restore the classic Start menu
IF YOU'VE UPGRADED FROM WINDOWS 7, you might not like the new Start menu at all. If you're hankering after the 'classic' style, download and install Classic Shell from www.classicshell.net. During installation, untick all the entries except for Classic Start Menu and Classic Shell Update. Once the app has been installed, click the Start button to configure it – the default settings should be fine, so click OK. The classic Start menu integrates nicely with the Windows 10 look, but provides settings and shortcuts that you'll be more familiar with – there's even a shortcut to the Windows 10 Start menu, too.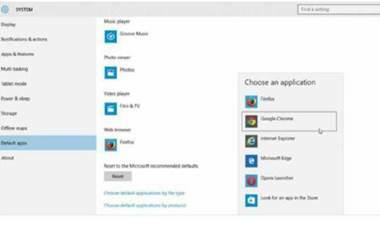 Change default apps in Settings
AFTER UPGRADING TO WINDOWS 10, Microsoft changes your default web browser to Edge. To fix this, click Start > Settings > System > 'Default apps'. Click the Edge entry, then pick your browser (Firefox, Chrome, and so on if you have them installed already) from the list that pops up. You can change other key app defaults here: Video, Photos, Mail, and so on. For a wider range of app choices, click 'Set defaults by app'. Advanced users can also set defaults by file type or protocol using the appropriate links.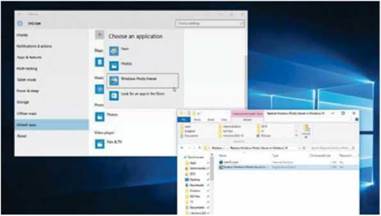 Restore Windows Photo Viewer
MICROSOFT HAS REPLACED Windows Photo Viewer with the Photos app, but it's possible to restore it as an option when setting the default app for photos. It's a convoluted process – see 'Method 4' at www.askvg.com/ tip-restoring-windows-photo-viewer-as- default-in-windows-10/. However, the AskVG website does provide a ready-made zip file containing the required Registry entries. Download this to your PC, then open it to access the .reg file within. Double-click this, then choose Run followed by Yes (twice) to make Windows Photo Viewer an option again.
Customise the hidden Start menu
WINDOWS 10 HAS a hidden Start menu – press [Win] + [X] or right- click the Start button. The menu includes shortcuts to hidden parts of your system, such as the old Control Panel, Run dialog box, and Event Viewer. But you can add your own, or rearrange and delete existing shortcuts with Win+X Menu Editor. Download the zip file from http://winaero.com/download.php?view.21, right-click it, and choose Extract All to save it to a suitable folder. Browse to the 'x64' (64-bit) or 'x86' (32-bit) folders, then double-click WinXEditor.exe. Click 'Add a program' to browse for a program, or 'Add preset' for options such as shutdown and restart entries. You can also the WinXEditor app to add individual Control Panel applets and administrative tools.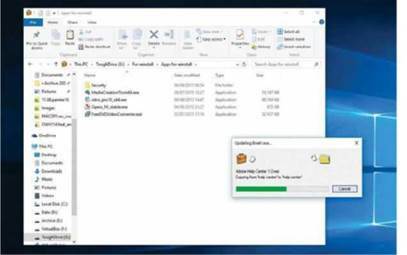 Bring back the Briefcase
IT MAY HAVE NICHE APPEAL, but the Briefcase was one of the earliest tools for keeping data synced between two locations. While it's been removed from Windows 10 (and 8), you can get it back again with a Registry tweak. Download the required file from http://winaero.com/blog/wp-content/uploads/2012/09/ Briefcase.zip. Double-click it to open it, then double-click 'Windows 8-Enable Briefcase.reg'. Click 'Run', followed by Yes twice, then restart File Explorer via Task Manager to restore its features. Note: It doesn't work well with User Account Control, so don't create Briefcases inside any administrator-protected folders.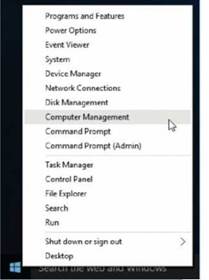 Win+X Menu Editor enables you to create your own custom shortcuts in Windows 10.
Tighten privacy in Microsoft Edge
IF YOU STICK with Edge, there are some important privacy settings that you need to switch on before relying on it. Launch the Edge browser and click the ellipsis (…) button in the top-right corner, then choose Settings. Scroll down and click 'Advanced settings', and make sure the 'Block pop-ups' slider is set to On. While you're there, flick 'Send Do Not Track requests' to On, then set Cookies to 'Block only third-party cookies' for even greater privacy.
Access classic display settings
WE'RE NOT MASSIVE FANS of the new Personalization dialog, which is now part of Settings. If you aren't either, and are hankering after the old Display Settings dialog that was used in Windows 7 and 8, you can create a shortcut to it on the desktop. Right-click some blank space, and then choose New > Shortcut. Now type the following into the Location box: 'control.exe desk.cpl,Settings,@ Settings' Click 'Next' and give the shortcut a suitable name, then click Finish. Now you can use this freshly created shortcut to tweak your display settings in Windows 10.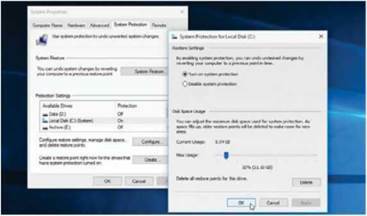 Switch System Restore back on
DON'T ASK US WHY but on some systems Windows 10 disables System Restore by default. The first thing to do, then, is switch it back on. Press [Win] + [Pause/Break] to open System Properties, and click System Protection in the left-hand column. You should see that Protection Settings have been switched off for all your drives. Locate your Windows drive (it should be marked System), and click the 'Configure…' button. Select 'Turn on system protection', and allocate up to 10 percent of your available space using the slider. Click OK twice to finish the job.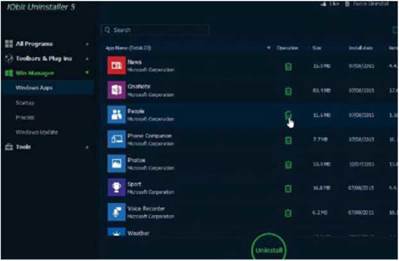 Remove unwanted apps
WINDOWS 10 SHIPS with a number of built-in apps, such as Mail, Money, and Groove Music. However, if you don't like any of these, Microsoft doesn't provide an Uninstall option to help you get rid of them. You can still ditch them, though, with lOBit Uninstaller 7 Free (www.iobit.com/advanceduninstaller.php). Once installed, open the app from the Start > 'All apps' menu, then select Win Manager from the left-hand menu, and select Windows Apps. Expand the Windows Apps section, where you'll see all the apps listed. Click the dustbin next to one to remove it. Any apps can be restored later through the Windows Store.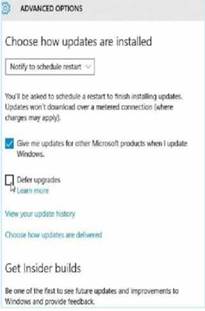 Improve Windows Update
By default, Windows Update now delivers all updates automatically. While you can't put them off indefinitely, you can improve matters. Go to Settings > 'Update & security' > Windows Update > Advanced Options. Windows 10 Pro users can select 'Defer upgrades' to put off non-security updates for several months. Windows 10 Home users, on the other hand, should set 'Choose how updates are installed' to 'Notify to schedule restart', so they can receive alerts that updates are about to be installed. Home users with Wi-Fi connections can also postpone updates by going to Settings > Network & Internet >
WiFi > Advanced Options, and flicking the Metered Connection switch to On until you are ready to install any Windows 10 updates that Microsoft has prepared for you.
Tame Quick Access
QUICK ACCESS can be a mess, mixing pinned icons, frequently accessed folders, and recent items. Open File Explorer, switch to View, and click Options. Disable the latter two via Privacy, and instruct File Explorer to open to the 'This PC' view instead of Quick Access. You can pin the Recent Places shortcut to Quick Access – press [Win] + [R], and type %AppData%Microsoft Windows and press [Enter]. Right-click the Recent Items shortcut, and choose 'Pin to Quick Access'.
Restore the classic Alt-Tab switcher
Press [Alt] + [Tab], and Windows 10 displays a list of thumbnails for all of your open windows. If you would rather stick with the old look, press [Win] + [R], and type 'regedit' to open Registry Editor. Browse to the following key: HKEY_CURRENT_USER SOFTWAREMicrosoftWindows CurrentVersionExplorer. Now select Edit > New > DWORD (32-bit) Value. Name it AltTabSettings. Double-click the value and set it to 1. Now restart File Explorer from Task Manager to restore the icon task switcher.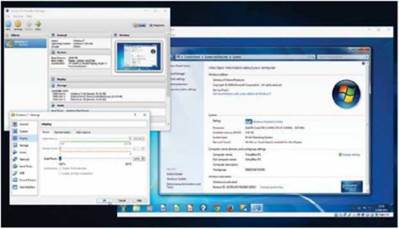 Run older apps
MOST APPS that work in Windows 7 and 8 should also work in Windows 10, but if your app doesn't work, all may not be lost. If you still have access to a non-OEM copy of an older version of Windows, you can install it in a virtual machine, courtesy of VirtualBox (www.virtualbox.org). Basically, this enables you to create a virtual PC inside Windows 10, into which you can install your old programs while you look for a compatible update or suitable alternative.
MANAGE WIFI SETTINGS
WiFi Sense
Disable Wi-Fi Sense
If you connect wirelessly to your network, Windows 10's Wi-Fi Sense feature – which connects you to crowdsourced Wi-Fi hotspots and networks shared by your contacts – is enabled by default if you choose Express Settings during the Windows 10 upgrade process. It's designed to make it easier to connect to friends' networks through your Facebook, Outlook. com, or Skype contacts list. However, if you'd rather not share this information, you can disable it. Click Start > Settings > Network & Internet > WiFi. Click 'Manage WiFi Settings', and flick both switches to Off to stop your network details from being shared with others.
Recover drive storage space
ONCE YOU'RE UP and running with Windows 10, and convinced you won't need to go back to your previous version of Windows, it's time to free up some drive space. Open File Explorer, go to This PC, right-click your 'C' drive, choose Properties, then click Disk Clean-up. As soon as the dialog opens, click 'Clean up system files', and wait for it to scan again. Go through the list, ticking those items you don't need – the biggest item by far will be 'Previous Windows installation(s)'. Tick this to free up space, but remember there's no going back once the files are gone.
OneDrive changes
One of the best features of OneDrive in Windows 8 was the ability to use 'placeholders' for certain folders, effectively giving you access to your stored files without having to also hold a copy on your hard drive. Sadly, Windows 10 ditches this feature (for now). Instead, you need to specify which folders you want to keep synced on your PC. To do this, right- click the OneDrive icon in the Taskbar Notification area, and select Settings. Switch to the Choose Folders tab, and then click Choose Folders. Untick 'Sync all files and folders on my OneDrive', and then tick only those folders you need access to when you're not connected to the internet.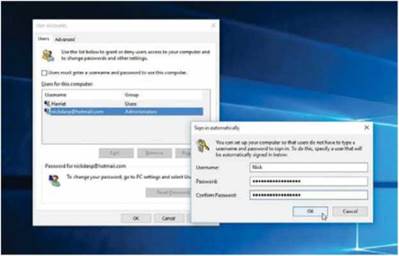 Bypass login
IF YOU'RE THE ONLY USER of your computer, and you'd like to boot straight to the desktop without having to enter your password each time you want to use it, here's what to do. Press [Win] + [R] to open the Run dialog, then type 'netplwiz', and press [Enter]. Make sure your user account is selected, then untick 'Users must enter a username and password to use this computer', and click Apply. Enter your user password and click OK twice. Windows will also require you to enter your password after your PC wakes from sleep. If security isn't an issue, click Start > Settings > Accounts > 'Sign-in options', and change the 'Require sign-in' drop-down to Never.