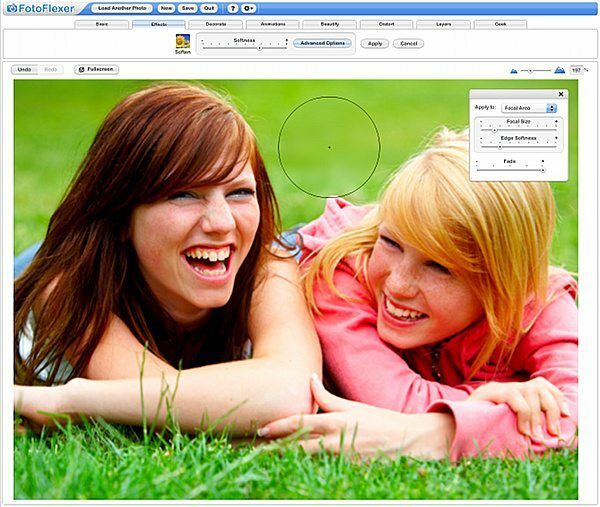 Roland Waddllove reveals 15 of the best photo editing tools for the web, smartphones and tablets, and the PC
How do you edit your photos? Using a specific piece of software, online tools in a web browser, or with your mobile phone? All three platforms have advantages and disadvantages and here we take a look at each one, picking the best that each has to offer.
You might assume that desktop software is the best option, but that's not always the case – and these days, where we take snapshots and immediately upload them to a social network or send them to friends via instant messenger, we often don't want to wait to home, transfer them to the computer, fire up Photoshop, edit them, save them, then post them online. We want to edit quickly and share them immediately.
Online photo editing has come a long way and many people could switch to editing snapshots online in a web browser instead of on the computer – and if you have a Chromebook, online editing is your only option. Web apps are surprisingly good now, though, and might make you reconsider whether you actually need PC software.
It is easy to dismiss online photo editing apps that run in a web browser as not being good enough, especially if you tried them a couple of years ago and were not impressed by what you found. The two most obvious concerns is the need to upload large images that are many megabytes, and the limited range of features provided by an app that runs in a browser.
Computers are faster than they used to be, and so are web browsers. This means that online software is much more powerful and offers more features than a few years ago. Online apps are getting better as web technologies improve and the features and functions of online photo editing apps may be better than you imagine. In fact, some of the best online photo editing apps are better than some budget Windows programs running on the PC. You may be surprised by the capabilities of modern web-based applications and they are well worth trying if you are not familiar with them.
The need to upload photos is still an issue, but it is less of a problem than it used to be. Fast internet connections are common and many people now have fibre optic or cable connections of 20Mbps, 50Mbps or more. Internet Connections are still not fast enough for complex work with large RAW digital camera files using multiple layers to build up images, but it may not be long before that's possible too.
These days it is common to shoot photos on an iPhone or Android phone and upload them to online storage, social media or the PC. File sizes tend to be around a couple of megabytes. Files of around 2MB can easily be edited with an online photo editor. In fact, some seem to load and save photographs almost as fast as when you're working with files natively on a PC – in fact, you may well be surprised at the speed and quality of some of these apps.
FotoFlexer (fotoflexer.com) can load photos not only from the disk drive, but also online services like Facebook, Flickr, and Picasa. The editor and photo then appear in the browser. The advertising banner is irritating, but the full screen button removes the browser and ads, and just shows the editor.
This is a good online editor that has some useful features that you don't find in some PC-based photo editors. There are eight tabs and these provide access to the tools and effects. The Basic tab has an Autofix button, but also manual controls for adjusting the brightness, contrast, saturation, red-eye fixer, resize and so on. The Effects tab provides access to around 30 filters, like the ones you get in Instagram and other mobile apps For example, comic, pop art, sepia, bronze, old photo, posterise and so on. There are also fun features like stickers, glitter text, and even animations.
There are millions of cat photos on the web, but thankfully none in PhotoCat (photocat.com); it is just a great online photo editor. It has a modern and clean design, that marks it out to be fun rather than a serious photographer's tool. Most people, however, will find its range features perfect for their needs.
Tools are on tabs down the left hand side and there are edit, effects, retouch, frames, text and local retouch tabs. It has all the usual brightness, contrast, saturation and other controls, and a nice collection of filters, but it also has some fascinating and unusual tools too. For example, The slimming tool can take pounds off your figure, spray tan, blemish remover and blush makes skin look perfect, eyes can be enlarged, coloured, and even mascara added, and there is lit tint too. All these plus regular photo editing tools make this a fun and useful tool.
BeFunky (www.befunky.com) is another excellent online editor that appears as though it is designed to be fun, rather than to be a serious alternative to Photoshop. The interface is nice, and uploading and downloading photos is quick. The toolbar on the left expands when an icon is clicked and there is a good collection of image enhancement and fun tools. The Edit pane provides all the usual tools you would expect – like crop, rotate, tilt, exposure, sharpen, smoothing and so on – but the other panels is where the fun starts.
Touch Up offers tools like Eye Colour, Lipstick, Blush, Wrinkles and several more designed to make people look good. There are dozens of filter effects that apply the usual colour casts, pop art, ageing, monochrome and so on. Images can be turned into artwork like sketches, oil paintings and more. More panels provide text facilities, overlays, graphics, frames and similar items. There is also a collage maker for combining several photos into different layouts.
Pixlr (pixlr.com) has not one, but two photo suites: Editor and Express. The latter is a simpler version of the software, designed for quick fixes, overlays and borders, while Pixlr Editor is more a traditional fayre where you can load images from your computer, Facebook and other places to work on, or start with a blank sheet and build up or draw an image. The interface offers resizeable and moveable windows for the photo, tools, and tools options, and they can be dragged and placed anywhere withing the larger browser window.
There are too many photo editing tools to list in this article; Pixlr isn't quite Photoshop in a browser, but it is not far short of equalling the much-loved open source software known as GIMP (GNU Image Manipulation Project, in case you were wondering). It has multiple layers for example, and you can work with selections, so you can adjust a layer or selection brightness, contrast, saturation, and so on. There are also special effects filters, red-eye removal, sponge, smudge, burn and more.
PicMonkey (picmonkey.com) provides a large collection of image enhancement tools, but is more like FotoFlexer, PhotoCat and BeFunky than Pixlr. It enables you to apply a wide range of effects to an image – though they are not just whole-image adjustments, you can do some fine detail work too. For example, on the Effects tab is a collection of over 30 effects like HDR, Dusk, Boost, Soften, Polaroid Film and so on. An effect can be applied to the whole image, but there are options to apply them to just the parts you want.
There are also the usual crop, rotate, exposure, colours, sharpen and resize facilities and you can easily fix the saturation, brightness, focus and other problems. The collection of Touch Up tools is excellent and there is blemish fix, wrinkle remover, spray tan, teeth whitener, eye liner, mascara, eye shadow, eyebrow pencil and more. These are obviously fun effects rather than serious photographer tools.
One of the attractions of editing photos on a mobile phone is that everything is self contained. You shoot a photo on the phone, edit it on the phone, and then share it online using Facebook, WhatsApp, Flickr, Instagram, and so on. There is no need to transfer photos to a computer, load a heavyweight photo editing app and spend hours touching up snapshots. It takes just a few minutes and the touch interface on your smartphone makes the whole process a lot simpler than the complex menus and tools offered by PC software. The drawback is that editing is, of course, less precise.
There are hundreds of photo editing apps that perform very similar functions and a common one is the filter. You select a filter from a library and apply it to the whole image – and turn it black and white or sepia, invert the colours, age it, boost the colours, apply colour casts and so on. It is less common to be able to apply special effects to part of an image, though; for example, you may have dark areas that you would like to lighten, but selectively lightening just a part of the image may not be an option.
Title and caption functions are typically in photo apps. These enable you to write a title and add text to the image. A range of fonts, sizes and colours is often provided. Borders are a staple of photo apps and there is usually a collection of ready-made ones that can be applied with a couple of taps.
Detailed editing is often not available and partly this is because the small screen of phones, and even tablets to some degree, make it awkward. Also the finger is a blunt instrument that is very imprecise compared to a mouse pointer.
Photo apps are definitely fun and the drawbacks, such as limited tools, might not bother you. Many phone users simply take a snapshot, apply a filter and share it. Apps are brilliant for this, but are less useful for serious photographers. Here are five photo editing apps for iOS and Android you should try on your smartphone.
Adobe produces many mobile apps and, while Photoshop Mix is less well known than Photoshop Express, this one is useful for certain functions. One of its main draws is the simple, intuitive cut and paste facility; you can select an object, person, animal, or whatever you want in one photo and then paste it into another as a separate layer with great ease. The app must include some clever edge detection because the selection is very good, despite using a fat finger on a small screen. There are basic and smart selection tools, and feathering.
Another feature is the collection of filters that can be applied to photos. It departs from the usual format though and after selecting a filter, you paint it into the image. This enables you to apply different filter effects to different parts of the photo, and to combine effects. With some, the image is uploaded to Adobe Creative Cloud where it is rendered in the best possible quality and downloaded again.
PicsArt Studio is one of the top photo editors for iOS and Android. The app performs many photo related functions and there is a great editor for enhancing snapshots. You can take photos directly, load them from the phone's storage, download them from Facebook and more.
A panel appears on the left that provides access to tool categories. There is FX, Blur, Artistic, Pop Art, Paper, Distort, Colours and Corrections. Each category has up to 25 effects and there is a huge range to choose from. Many are similar to other photo apps, but there are some unusual ones too. For example, the Corrections category has tools like red eye, colour eye, blemish fix, suntan, and teeth whitener.
In addition to special effects, there are traditional photo editing tools. For example, the app lets you create multiple layers and to paint, draw, insert text, or add effects to layers and set the opacity.
Autodesk has a simple and fun photo editing app called Pixlr-o-matic that is worth considering and it enables you to apply a wide range of fun effects to photos. Pixlr is a better photo editor though, and it has an excellent range of features for a mobile photo editor.
Take a photo or load a previously taken one and along the bottom of the screen is a toolbar with Adjustment, Effect, Overlay, Borders, Type, and Stickers. Selecting one opens a palette of tools and effects, sometimes as many as 19. There are automatic tools like Auto Contrast and Auto Fix, and others that offer more detailed options, such as Brighten, which you paint on with a brush.
You can select lots of effects and adjustments, and compare it to the original before committing them all. When you have finished, the image can be shared to the usual Facebook, Twitter and Instagram, or saved.
This is another feature-packed photo editing app for iOS and Android and it has excellent features. There are a lot of free features, but also Pro tools that require payment. There are filters, effects, frames, shapes, blending layers, stickers, sketch, text, Colour Splash and Paint. In each of these tool categories are many tools, for example, there are 170 filters. Not all are free, but around 40 are.
There is a small number of effects that add fire, ice, swirly lights, and colours. Around 25 frames are available, including plain and fancy ones. There are dozens of shapes of all types and you can set the colour and transparency. Dozens of ready-made stickers can be applied, like 'Wow', 'Well Done', 'Awesome', and so on. Colour Splash removes the colour from a photo and then lets you paint in selected areas. There are over a hundred effects, with several dozen of them free.
Photo Editor- is packed with tools and you can create some great artwork from your snapshots by applying effects, filters, frames and stickers. The interface is clean and simple, and along the bottom of the screen are around 20 tool categories. There are 13 effects, with more available to be purchased in its store. These apply various colours to age them, apply colour casts or simply for fun. There are 13 frames for free, mainly plain and simple ones, but there are better ones in the store. There are overlays (shapes) and stickers too.
Basic correction tools are provided and you can crop images, adjust the brightness, colour, sharpness and focus. There are some useful repair tools, like the red-eye remover, the teeth whitener and the blemish remover. You can draw on the image with markers of different sizes and colours, and text can be added. The finished image is saved back to the phone's gallery.
No matter how good online photo editors and mobile phone apps become, there will always be a need for PC-based software running on Windows. Apps rarely have the fine degree of control over the editing process that some people require and stubby fingers and small screens just aren't good enough. Pen-based tablets and phablets are slightly better in this respect because they offer a finer point of touch, but really the software is not up to the task anyway. Online photo editing apps have a problem with large and complex files, such as RAW images straight off the camera's sensor and multi-layered images that can grow to tens of megabytes.
PC-based photo editors are the most powerful and offer the best tools and functions, but they have their own drawbacks.
A top end professional tool such as Photoshop, for example, is brilliant, but unaffordable to most people (though there are decent discounts for students). You either have to get your company to buy it for you because you need it for your job, or put up with monthly fees amounting to more than £100 a year just to use the software.
At the budget end of the photo editing market are some useful tools, and GIMP is an obvious one. It is excellent for a free tool and is a must-have photo editor that is like a poor man's Photoshop. It cannot match Adobe's software, but it has a pretty good go. Let's assume that you already have, or at least know about GIMP, and take a look at some of the other photo editing software you can get for free or very little money.
PhotoScape (photoscape.org) combines many functions into one program and is akin to a Swiss Army Knife of photo editors. It can split images, combine them, animate GIFs, capture screens, batch process images and more. Go to the editor and there are useful tools for fixing flaws and enhancing images; for example, there are low, medium and high settings for auto-levels and autocontrast. Some of the other tools are like that and have preset options too, but there are also advanced features like the colour, saturation and luminance curves.
There are many filter effects, including a variety of films, vignetting, antique photo, textures, artwork of various types, and so on. It sort-of has layers, in that you can load other photos and paste them into the image, rotate and resize them. Text can also be added, speech bubbles and shapes drawn, and so on. JPEG appears to be the only file format supported though.
If photo editors like Photoshop and GIMP are too complex and you want a simpler tool, try Phoxo (phoxo.com/en). Some might consider it under-powered, but for simple tasks it is okay. On the left hand is a palette of tools that includes three different selection tools, pen, paintbrush, eraser, clone, red-eye removal, and so on. These can be used to fix flaws in images, repair damage and so on.
There are the usual brightness, contrast, hue, saturation, colour tone, blur, sharpen and other tools typical of photo editors. There are a few effects and filters that enable you to turn photos into different types of artwork (like oil paintings, for example), apply lens flare, sunshine and glass tiles. Most interesting is the custom filter creator, which is a five-by-five grid into which you enter numbers. The effect can be seen immediately and you can experiment and produce your own filters. There is also a collection of clip art and frames that can be added to the photo.
Photivo (photivo.org) is a geek tool and is at the opposite end of the difficulty scale to Phoxo. It has an unusual interface and lots of obscure tools that might not mean anything to you. There is no denying that this is an excellent tool for enhancing photos though, nor that it has features not found in other software. For a start, it supports lots of RAW camera file formats, making it useful for people with quality digital cameras, but it also supports JPEG and other common file formats.
Just opening a file is a challenge, though, and it does not get any easier. It rewards perseverance, though. There are tabs down the left hand side that provide access to functions and these contain sub-functions in expandable sections – for example, the RGB tab contains 16 subsections with names like Reinhard Brighten, Sigmoidal Contrast, Normalisation and so on.
The best advice is to simply experiment. Many items are sliders, and you can drag them and see the effect.
There are three versions of PhotoFiltre (photofiltre-studio.com) and version 6 is free and works with single layers, 7 is also free and supports multiple layers, and there is PhotoFiltre Studio X costing £24. Try version 7 first because it may be all you need. It certainly has a lot in it.
The menus and tool panel on the right are straightforward, but the two toolbars at the top of the screen are initially confusing because of the large number of icons that don't really convey much meaning. You get used to them after a while though. In terms of features and functions, it has almost everything you need and it is not unlike GIMP with a different interface. There are many adjustment tools, including advanced ones like gamma, histogram, levels, and so on. A collection of filters is available, such as oil paint, watercolour, pastels, sepia, twirl, ellipse, ripple and many more.
Foto (fotor.com) is available on iOS, Android, Mac, Windows and as a Windows 8 app. It is a brilliant tool that is easy to use, yet is packed with great features for enhancing photographs. It supports a wide range of file formats, including RAW. The panel on the right provides access to the tools and they are so simple anyone can use them. For example, the top one is Scenes and you select backlit, cloudy, shade, sunset, night, sand/snow, or any one of others to automatically adjust the exposure, brightness, contrast and saturation.
The Adjust panel offers up tone, detail, white balance, vignette, highlights/shadows, and curve parameters. In each case there are simple sliders to drag to make adjustments, so it is easy to experiment to get the best settings. There are dozens of special effects organised into categories and you can click them to apply them and drag a slider to adjust the intensity. It is simple, yet powerful.