Sharing content with others is an easy process to set up in Dropbox regardless of whether you're using a business account or the free, basic plan. Dropbox has all bases covered when it comes to creating shared files and folders.
FOUR FAB FEATURES OF DROPBOX SHARING
There's a lot more to Sharing than you may first realise. You can organise the company's shared project files, protect sensitive data and work better together.
Sharing content with Dropbox is remarkably easy to get up and running. With it you're able to invite others via email, set up access levels and even track any changes made to a document while it's being shared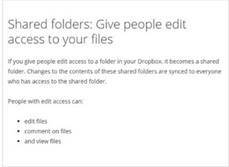 Adding comments to files, either word processed documents or images, is a great collaboration tool. With it you're able to streamline a process with multiple members of a share regardless of their location in the world.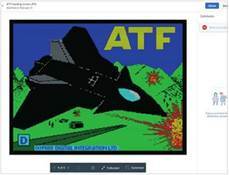 Access levels for each shared folder allow you to set some users with Edit privileges, while others may only have a view edit. This helps keeps files and folders secure and can prevent any potential file deletions or damage.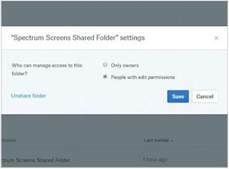 The Version history will track any changes made to a hie or folder.
It's a great feature and certainly helps shared folder admins keep on top of what's going on in a project. For the private user, it's handy to see any new changes made by friends and family to a folder or hie.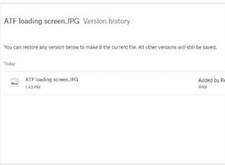 How to Use Dropbox Sharing
Cross organisation projects and sharing files and folders with friends and family member is one of Dropbox's key features. It's something that Dropbox has worked on to make as easy as possible; removing the previous Team link and focusing instead on consumer-level sharing.
TEAM CLOUDS
Using Dropbox Sharing is remarkably easy. It's quick to set up, simple to understand and implement and yet can be quite powerful when used with other members.
To get started with Dropbox Sharing, locate and dick on the Sharing link in the Dropbox interface sidebar. This will launch the currently shared hies and folders set up page, with some brief but handy feature information.
Let's start by creating anew folder that will be shared with others. Click the blue button to the right of the screen labelled Create Shared Folder. This will open a pop-up box offering two options, 'Create and share anew folder' and Share an existing folder'. For now, make sure the hrst option is highlighted and select Next.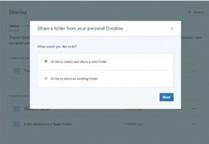 You'll need to name the new folder to begin with. Remember to give it a logical name, as others who you share with will be able to identify it when the email comes through telling them that they're now a part of a shared folder group.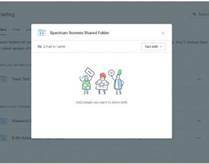 Under the folder name, enter the email addresses of the people who you want to share the folder with; you can also just enter their names if you've signed up for Dropbox via Google, as it will use your Google account address book. You can also click the Can Edit button to the side and detail the user's access levels.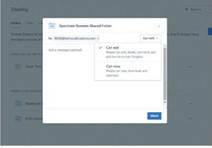 If you want you can enter a message in the lower section of the folder creation window; it's not necessary but courteous to those you're inviting to share it with. When you're done, click the Share button to create the folder and automatically let Dropbox send off the email invitations.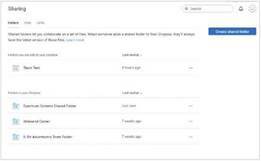 Members that you've chosen to be a part of the shared folder will now receive their invitation email. It will state who created the share and its name and add a button for them to click to be redirected in a new browser tab to the shared folder location.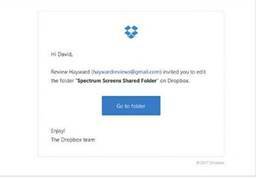 Now everyone has access, you can begin to populate the new folder. You can drag and drop, or use the Upload files option to the right of the screen to add content. Likewise, the other members of the shared folder can do the same, although not those who have only been selected with View access levels.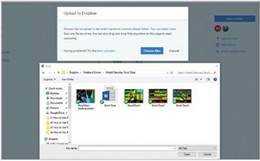 If you have any existing files or folders in your Dropbox store, you can tick the boxes next to them followed by the Copy link to the right. Then, highlight the newly created shared folder and the Copy button to transfer the selected content to the shared folder.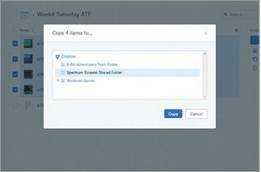 Obviously the great benefit of sharing files and folders is that you and your colleagues are able to collaborate on the content. For example, click on the files you've copied into your new shared folder. To the right you can enter Comments for sections of words, or even on images.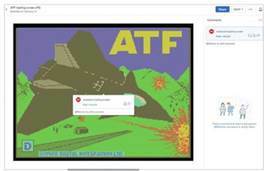 To assist those who frequently view and edit files within a shared folder, you can click the three full stops to the right of a file and then you're able to view the file's Version History. This will give you a breakdown of what edits, comments and alterations have been applied since the file was uploaded to the folder.