Dropbox Cloud Services Review
Dropbox is one of the go-to cloud storage services for consumers on the Internet. It's easy to use, easy to manage and lets you instantly share content with anyone who has Internet access. Read our Dropbox Review.
It's little wonder then that it's so popular, and it has a lot more to offer the home user.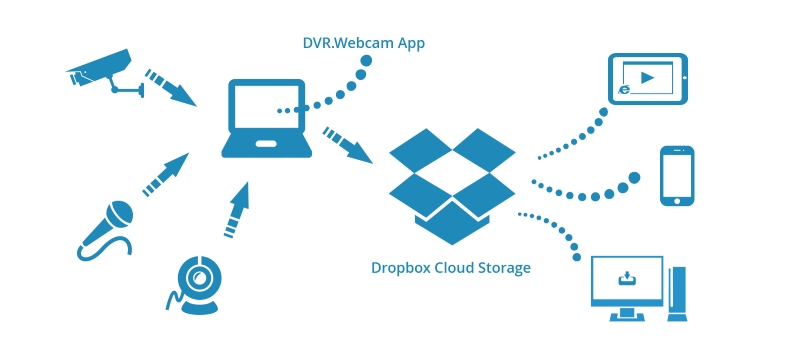 What are Dropbox Cloud Apps?
The San Francisco based company, Dropbox, started life back in 2007 as a start-up developed by a couple of MIT students. Since then, and its release to the public in 2009, the company has grown to be one of the most used cloud services in the world.
Is Dropbox cloud based ?
BOXED CLOUDS: Dropbox has a user base of over 500 million and is worth somewhere in the region of $10 billion. Thanks to its newly implemented design and ease of use, it's not difficult to see why.
Dropbox free storage ? Dropbox free space ?
Files: The most used feature of Dropbox, and its sole purpose, is the cloud storage functionality. You get 2GB free space when signing up for an account but through various incentives you're able to gain some more free space, with up to 16GB through referrals.
Paper: Dropbox Paper is where you can go to create collaborative documents. It's designed as a flexible workspace where you can write text, create task lists or write code. You can embed images, audio and video and then share the contents with others.
Sharing: Sharing allows you to create shared files and folders, which you can invite and set up others to access. You can share content, collaborate in a single environment create groups of team members and organise a shared resource more efficiently.
Photos: Dropbox Photos creates easy to view albums and timeline entries for any images you've uploaded into your main Dropbox account even those shared with others. You can browse individual images or by date uploaded and create your own specific albums.
Folder Sharing: As with other cloud-based storage services. Dropbox's emphasis on sharing and creating shared folders is the backbone of the business. Considerable works has been done with Dropbox's new interface and controls to make it easy to create shared folders fast.
Apps: Aimed at the business user, Dropbox Apps is a service that allows developers to create their apps within the Dropbox platform. A range of programming languages are available, with documentation, covering HTTP. NET, Java, Javascript, Python and more.
Links: Links in Dropbox allows you to create dynamic links to any files or folders within your Dropbox storage and share them with other users, including those who don't have a Dropbox account This makes it easier to share content outside a project or to send to friends, family and clients.
Is Dropbox secure? Is Dropbox safe?
Dropbox security, Dropbox encryption: Dropbox uses the latest AES 256-bit military grade encryption on its storage, as well as SSL to transfer files to and from your computer and devices. The company used to use Amazon's S3 storage system but now maintains its own server hardware.
Files Requests: This is a relatively new feature to Dropbox, one that allows you create invites for other people to upload files to your own Dropbox account; again, even for those who don't have a Dropbox account Homework assignments from teachers can be sent to students, as well as family photos.
Recovery: With Dropbox it's easy to recover any deleted files, up to 30-days old for Basic Plan users. Business users can also recover deleted files from further back and even get an extended version history and more options.
back to menu ↑
Dropbox Storage
Dropbox Storage, or Files as it's also known, may not offer as much space as the likes of Google Drive but it's has proven itself to be one of the top choices for the home and business user. Pricing is reasonable, with various plans to cover all user types.
FEATURES OF DROPBOX STORAGE
There are many features to like about Dropbox Storage/Files; here though are four to whet your cloud appetite.
Dropbox cost: You get 2GB for free in the Basic Plan but if you refer others and complete some Dropbox related tasks, such as following the company on Twitter, you're able to increase that space up to 16GB. The Business Plans are good too, starting at just £10 per month for 2TB of storage. Note that prices can rise and fall though.
Stored photos within your Dropbox account can be viewed and categorised according to date or placed in individual Albums. You can also choose to share any of the images or user created albums and even download them to your computer or device.
Version History is an excellent feature of Dropbox and allows you to view what's been going on with an individual file. You can see when it was last edited and who it was that manipulated the file. This way you can keep an accurate track of any files within a project and team.
You can also keep track of what's been going on in your shared Dropbox areas through the Events feature. This will give you a timeline of who's edited, deleted, renamed and manipulated any files or folders, and when it was done.
back to menu ↑
How to Use Dropbox Storage
Dropbox is an excellent cloud storage service. It's simple to use, looks good, works well and can be extremely effective and quick. Google's cloud-based services may encompass the entire user package but Dropbox is a far more lightweight option for any user type.
USING DROPBOX
Getting up and running with Dropbox's Basic Plan doesn't require much computing legwork. All you need to do is sign-in to www.dropbox.com
You can sign up with Dropbox either as a separate account or through your existing Google account. It doesn't matter which you opt for. as any alerts, notifications and so on are automatically emailed to the account you use.
Once you've uploaded files, images or documents for example, you can click them to view the contents. You will also be able to share any of the folders and individual files with others, by clicking on the content in question followed by the Share button.
Getting content into your Dropbox account can be done either by dragging and dropping the files and folders from your OS File Manager or by clicking on the blue coloured links to the right of the interface.
Sharing content works in the same way as the other cloud storage solutions available. You enter a user's email address; if you've logged into Dropbox via Google then it uses your Google Contacts. From there you'll be able to generate a link, have an automatic email sent and change the user permissions.
The shared user will receive an email in their inbox, detailing the name of the shared files or folders. All they will need to do is click on the Go To Folder, or View button to have their browser redirect them to the newly created share.
Once connected, the other users with access to the shared files can then make notes and comment on the documents that are currently present You can highlight select areas of text to comment or you can create a document-wide comment using the '@' symbol to mention individuals by name.
If you find yourself running low on space, head over to www.dropbox.com/getspace. This page will detail the amount of storage space you have and how you can earn more. Earning extra space doesn't always mean signing up and paying for the business account. There are some bonuses you can earn.
By completing seven simple steps, you're able to earn an extra 250MB of space. Follow Dropbox on Twitter and give the company some feedback and you can earn another 250MB Finally, refer a friend to Dropbox and for each new member signed up thanks to you, Dropbox gives you 500MB.
The Dropbox desktop app works in much the same way as Google Drive and Microsoft's OneDrive. It creates a folder on your system, putting the shortcut in Windows Explorer, adding an icon in the taskbar and even a right-click context menu.
The Dropbox icon in the taskbar is able to display any notifications, the files within your area or shared folders and it can take you directly to the local Dropbox folder or the web-based portal. You can even upgrade and create links to individual files from within it.
back to menu ↑
Alternatives to Dropbox
The cloud offers different services based on what the user or company demands. It's most basic use is simple storage, as seen in Google Drive, Dropbox and so on but its design also means that the technology can become remarkably complex the more you delve into it. There are some of Dropbox competitors:
Apple iCloud
Google Drive
OneDrive
See also: How to use dropbox