Not so long ago, uninstalling your antivirus software was considered a reckless and foolish decision – especially if you had decided to rely solely on the protection offered by Windows. Every time you went online, you'd risk your PC being infected with malware and hackers stealing your data, just for the sake of saving a bit of money.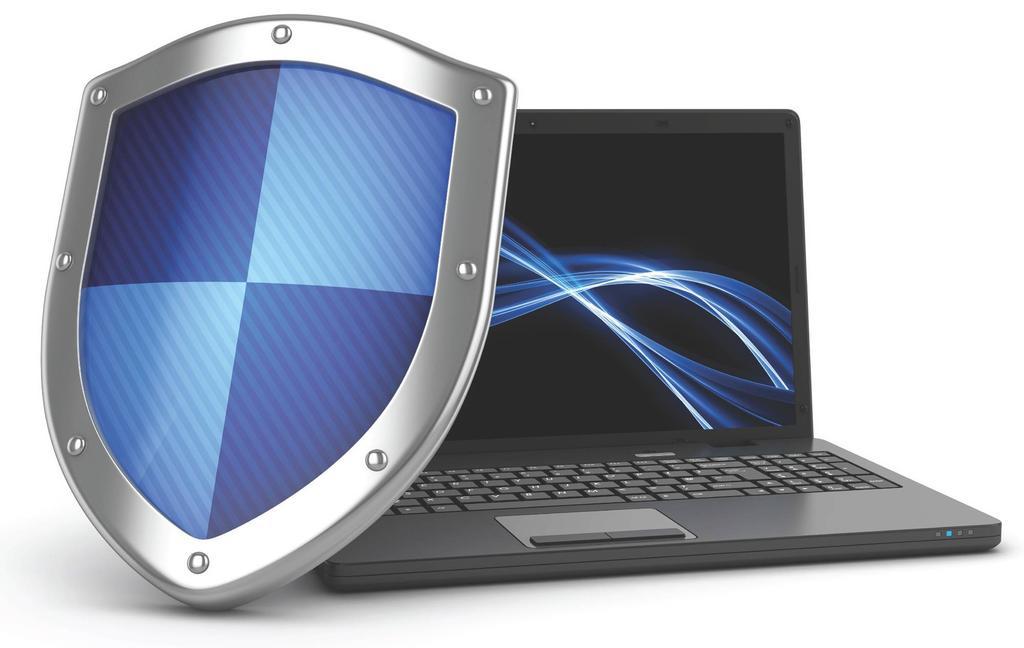 Thankfully, those days are behind us and should you disable your antivirus today, it will automatically be replaced by a program that provides equivalent – and often superior – protection against the latest threats. We're talking, of course, about Microsoft Defender Antivirus, the much-improved security tool that's built into Windows 10 and 11 and does a sterling job of detecting, blocking and removing malware.
Here, we explain why you can now stop paying for antivirus software and let Defender protect your PC for free. We also examine why you may still prefer to pay for protection, by comparing Defender with the latest security suites to see what extra benefits they provide (along with any flaws they suffer). We've excluded Kaspersky, though. We're no longer covering it after our owners, Future PLC, ceased contact with Russian companies in response to the invasion of Ukraine. Additionally, we reveal how to tweak Defender's settings to maximise its level of protection.
WHY YOU CAN STOP PAYING FOR ANTIVIRUS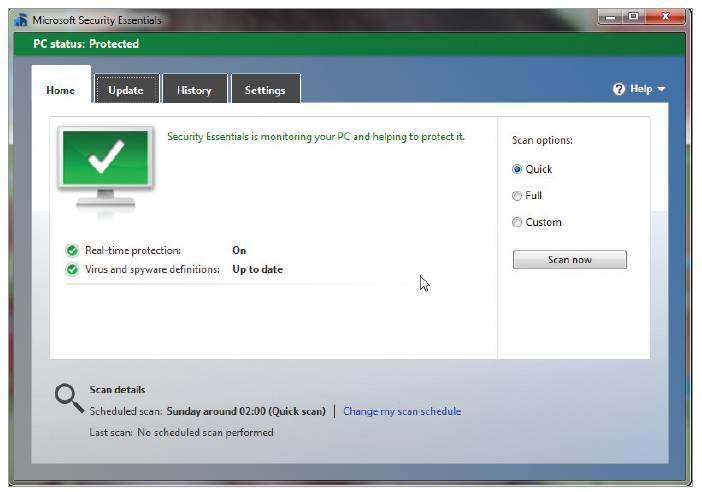 I've always paid for antivirus. Why should I stop now?
Because you don't need to – unless you want to – and could save a lot of money. It used to be the case that the first thing you needed to do when setting up a new PC was install antivirus software, preferably a paid-for suite from a reputable name in cybersecurity. But Windows (10 and 11) now comes with Windows Security built in, which automatically protects your computer against malware and other threats, so you don't have to worry about installing and paying for third-party security software.
But isn't Microsoft security software rubbish?
It certainly used to be, but not any more. The original Windows Defender (initially called Microsoft AntiSpyware when it launched in 2005) did little more than scan your system for spyware, so you still needed a separate antivirus program, while the firewall in Windows XP only blocked incoming traffic, so malware on your PC was able to connect to the internet.
The successor to Windows Defender, Microsoft Security Essentials (MSE, 2009-2015, see screenshot above right), was more effective and offered real-time protection against security threats, but regularly came bottom in antivirus lab tests, beaten by rival free tools from Avast and AVG. In 2013, Microsoft admitted that Windows users should install antivirus above and beyond its "basic" MSE program to stay fully protected against the "bad guys" (www. snipca.com/41372).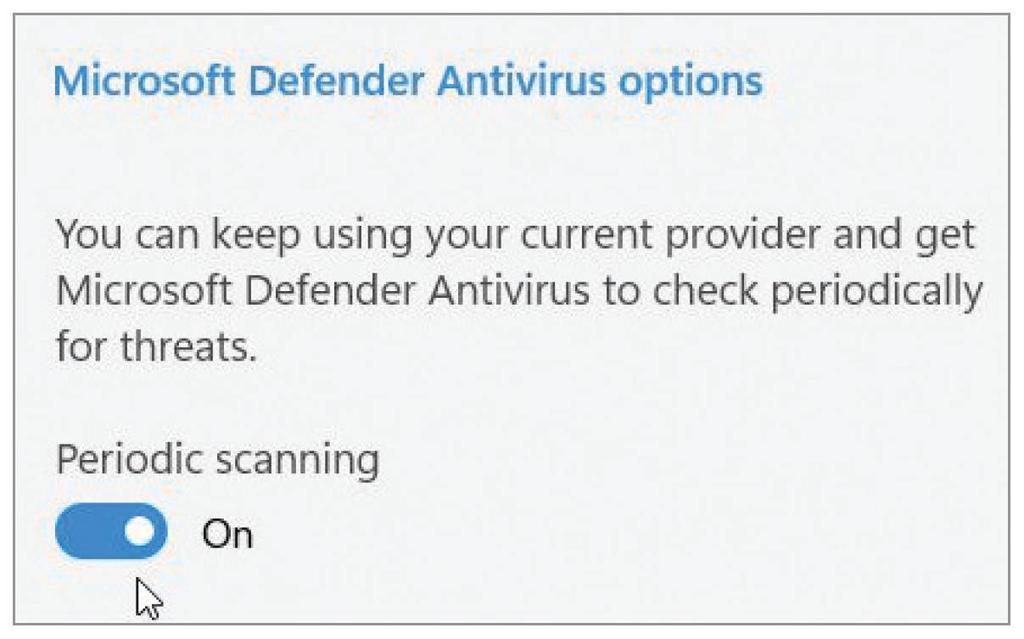 However, with the release of Windows 10, Microsoft finally got its security software right, by introducing the powerful and reliable Windows Defender Security Centre (later renamed Windows Security) and a new anti-malware tool called Windows Defender, since rebranded Microsoft Defender Antivirus (hope you kept up with all those changes!).
How has Microsoft improved Defender?
Microsoft has tightly integrated Defender with Windows, so it can instantly identify and prevent attempted changes to the registry and program settings, and install updates as soon as they're available to protect you against the latest threats. The tool runs quietly in the background, looking for malware and quarantining any it finds, and also scans new files and installers for anything suspicious.
Most importantly, Microsoft has improved Defender's malware-detection capabilities by using online protection to keep it updated with the latest virus definitions (the strings of code that identify specific threats) as soon as they emerge. This information allows Defender to block dangerous files before they reach your system to safeguard you against zero-day threats.
In contrast, early versions of Microsoft Security Essentials required you to check for and install definitions manually, leaving your PC at risk. As we explain in our group test on the following pages, Defender's improved analysis, detection and instant blocking of suspicious files mean it offers equivalent – and in some cases superior – protection to many rival paid-for tools.
I already use free antivirus – why should I ditch that?
One advantage Defender has over free antivirus software from Avast, AVG and Avira is that its seamless integration with Windows means it won't slow your system. It has a very light 'footprint' even as it's actively scanning for malware, with less CPU, memory and power usage than third-party security tools.
Another benefit is that Microsoft Defender Antivirus and the broader Windows Security suite are free, so you won't see any nags to upgrade to a paid-for version or find that certain useful security features are locked unless you do so.
Can I run Defender with another antivirus program?
When you install a third-party antivirus program, Defender will automatically be disabled so that the two don't clash and negatively affect the performance of your computer. Windows Security will update its settings to show that you've switched to another tool to provide your firewall and protection against malware. Because the best antivirus software now blocks the majority of threats, doubling up doesn't make your PC twice as secure.
However, it's still possible to run scans with Defender if you want a second opinion that your system is safe. Select 'Microsoft Defender Antivirus options' on the 'Virus & threat protections' screen and switch on 'Periodic scanning' (see screenshot left). Similarly, you can run other on-demand security tools alongside Windows Security, such as the free version of Malwarebytes (www. malwarebytes.com), provided they don't compete with Defender to offer real-time protection. Otherwise, one tool may quarantine threats that the other then detects but is unable to remove, which will lead it to display confusing warnings.
BEST ANTIVIRUS SOFTWARE TESTED
GOLD AWARD
Norton 360
Best value: Norton 360 Premium 2022 (10 devices, 2 years) $ from au.norton.com
What we like
Norton 360 is an impressively versatile, powerful and trustworthy security suite from the company now known as NortonLifeLock (it was formerly called Symantec). Its main attraction, and the reason we've given it our Gold Award, is the quantity and quality of features it offers even in its cheapest Standard edition.
These include an intelligent firewall, which automatically blocks suspicious traffic and keeps you safe from hackers; a password manager that lets you store an unlimited number of account logins in an encrypted online vault; and Norton's Safe Web extensions for Chromium browsers and Firefox, which warn you about dangerous sites and unsafe links in emails and social-media posts, and protect your online banking transactions by running them in a virtual machine.
There are also extras that you don't normally get with antivirus software, such as an easy-to-use cloud backup tool that protects your files from ransomware – the Premium edition offers a very generous 75GB of online storage while the Standard version has a still reasonable 10GB.
All Norton 360 products include Secure VPN (see screenshot below), which differs from the virtual private networks (VPNs) included in rival suites by providing unlimited encrypted data, rather than only giving you a certain amount for free; and SafeCam, which blocks unauthorised access to your webcam to stop hackers spying on you.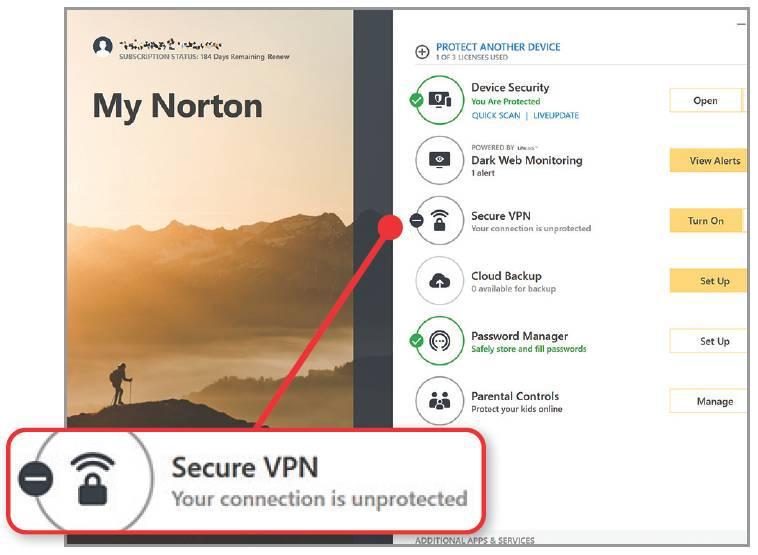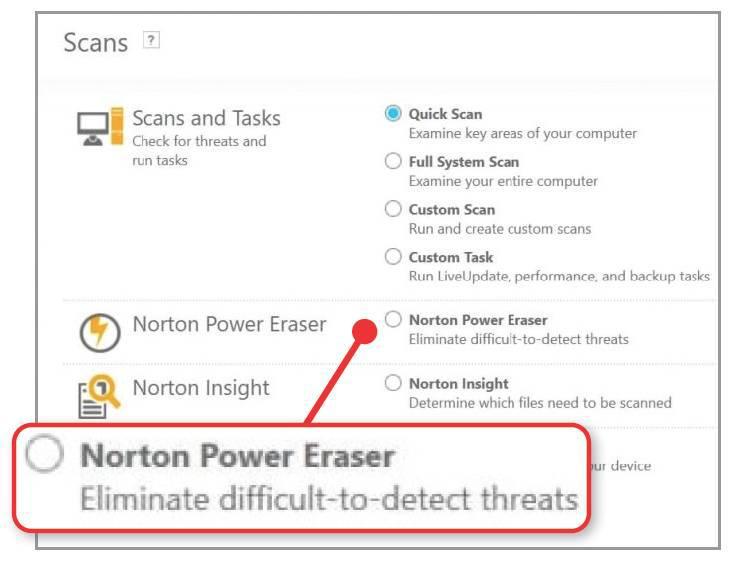 The Premium version also includes parental controls that let you monitor and restrict your children's web access; and Dark Web Monitoring, which alerts you if your email address and other personal data are being traded by criminals on the dark web. A Premium licence can be used across 10 devices, which keeps all your settings and data (including passwords) synced across desktop and mobile devices, while a Standard subscription can only be activated on one.
This amazing array of features would be less attractive if Norton failed to protect your PC from malware, but it does that effectively as well. The most recent tests by AV-Test (www.snipca.com/41385) and SE Labs (www.snipca.com/41384 last December, gave Norton 360 the maximum score, with 100 per cent protection accuracy and no false positives detected.
In AV-Comparatives' latest test (www. snipca.com/41386), Norton 360 was the only program with a 100-per-cent protection rate, but it was marked down for 37 false positives – though this was before the 2022 editions were released.
You can perform a quick scan for malware directly from the program's main screen (see screenshot above), or by right-clicking a file or folder in File Explorer. Full and custom scans can be run in three clicks, along with the option to use Norton Power Eraser (see screenshot below right) to detect and remove rootkits.
Despite its many features, Norton's streamlined interface makes the software quick and easy to use, and it's no longer the bloated resource hog of old, though it still requires much more processing power than Microsoft Defender. We also like its Silent Mode, which prevents updates, pop-ups and other interruptions while you're streaming TV shows and films or playing games on your PC.
What we don't like
Last year, NortonLifeLock made the curious decision to add a crypto-mining tool to all versions of Norton 360, which allows users with powerful processors to 'mine' for Ethereum cryptocurrency. Mercifully, this new Norton Crypto feature is disabled by default, but we question the need for its inclusion – particularly because it has no security benefits. Another minor grumble is that, unlike many antivirus tools, Norton doesn't automatically scan USB sticks for malware when you plug them into your computer.
Our verdict
Norton 360 is a feature-packed security suite that shows other paid-for programs how it's done and highlights why free antivirus tools are basic in comparison. It achieves perfect scores in laboratory tests, is very easy to use and – crypto-mining misstep aside – offers all the tools you need to protect your computer, your data and your identity from the latest threats. No other software covers all aspects of modern security as thoroughly as Norton.
SILVER AWARD
Microsoft Defender Antivirus
Best value: N/A. Free with Windows Security in Windows 10 and 11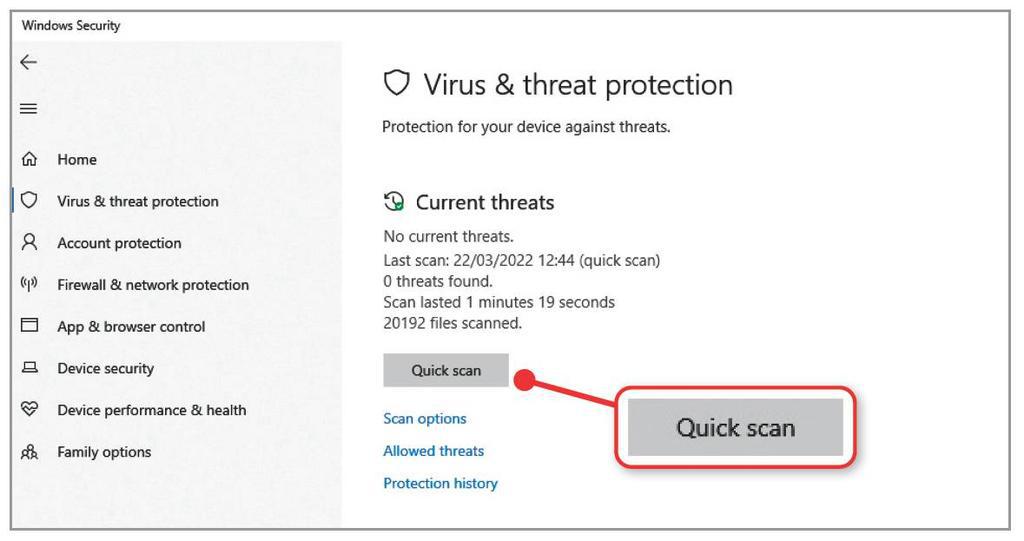 What we like
With some antivirus programs priced at $ a year or more, the inclusion of Microsoft Defender Antivirus with Windows 10 and 11 not only saves you money, but also the hassle of having to choose, download and install security software. It works in the background from the moment you set up your PC and when you uninstall third-party antivirus it re-activates automatically to keep your system safe.
As well as providing real-time protection, Defender offers a choice of on-demand scans. A quick scan (see screenshot above right) will usually suffice, but you can also perform full and custom scans, and remove hidden malware using its offline scan. Although it's undeniably basic compared to our Gold Award winner, Defender forms part of the Windows Security suite, which includes a firewall, protection against potentially unwanted programs (PUPs) and 'exploit protection', which blocks attacks before they infect your computer.
Convenience and (lack of) cost aside, Microsoft Defender Antivirus earns our Silver Award above programs with more features because of the accuracy and reliability of its malware detection. It was given a 100-per-cent total protection rating by AV-Test last December, 99 per cent by SE Labs and 99.7 per cent by AV-Comparatives, with no false positives across the board. These results mean Defender is ranked above software from big names in cybersecurity such as Avira, ESET and G Data.
What we don't like
Although Defender Antivirus protects your whole PC, some of the other features in Windows Security – including parental controls and blocking malicious websites – only work with Microsoft's Edge browser. And although Defender rarely produces false positives, its SmartScreen option can be overzealous at blocking 'unrecognised' tools. Also, unlike other antivirus programs, Defender doesn't let you easily schedule virus scans, though it is possible.
OUR VERDICT
Microsoft Defender now provides world- class malware protection and, because it's included with Windows and runs automatically, it saves you having to pay for and install a third-party antivirus program. It offers some useful extra features through the Windows Security suite, though some of these apply protection only to Microsoft's own tools.
BRONZE AWARD
Bitdefender Antivirus
Best value: Bitdefender Internet Security 2022 (3 devices, 2 years) $ from www.bitdefender.com.au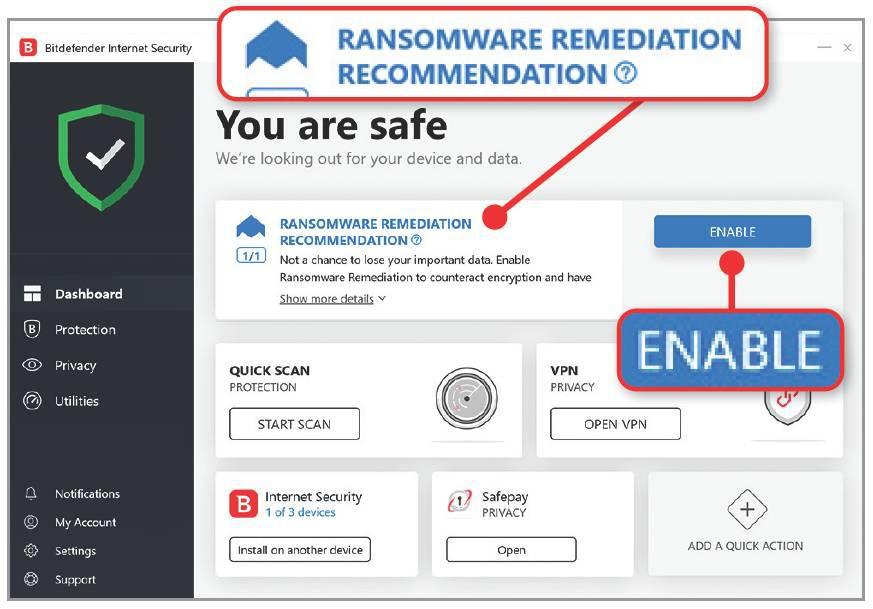 What we like
Bitdefender offers almost as many features as Norton, across all its versions, but Internet Security should be enough for most home users. This lacks a few options found in the pricier Total Security and Family Pack suites, such as one-click system optimisation and protection of your mobile devices, but otherwise provides everything you need to stay safe online, in a smart, simple interface.
Features include a firewall, a network scanner for blocking botnets, multi-layer ransomware protection (see screenshot below right), a password manager, a file shredder for deleting sensitive files and a SafePay browser that protects online banking transactions. Bitdefender also blocks trackers, phishing and malicious links, and lets you control which apps can access your computer's webcam and microphone.
In the most recent tests by AV-Test and AV-Comparatives (SE Labs no longer covers the program), Bitdefender Internet Security performed admirably, blocking almost all the malware that was thrown at it (two threats sneaked through in the latter test) to attain protection scores of 100 per cent and 99.7 percent respectively. In November, AV-Test reported four false positives, but by December there were none, so Bitdefender had clearly refined its data. AV-Comparatives named it the top product for 'real-world protection' for the whole of 2021.
What we don't like
Although similar to Norton 360 Premium in terms of performance and features, Bitdefender Internet Security isn't as good value, only covering three devices compared to the former's 10, which don't include your phone or tablet – unless you upgrade to its Total Security plan. Also, its VPN restricts you to 200MB of encrypted data per day. Microsoft Defender offers fewer features, but provides the same level of protection for free, which is why we've ranked it above Bitdefender.
OUR VERDICT
Bitdefender Antivirus offers plenty of useful features, but make sure you choose the right edition for your security needs and budget. It's not as versatile as Norton or as convenient as Defender, but it's still an excellent choice. A basic free version has just been released to save you splashing out.
BEST OF THE REST
McAfee Antivirus
Best value: McAfee Total Protection 2022 (10 devices, 1 year) $ from www.mcafee.com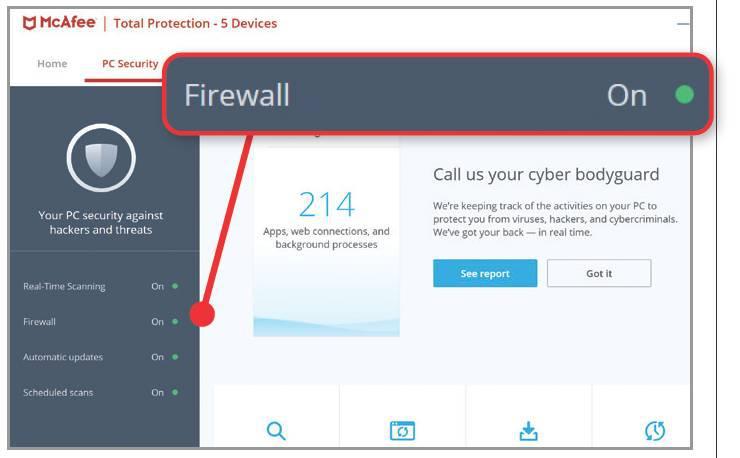 McAfee is a consistently strong performer in lab tests of antivirus software, with both AV-Test and AV-Comparatives naming it one of their top products. It achieved an almost perfect score for blocking malware and avoiding false positives, though SE Labs was less impressed, finding that the software stopped only 84 per cent of targeted attacks.
The Total Protection edition protects up to 10 computers and mobile devices (depending on which plan you subscribe to) and includes a firewall (see screenshot below left), password manager, file shredder and unlimited VPN, though you don't get webcam protection or a secure browser, and only the Ultimate option offers parental controls.
However, what drags McAfee down below our award winners is that it significantly slows your system – using half the available processing power on our PC when it ran a full scan. The program is more bloated than it looks or needs to be, especially compared with the unobtrusive Microsoft Defender, though its features and friendly design are a definite bonus.
Avast One
Best value: Avast One Essential (1 device , no licence) Free from www.avast.com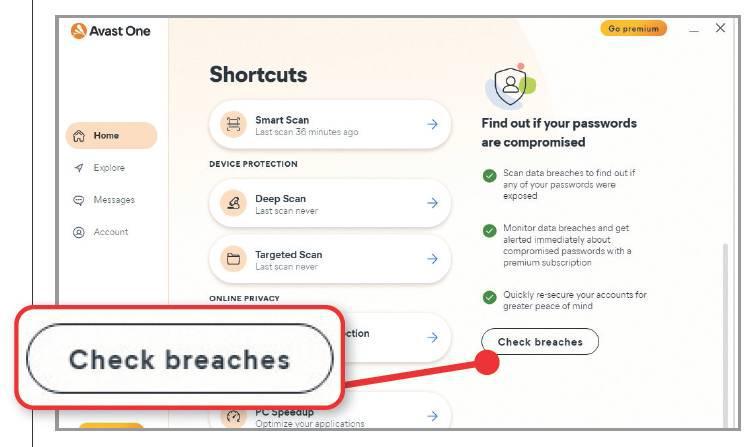 Whereas most 2022 updates are fairly superficial, Avast has redesigned and rebranded its antivirus software. Avast One Essential is the free version and would give Microsoft Defender a run for its money if you had to pay for either.
As well as blocking malware, it checks if your passwords have been compromised in data breaches (see screenshot below), locks folders against ransomware and stops hackers directing you to phishing sites. Avast One Essential also includes a firewall and a VPN, which gives you 5GB of data a week, though only one server location. However, other tools, such as ad blocking, system optimisation and a password manager, require you to pay $ a year for Avast One Premium.
These locked features and prompts to upgrade make the free Avast One more annoying to use than Defender and the 5-device paid-for version is more expensive than Norton and Bitdefender.
Avast scored 99 per cent or more from all three of our labs, though SE Labs found it let through a few targeted attacks – these tests looked at the old free program rather than the new One edition, but this uses the same antivirus engine.
Trend Micro Security
Best value:Trend Micro Maximum Security (5 devices, 1 year) US$ from www.trendmicro.com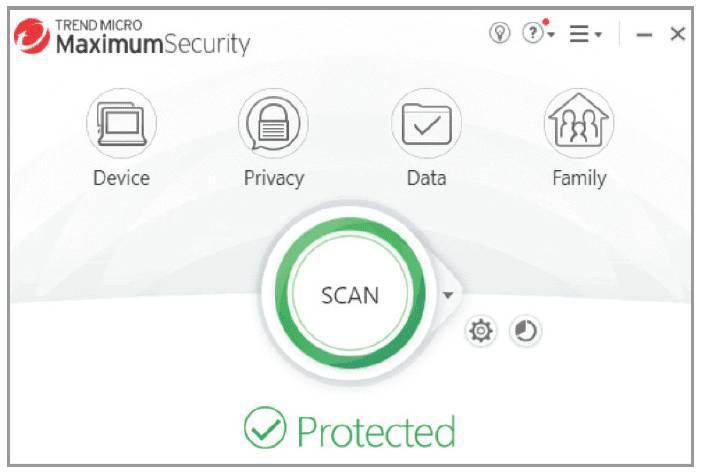 Trend Micro offers simple but effective protection, with an antivirus engine that's rated very highly by all the independent test labs. It achieved excellent results in recent evaluations (though SE Labs didn't test it), but raised more false positives than our Silver and Bronze award winners. All versions of the program provide a secure environment for online banking, but strangely it doesn't have a firewall. Instead, a Firewall Booster monitors internet traffic for evidence of intrusion and botnets.
There are three plans to choose from, with the middle-tier product, Trend Micro Internet Security, throwing in parental controls and social-media protection. However, it's worth spending a bit more on Trend Micro Maximum Security (see screenshot left), which protects phones and tablets as well as PCs, and adds a password manager and secure file vault.
Trend Micro's weak point is that it tends to slow your system while checking for malware, though not as badly as McAfee and it compensates for hogging memory by scanning fairly quickly.
BOOST MICROSOFT DEFENDER'S PROTECTION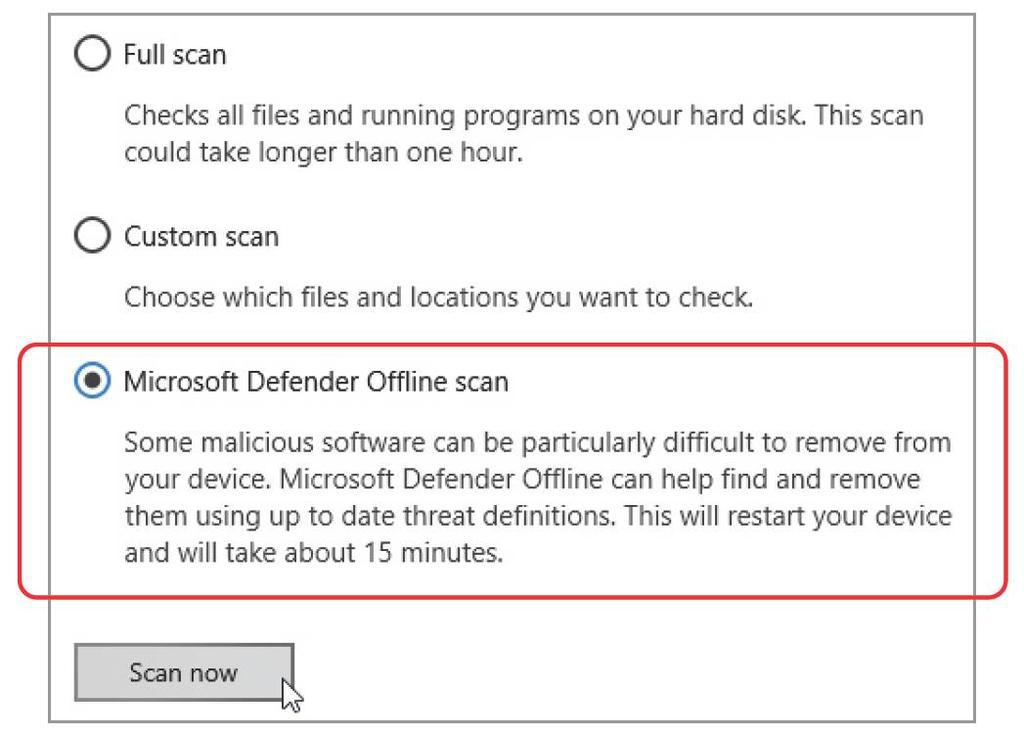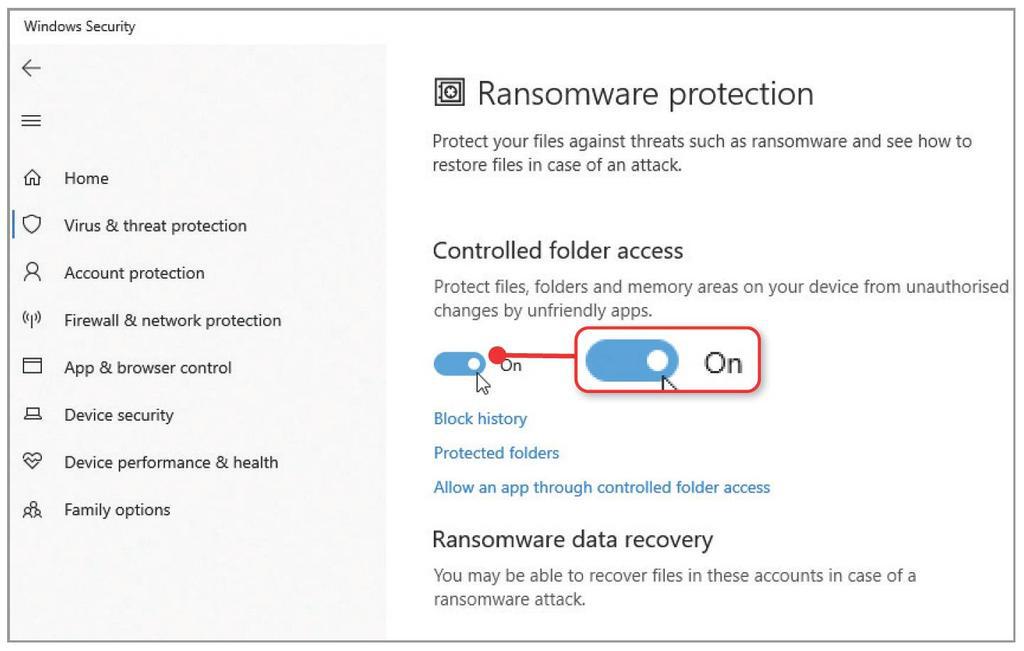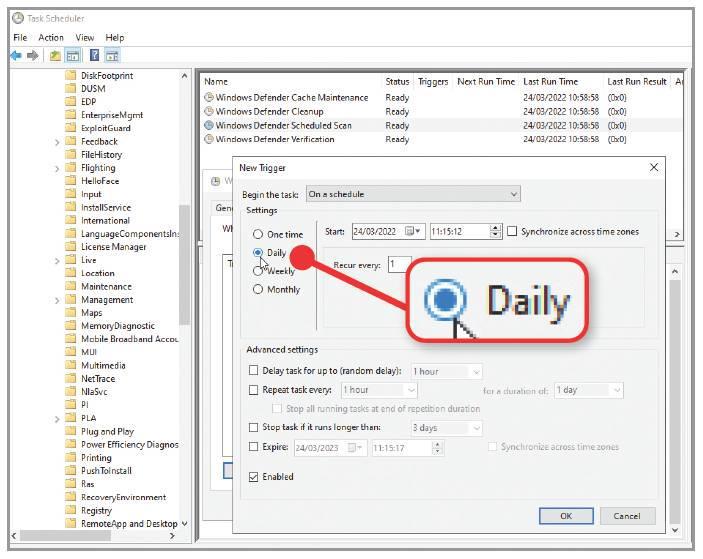 Schedule malware scans with Microsoft Defender
Microsoft Defender Antivirus performs a quick scan of your system once a day, usually while you're not actively using your PC so it doesn't interfere with your work. Unlike other antivirus software, it doesn't let you schedule scans through its settings, but you can set them to run at a time and frequency of your choice using Task Scheduler in Windows 10 or 11.
Type task scheduler into the search box and select that option, then when Task Scheduler opens click the arrow next to Task Scheduler Library on the left-hand side. Click the arrow next to the Microsoft folder, then the arrow next to Windows and select Windows Defender in the list of folders. Double-click 'Windows Defender Scheduled Scan' in the central pane then click the Triggers tab and click New. Specify how often you want scans to run – such as Daily (see screenshot below), Weekly or Monthly – and when you'd like them to start, then click OK to confirm.
Alternatively, you can set Defender to scan your PC every time Windows starts by choosing 'At startup' in the 'Begin a task' dropdown menu.
Microsoft Defender's default Quick scan checks only the folders on your system in which threats are most commonly found. To scan for malware more thoroughly, click the 'Scan options' link on the 'Virus & threat protection' screen and select 'Full scan'. This will check every file and program on your PC for threats, and can take over an hour – so is best run when you're not using your computer. Alternatively, select Custom scan, which lets you check specific files and folders for malware, such as newly downloaded or copied items.
If you suspect your system is infected, but the other scans don't find anything, select 'Microsoft Defender Offline scan' (see screenshot above). This targets malware that's difficult to detect, such as rootkits. It works by rebooting your PC into a safe environment, outside of Windows, where hidden threats are unable to run. Save your work before you choose this option, then click 'Scan now' and Scan to restart.
The scan takes up to 15 minutes, but don't panic if your screen goes black for a few seconds – this is normal. If Defender finds any malware, you'll be prompted to remove it, but otherwise, your PC will boot back into Windows once the scan is finished.
Protect specific folders from ransomware
Defender can prevent malicious programs from meddling with folders commonly targeted by ransomware. Open 'Virus & threat protection' in Windows Security, click the 'Manage ransomware protection' link below 'Ransomware protection' and switch on 'Controlled folder access' (see screenshot below right).
By default, Windows protects the contents of your Pictures, Documents, Videos, Music and Desktop folders, but you can add to these by clicking 'Protected folders' and, on the following screen, clicking 'Add a protected folder'. You can remove protection for folders you've added yourself, but not those included by default.
Defender warns you when a program tries to access a protected folder. Click the warning to see what triggered it and, if you want to authorise the action, choose 'Allow access'. You can authorise programs without waiting for an alert by clicking 'Allow an app through controlled folder access'. Click 'Add an allowed app' followed by 'Browse all apps', find the program you want to authorise and click Open. Click 'Block history' to view details of attempts to access your protected folders.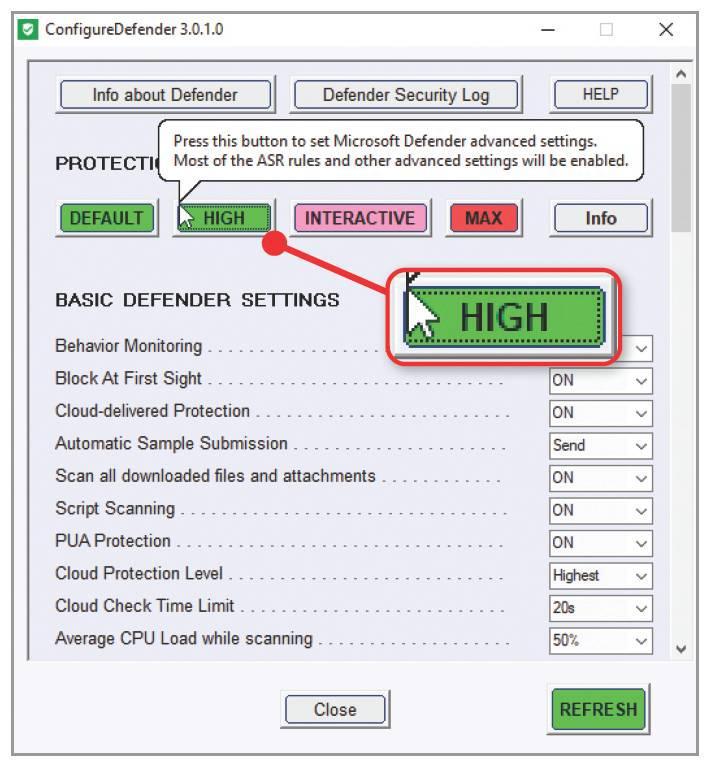 Configure Defender's settings more easily
One disadvantage of using Microsoft Defender as your antivirus is that it doesn't have a standard program interface you can quickly open when you need to tweak its settings. Instead you need to open the Windows Security app and hunt for the options you want to change. A free tool called ConfigureDefender (www.snipca.com/41421) makes things much easier by letting you access and adjust all Defender's main settings in one place, without opening Windows Security.
To use it, go to www.snipca. com/41422, select the 'ConfigureDefender.exe' link and click the Download button. When you open ConfigureDefender – you don't need to install it, which means it can be run from a USB stick – you'll see a list of Basic Defender Settings including Behavior Monitoring, Cloud-delivered Protection and 'Scan all downloaded files and attachments'.
Unless you've already tweaked Defender, these will be set at the default protection levels specified by Windows, and if you scroll down you'll see more advanced options such as 'Block Office applications from creating executable content'.
You can either change settings individually, mainly by turning features on or off, or click the High button (see screenshot above) to have ConfigureDefender apply the best tweaks to optimise your PC's security and prevent false positives. However, don't click the Max button because this applies 'aggressive' settings that may stop some safe programs running. If you experience any problems, just click the Default button to undo any changes you've made to Defender.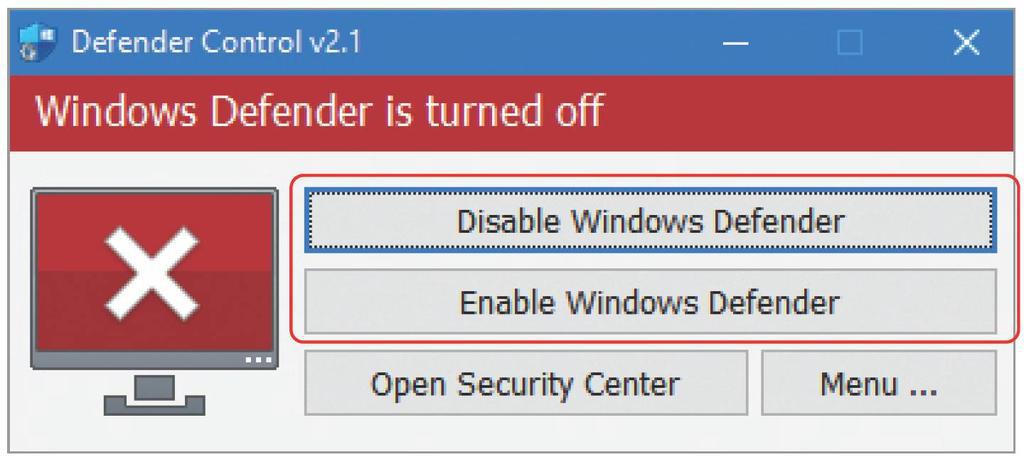 Disable Microsoft Defender Antivirus
Microsoft Defender will be turned off automatically when you install third-party antivirus software, but you can also disable it manually (temporarily) if you need to – for example, if it's blocking or conflicting with another program on your PC.
Click the 'Manage settings' link under 'Virus & threat protection settings' and switch off 'Tamper protection' and 'Real-time protection'. If this fails to disable Defender, download the free tool Defender Control (www.snipca.com/41429), which lets you turn protection off and back on again at the click of a button (see screenshot above).