THE BEST BUSINESS ULTRABOOK AROUND, NOW AVAILABLE IN PINK.
MUCH PRAISE HAS been heaped on Dell's current XPS 13 laptop since it landed back in early 2015, with many lauding it (us included) as the best Windows ultraportable around.
It's been a little under a year since Dell last refreshed the XPS 13 and, with this 'late 2016' model, it's taken the sensible (if slightly boring) route of not messing with what ain't broke — in short, we've got updated internals and a new color option, but that's about it.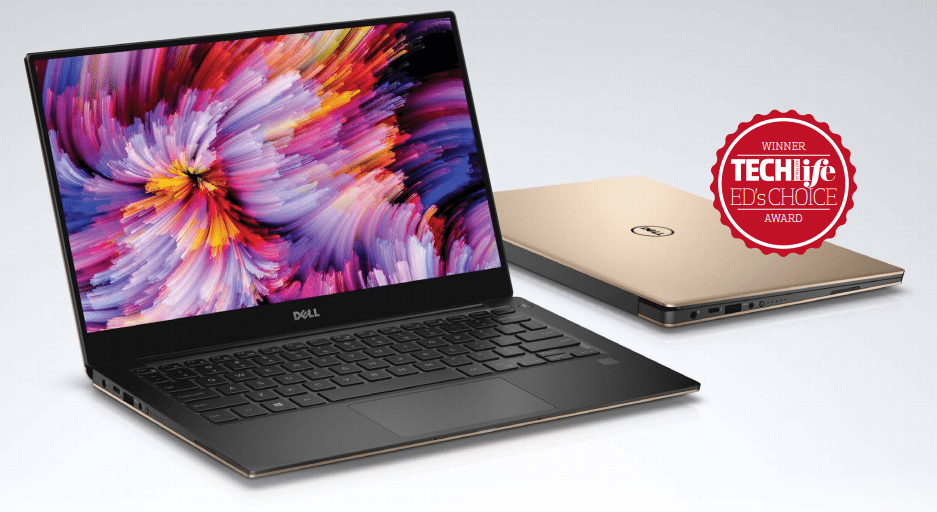 It's a bit of a non-descript refresh, then — and in fact, from the outside, it looks pretty much identical as last year's model, barring the fact that the gold-colored chassis has now been swapped for rose gold… presumably because, hey, everyone else is doing it, so why not? Thankfully, Dell's idea of 'rose' is actually a very subdued reddish-orange hue that's closer to a bronze than a pink — even manly men should be able to use one of these without feeling too emasculated.
What is worth getting mildly excited about is what's under the hood — which, specifically, is Intel's new 7th-gen Core i processors (aka Kaby Lake). These new chips have landed first on mobile, with desktop equivalents set to be launched around the time this issue of TechLife comes out. Intel has made very little fuss about these and, indeed, they don't offer much of a performance boost over their 6th-gen predecessors from last year.
What we did note, however, was a big jump in battery life on the Core i7 model we tested for this review.
Last year, we saw a pretty big gap between the runtime of the Core i5 and Core i7 models of the XPS 13 — with the latter offering only about 4:30hr to the i5's 6:30hr. Some of that undoubtedly came down to a difference in displays, too, with the i5 model sporting a 13.3-inch 1080p IPS screen vs the i7's not-quite-4K screen at 3,800 x 1,800 pixels.
On the new Core i7 model, under lighter workloads that 2-hour battery shortfall has been completely eliminated — and that's despite still having that same super high-res display. You can surf the web or watch movies for nearly 7 hours, so choosing the faster model doesn't come with the runtime trade-off that it used to.
Otherwise, this is still a top-notch ultrabook, with a fantastic keyboard and trackpad, neat 1.3kg weight and tough build quality.

Oh, and the other bit of good news is that the chassis still comes in silver, too — so fellas, if rose gold isn't your thing, you can still pick one up without feeling like you've sacrificed any of your masculinity.
[DAN GARDINER]
CRITICAL SPECS
(As tested) Windows 10 Home (64-bit); 13.3-inch IPS LCD @ 3,200 x 1,800 pixels with 10-point touch; Intel Core i7-7500U CPU; Intel HD Graphics 620 GPU; 8GB DDR3-1866 memory; 256GB Toshiba THNSN5256GPUK NVMe SSD; 802.11ac Wi-Fi; 1.3kg
This Certified Refurbished product is manufacturer refurbished, shows limited or no wear, and includes all original accessories plus a 180 day warranty.
The World's First 13.3" Full HD AG (1920 x 1080) InfinityEdge display, Intel HD Graphics 5500,Integrated webcam
Usually ships in 24 hours
& Free shipping
Last update was in: 2017-10-16 1:29 pm
This Certified Refurbished product is manufacturer refurbished, shows limited or no wear, and includes all original accessories plus a 180 day warranty.
The World's First 13.3" Full HD AG (1920 x 1080) InfinityEdge display, Intel HD Graphics 5500,Integrated webcam
6th Generation Skylake Intel Core i5-6200U (3M Cache, 2.3 GHZ Base Frequency, Max Turbo Frequency up to 2.8 GHz), 8GB LPDDR3 1866MHz, 128GB Solid State Drive, Dell Wireless 1820A 2x2 802.11ac 2.4/5GHz + Bluetooth 4.1 , HDMI
2 USB 3.0 (1 powered) • 1 USB 3.1 Type-C with Thunderbolt • Headphone output/Microphone input combo, 3-in-1 card reader (SD/SDHC/SDXC)
Windows 10 Home, 64-bit, Waves MaxxAudio, 2.86 lbs