Corel VideoStudio X8 Ultimate
A versatile video-editing package let down by its frustrating interface.
Corel VideoStudio X8 Ultimate, the latest version of Corel's video-editing software, could never be accused of being short of features. It gives you 21 video, four audio and two text tracks to work with, has support for 3D video and can handle resolutions up to 4K.
It also comes with a huge number of effects and transitions as well as the ability to animate clipart and text. Videos, photos and text can even be animated along curved paths.
There are modules for converting a drawing into an animation, setting effects to track moving subjects around the frame, varying the playback speed, creating stop-motion animations and recording what happens on screen in other Windows programs as a video file. And when you're done you can create DVDs of your videos complete with animated menus and subtitles, although Blu-ray authoring now comes as a £6 optional plug-in.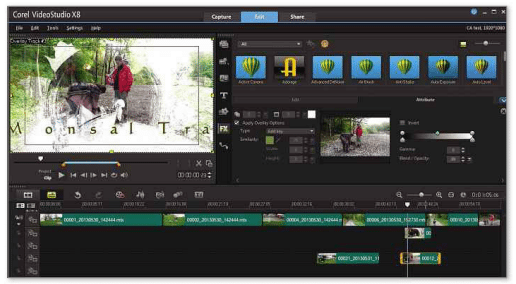 At the other end of the scale are two new features aimed at beginners. Instant Project mode provides glossy templates complete with animated intro and end sequences – just drag and drop your video clips into the project and VideoStudio X8 Ultimate will do the rest. If that's not simple enough there's also a standalone program called FastFlick. wrhich simplifies the editing process into three steps: select a template, add media and export. FastFlick also lets you trim clips, customise text and change the music if desired, but this is optional.
Little effort has gone into maintaining consistency from one part of the program to the next.
Instant Project and FastFlick both have their uses, but with repeated use you'll quickly get through the limited supply' of templates on offer, while the lack of precision over how your footage is used will make the resulting videos seem increasingly clunky and formulaic.
For all its features. W'hat VideoStudio X8 doesn't provide is a streamlined interface. As the features have built up over the years, it seems little effort has gone into maintaining consistency from one part of the program to the next, and as a result some basic tasks are surprisingly' difficult to figure out.
This latest update adds yet more features to the pile, though most are useful. The Freeze Frame command, for instance, converts the current video frame into a standalone photo, while Audio Ducking automatically reduces the volume of music tracks when dialogue is detected in the video soundtrack.
A new Lens Correction effect removes the lens distortion typical on footage recorded by actioncams and dashcams. Projects can now' be merged, and it's easier to keep track of which clips have been used in which projects. Also new is the ability to blend the colours of videos stacked on top of each other, as are sophisticated controls for adding green-screen effects.
These features are clearly aimed at advanced users, but in truth VideoStudio isn't cut out for these kinds of advanced editing techniques. Video clips overlaid on top of the main video can wander out of sync when you edit the main video, while control panels often disappear from view when you adjust the position of the playback bar. The interface can become unresponsive when working with complex projects, and playing back video from some cameras is sometimes juddery.
The export options aren't particularly intuitive either, meaning it's far too easy to export using the wrong settings and end up with videos that don't play properly. For example, the new' shake-reduction tool is impressive, but we couldn't export footage using it until we matched the project and export settings – something that's hard to do.
There's lots to like about VideoStudio X8 Ultimate, but attempting to use it for anything more than basic editing reveals its weaknesses and frustrations. We much prefer editors with fewer extras but more polished core editing tools.
SYSTEM REQUIREMENTS
Windows 7 or later • 1.83GHz Intel Core Duo processor or faster • minimum 2GB of memory.
VERDICT: Lots of interesting features, but a lack of refinement means the weaknesses outweigh the strengths.
ALTERNATIVE:
Adobe Premiere Elements 13 £60 A powerful video editor that caters superbly for both beginners and experts.