PROTECTS YOUR HOME DAY AND NIGHT, infrared night vision and excellent wide-angle 720HD camera; sends video alerts to your smartphone if activity is detected
ADVANCED MULTI-ROOM PROTECTION SYSTEM, Subsound® technology. Protects more of your home, covering multiple rooms in your home from one device.
Free shipping
Last update was in: 2018-07-17 1:26 am
Cocoon Security Camera Review – Digital home-security cameras like the Canary, Netatmo Welcome and Nest Cam IQ are designed to be easy to use – connecting wirelessly to your router so you can control them with a simple phone app (pictured below). The Cocoon aims to make things even easier (with near-instant setup from its very well-designed app) and more effective (by using low-frequency sound as well as vision to detect what's going on around it).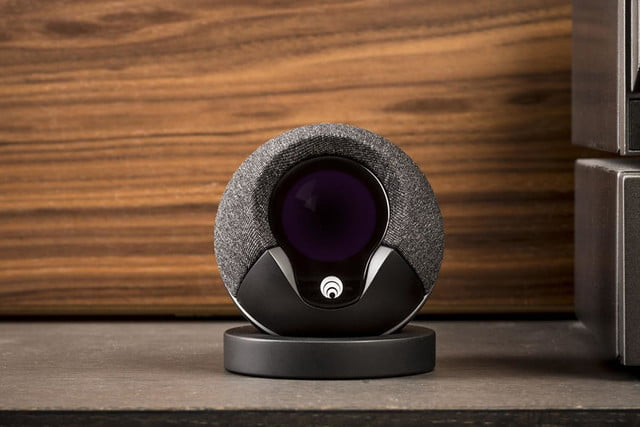 The Cocoon's tennis-ball design makes it easy to point in the direction you want by rotating it on its base, while a long MicroUSB cable reaches from the base to your nearest mains socket. The 120-degree angle of view isn't as wide as some, but will take in a decent-sized area without too much fisheye distortion.
Video is shot at 1080p Full HD, but automatically downsized to 720p, which is a sensible compromise. Most of the detail captured is still visible, but the files are much smaller. We could see clearly enough to identify people in the room without any trouble, and infrared LEDs give you effective night vision too – within a reasonable distance.
A good camera that makes sensible video-storage choices
As usual, you can view a live feed at any time, but you'll normally leave the camera to watch and listen for any motion or unusual sounds. It spends the first week or so learning what's normal for your household. When it does detect anything out of the ordinary, it will send you a notification and begin recording.
You can then opt to set off a built-in 90-decibel alarm to deter intruders, but, unlike with the Somfy One there's no way to make this happen automatically. You can also trigger the alarm or arm the camera with Amazon Alexa voice commands using an Echo or the Alexa app. There's a voice command to arm the camera too, or you can do this based on the location of your household's mobile phones, so as soon as you're all out it switches on. Anything recorded by the
Cocoon is stored online for seven days at no cost, a big advantage over rivals that charge expensive monthly fees.
SPECIFICATIONS
1080p camera (720p recording) with infrasound detection •Alarm • Requires broadband internet connection • Requires Android 4.4 or iOS 9.3 or higher device • 85x75x75mm (HxWxD)
VERDICT
With no ongoing fees, Cocoon is good value and works very well
ALTERNATIVE
Netgear Arlo
This battery-powered camera (and base station) works indoors or out, with seven days of free video storage