A well-specified system backed up by a confidence enhancing five-year warranty
Chillblast built its reputation on powerful gaming PCs, but has been transferring its expertise to workstations for a little while now. As it well knows, there's far more to this than sticking a Quadro graphics card into an otherwise standard PC: a workstation user will be much more concerned that their system has staying power.
Fortunately, Chillblast is so sure of the Fusion Render's durability that it comes with a five-year warranty, with the first two years collect and return. That's especially reassuring, because this system is one of several that ships with a "frequency enhanced" CPU.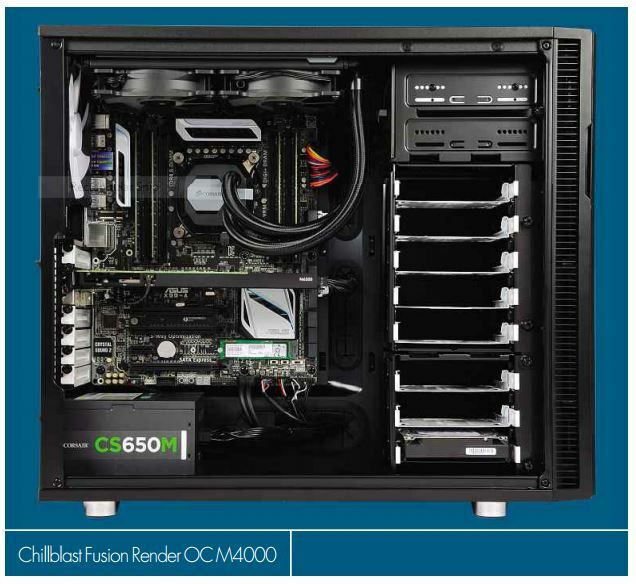 Its six-core Intel Core 17-5820K has been permanently set to 4.2GHz from its standard 3.3GHz, with a Corsair watercooling system in place to cope with the extra heat. As with all the other overcloeked systems on test, it works extremely well, producing a stable, fast system with surprisingly little extra noise. There's Hyper-Threading onboard, too, so 12 threads are presented for applications that can use them, and it supplies 32GB of 2,133MHz DDR4 SDRAM on four 8GB modules, leaving four slots free.
Graphics come in the form of Nvidia's Quadro M4000, a popular inclusion this month for good reason. It uses Nvidia's latest Maxwell GPU and offers high-end performance at a reasonable price. The M4000 takes over from the K4200: where the latter offered 1,344 CUDA cores, the new card raises this to 1,664, a 24% increase that sees a similar boost in performance in certain tasks.
Even more significant is the doubling of frame buffer from 4GB to 8GB of GDDR5, while its bandwidth has increased from i73Gbits/sec to i92Gbits/sec. So the M4000 will be a noticeably faster card than its predecessor, but in particular it will handle larger viewsets. The only downside is that Nvidia has hobbled double-precision performance with the Maxwell GPUs. Double precision isn't widely used in 3D content creation, but some scientific and medical applications take advantage of the extra accuracy.
A sizeable 512GB SM951 SSD occupies the motherboard's single M.2 slot, accompanied by a 7,20orpm 2TB Seagate Barracuda hard disk. The SSD proved particularly fast at writing, but otherwise the storage is pretty standard in this company. Note the optical drive supplied is a Blu-ray reader as well as DVD writer.
The Chillblast managed a decent showing in the PC Pro Benchmarks, placing fourth overall – and one of those above it was the rendering appliance from Workstation Specialists. It also came fourth in the Maxon Cinebeneh R15 rendering test, while its performance in the SPECviewperf 12 viewsets was nigh on identical to other M40oo-cquipped workstations. Most of these viewsets aren't processor-sensitive, so it's no surprise that systems with the same GPU obtain similar results. Exactly the same is true of its Maxon Cinebeneh R15 OpenGL result. However, its scores in the LuxMark 3.1 OpenCL test were phenomenal.
Chillblast packs all this into a serious-looking Fractal Design Define R5 chassis, a choice it shares with IntcrPro and Yoyotech. A door on the front keeps things looking neat, and there are eight drive bays accessible via the left side panel (seven arc empty). Two SSD mounts sit behind the right side panel. These panels hinge out before removal, with two screws and a catch to secure them, making maintenance easy. The audio jacks and power button are conveniently on the front, along with two USB 2 and two USB 3 ports. It's a great chassis for a workstation.
Overall, the Chillblast Fusion Render OC M4000 is a sensibly specified, capable all-round workstation. In this esteemed company, that doesn't mark it out as exceptional, but the extended five-year warranty adds to its appeal.