This entry is part 3 of 3 in the series
PC
CCL's Shadow Hawk XT is a rare beast when it comes to gaming PCs in 2020 – a rig that relies entirely on AMD for its both its CPU and GPU. Ryzen CPUs aren't unusual, of course. This PC relies on the new Ryzen 5 3600XT, a modest refresh of the Ryzen 5 3600X – the base clock remains at 3.8GHz and the boost speed improves by 100MHz to 4.5GHz, but the rest of the 6-core design remains unchanged, and CCL runs it at stock speeds.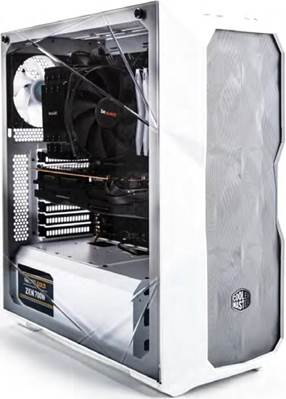 The rarer part in this PC is the AMD Radeon RX 5700 XT GPU. AMD's GPUs have faced an uphill battle against Nvidia, and the card in this PC is an overclocked model from Asus. It has a boost clock that peaks at 2010MHz rather than 1905MHz, and an optional overclocked mode adds an extra 25MHz.
Meanwhile, the 1TB XPC SSD is capacious and supports PCI-E 4, although its read and write speeds of 3,170MB/sec and 3,123MB/sec are no faster than a decent PCI-E 3 SSD. We have no complaints about the memory though – the 16GB of XPG DDR4 RAM canters along at 3600MHz.
The Asus B550 motherboard is a solid option too. It has three spare 1x PCI-E sockets, two vacant memory slots and an empty M.2 connector, and decent S1220 audio, along with extra lighting headers and a Thunderbolt header. At the rear there are fast USB 3.2 Gen 2×2 Type-A and Type-C ports, alongside a BIOS Flashback button. You even get both 2.5Gbps Ethernet and dual-band Wi-Fi 6. The only notable missing features are on-board buttons and displays for testing, and SLI support, but these aren't dealbreakers.
The components are packed into a white version of Cooler Master's MasterBox TD500 Mesh chassis. The white finish isn't the only bold aesthetic choice on this case either – the front panel is covered with angled mesh and the four case fans are all illuminated with RGB LEDs.
The top of the chassis has two USB 3.2 Gen 1 ports, but no USB Type-C, and the side panel is made from tempered glass. On the inside, the layout is good and conventional, with a PSU shroud at the bottom and neat building throughout, even though the 80 Plus Gold power supply isn't modular. It's very neat around the rear too, and there's room for pairs of 2.5in and 3.5in hard disks.
Some areas of the case are tricky to reach though. The be quiet! CPU cooler is huge, blocking a memory slot and making the top half of the board hard to access, and the hefty Asus graphics card blocks one 1x PCI-E slot and several SATA ports.
There's a modest gulf between this machine and last month's PC Specialist (see Issue 205, p30), which also deployed the Ryzen 5 3600XT. That rig had an Nvidia GeForce RTX 2060 Super graphics card, which isn't as fast as the Radeon RX 5700XT, but does support real-time ray tracing, which looks amazing in games that support it. The PC Specialist also had slower memory, poorer connection options and fewer motherboard features than the CCL though.
The CCL faces tougher competition from the wider market – because this  rig comes up against PCs with the RTX 2070 Super. At this price you may have to compromise on CPU power and motherboard features, but it's easy to find a PC containing one of these Nvidia GPUs.

SONIC
+ Great frame rates
+ Fast, versatile AMD CPU
+ Solid motherboard features
+ Good-looking and robust case
ROBOTNIK
—  Expensive
—  Loud when playing games
—  No raytracing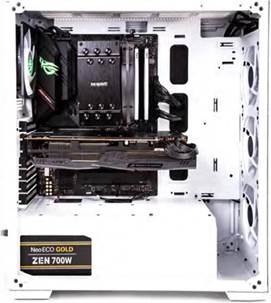 Regardless of the CCL's price, it's protected by a good warranty. The three year collect and return service covers parts and labour for the duration, which is great to see at this price.
Performance
AMD's new processor is excellent. In our single-threaded image editing test, it scored 66,120, and in our heavily multi­threaded Handbrake test, the CCL scored 492,887. This chip tackles photo work, light video processing, everyday computing and multi-tasking with more speed than its predecessor, and the new Intel Core i5-10600K forthat matter, although Ryzen 7 parts remain quicker still.
The Radeon RX 5700 XT is fast too. At 1080p, its gaming minimums ranged between 68fps and 111fps, and at 2,560 x 1,440, those figures sat between 56fps and 88 fps – all superb results.
At both resolutions, this GPU will run tough single-player games without complaint. The Radeon card beats the RTX 2060 Super in terms of raw frame rates too, but the RTX 2070 Super is a tougher test. When stacked up against the beefier Nvidia GPU, the AMD part is a few frames slower and lacks raytracing too.
The CCL doesn't get a clean bill of health in thermal tests either. While its CPU and GPU delta Ts of 58°C and 5TC are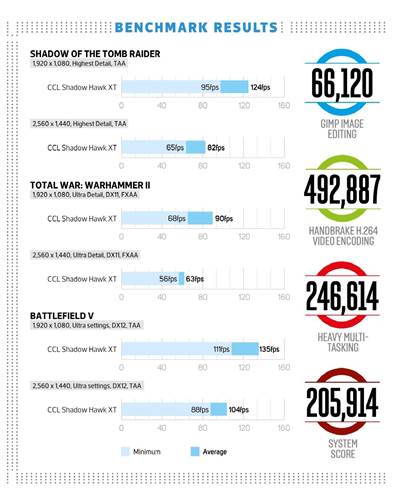 good, there's noticeable fan noise when the system is idle. It's no louder when gaming, but the fan rumble is audible – it's certainly noisier than most mid-range PCs that we review.
back to menu ↑
Conclusion
The Shadow Hawk finds itself in a tough spot. The new AMD CPU provides ample power for everyday tasks, and the Radeon GPU can handle 1080p and 2,560 x 1,440 gaming brilliantly, but you can't enable the top ray-tracing eye candy, which you're going to want when CyberPunk 2077 is released later this year.
On the plus side, the case looks good, the build quality is tidy and the motherboard has a solid range of features. The main problem for the CCL, though, is its price. When you're paying nearly £ for a PC, it should really support real­time ray tracing now, and you shouldn't have to put up with irritating fan noise either.
MIKE JENNINGS
back to menu ↑
VERDICT
CCL Shadow Hawk Xt Review
A great-looking system with fast frame rates, but it's pricey for a PC without ray tracing, and the fans make a racket too.
Where to buy?