Cops and robbers gets the Battlefield treatment.
DETAILS
•    Price: £49.90
•    Developer: Dice
•    Website: www.battlefield.com
•    Required spec Core 2 Quad Q9500 or better/equivalent, Radeon R9 270X or better/equivalent 8GB RAM. 60GB disk space, Windows Vista 64-bit or later, Internet connection.
In the gap between what might be considered full-flavoured Battlefield releases, EA has plumped to back a take on cops and robbers. It's a noble enough objective, particularly as shooters of the Battlefield/CoD variety seem intent on virtual military conflicts topping up the coffers. But does it work? Sort of. Yet to answer with any more depth, you immediately come upon two main issues: "What does Hardline add to the Battlefield legacy", and "Is what it adds any good?". As any game is judged by stable-mates, it's worth first looking at the title's place in EA's superstar series.
What Hardline is not and can never be is a replacement for Battlefield 4. BF4 has recently received a substantial update patch and is currently going nowhere. As far as EA is concerned it's a current title, and more, yet-to-be released content was confirmed at the end of last year. Of course, it's not unusual for EA to support previous titles in the series, and Hardline appears less a reshuffling of the Battlefield priorities than a stylish stop-gap. After all, Battlefield 5 is likely to hit around Q4 2016, and the word is it will pick up once again on the military theme.
What of the Hardline stopgap, then? Well, if it can be called a stopgap, it's a slick, polished, live-wire of one. Re-imagine Battlefield
with police special response units and weapon wielding criminals, and you're pretty much going to be thinking of what the title offers. It runs on the same engine as BF4, and it looks as though the best is now being made of Frostbite 3 – the latest GPUs will certainly deliver delightful visuals. Hardline offers multi-player 'Levolution' too, so those mapshaping destructive setpieces from BF4 are matched in kind here.
Most buying Hardline are likely to jump straight into the multiplayer, but a decent serving of fun is to be had in campaign mode. This fairly engaging experience sees you play Detective Nick Mendoza, a cop who (with his partner Khai Minh Dao) looks to take the fight to a Miami struggling with drug crime. In a series of 'episodes', the plot unfolds like a sort of super-charged series of TV's CSI Miami. There's more than a nod to TV cop shows here, even to the point of the "previously/next on Hardline" clips you might expect of an HBO/Sky Atlantic production. It's cute, it's odd. It's not really Battlefield.
That thought of 'not quite Battlefield' is a sentiment that some will level at the game as a whole (more on that in a moment). Yet at its core Hardline behaves in a way true to the franchise. While the campaign mode seems more like an interactive TV show than ever, it's the familiar on-rails action, equipment unlocks and engaging action that is a friend in new clothing. The key difference is that action is less militarily explosive, but it's interesting, and crucially it's fun. The multiplayer, of course, is different. The immediate difference is the realisation of a gritty law versus disorder battle – and one endowed with true pace.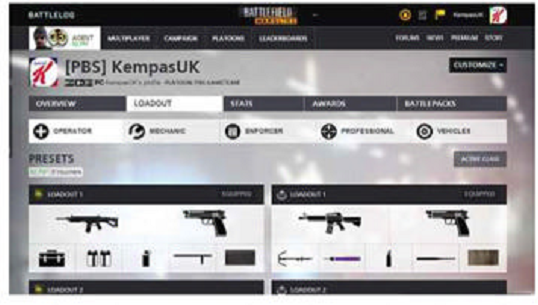 Hardline's online gaming is frenetic, not wholly unlike a (whisper it) Call of Duty release. And while this provides a different level of enjoyment, it's not quite the tactic-driven Tong-game' approach that Battlefield normally provides. The game's speed is in part due to mechanics and the fluidity of movement in gameplay, but it's emphasised due to the mix of modes and map sizes. 'Cramped' is one word that's sums up a fair portion of the in-game criticism. Hardline, being a Battlefield game, allows for 64-player server support. In a traditional BF game, though, that often means warfare spread to four corners of a map by land, air and sea. There's far less of that in Hardline, and the general consensus is that 48 players on one server is ample.
Unsurprising really. The cardriving Hotwire mode – where both sides drive vehicles furiously as opponents scurry to take them out – is always high-speed. But at least the action here moves around a map. Heist, which funnels the action to a central point for theft/protection of loot from a vault, is chaotic and can be over within minutes. Similarly, Heist Mode, where money is stolen or rescued from a central point (it can also be retrieved from the opponents' own stashes), leads largely to gunfights taking place in a corridor across the map. This while the outskirts of lovingly realised, but largely diminutive, cityscapes largely remain untouched.
These differences may take some getting used to for Battlefield veterans and may negatively impact overall impressions. However, it may not be so off-putting to newcomers, who may find redeeming features intact. Indeed, although Hardline feels like a small amount of content to pay up to £59.90 for, there are some nice tweaks and genuinely interesting touches that will keep you interested early on. Most noticeable is that weapon, gadget and vehicle upgrades based purely on level and assignment success have disappeared. Now you must simply earn cash to buy your favoured gear.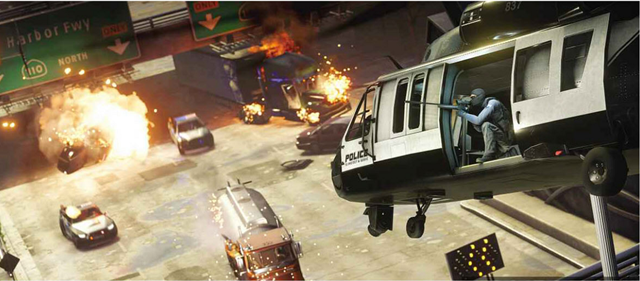 For the time being at least, this can lead to some interesting tactical battles. With differing kit availability for each of the Operator, Enforcer, Mechanic and Operator classes, your gameplay is shaped accordingly. For example, you may have purchased the grappling hook, allowing you access to roofs. But if you've yet to acquire a gas mask, you're best to stay well clear of confined areas. It's an interesting dynamic, purchasing upgrades to suit and compliment your own style of play. The trouble is, handcuffs and tasers may be fun to use – and likewise the 'Hacker' (Commander) role intriguing -but the impact of these factors may be more apparent if the game supported a more tactical and open-map approach. Or if 'progressive' game-modes opened up new parts of a map, like in Battlefield 4's Rush mode. At the moment, in the absence of any such options, Hardline feels less a full release than other newly launched games in the series.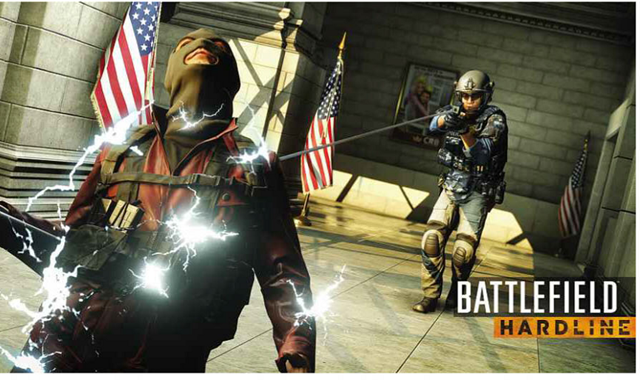 Work will need doing to elevate the game beyond its current status. More, better thought out maps and modes will need introducing and more tactically persuasive gameplay implementing to make it more than just a nice alternative. Currently, many fans of the series are playing both Hardline and Battlefield 4. And that says it all, because while what Hardline adds to Battlefield is fun and different, it's still 'not quite Battlefield', and its stopgap nature reduces the amount players can be prepared to invest in it. For a full-price release, that's a precarious position for it to be in.