First things first: don't let that eye-watering price put you off. Yes it's very expensive, but this Asus PC is one of the few Windows PCs that's worth spending four figures on. If you're tempted to splash out a similar amount on an Apple iMac – don't. This PC has design touches every bit as good as those you'll find in Apple's computers, and of course it runs Windows 10, a much better operating system than OS X.
It's one of the fastest PCs we've ever tested.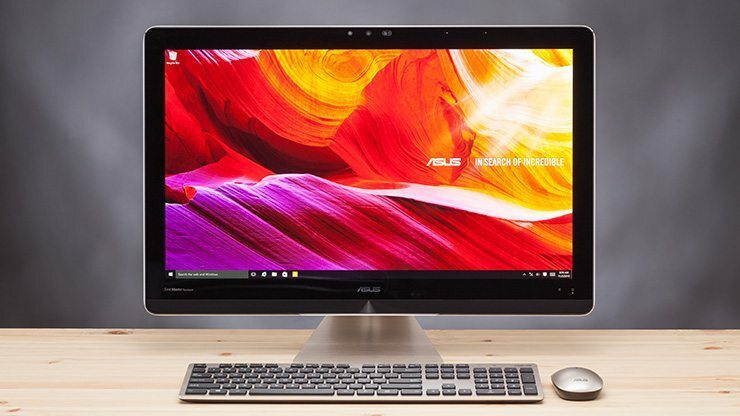 Like Apple, Asus has mounted a slender aluminium crescent on a solid one-piece tilting stand. Its characteristic gold-tinged brushed metal is just as upmarket as Apple's silvery anodised finish. The rear panel is clearly modelled on the iMac, with the power socket at the centre, where its cable feeds through a cut-out in the stand.
Asus has also put the Ethernet and headphone ports here, which makes sense for permanently connected network and speaker cables, but not when you're trying to quickly plug your headphones in.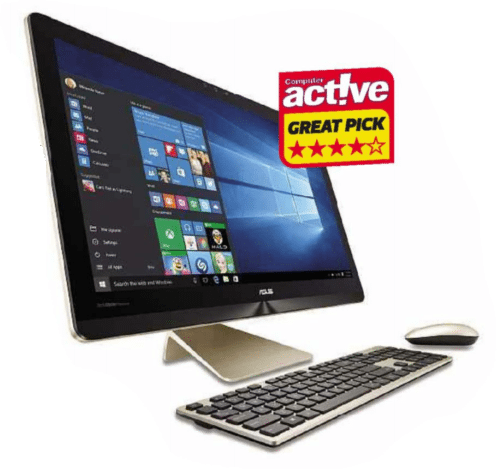 The SD card reader is similarly inaccessible, and the rest of the ports are barely reachable at the bottom left. While the iMac's smooth, flat base makes it easy to turn to access the rear, the Zen AiO's forked prongs are less mobile.
A more serious grievance is the lack of an equivalent to the iMac's access hatch. This lets you cheaply upgrade the memory in the 27in iMac (though not the 21.5in model) to as much as 32GB. Asus provides a sensible 16GB as standard, but there's no option for more, and you can't open the case.
There's better news at the front. The Zen AiO's 24in display – halfway between the iMac's two sizes – covered the whole sRGB colour range with high levels of accuracy in our tests, and its 4K (3840×2160) resolution looked extremely sharp.
It has a touchscreen, so you have the option to reach out to tap a button or scroll a web page. What's more state of the art is the RealSense webcam, which works with Windows' 'Hello' facial-recognition feature to unlock your computer as soon as it sees you. It can also be used along with a few motiontracking apps.
Inside the Zen AiO is one of Intel's newest and fastest processors, the i7-6700T, putting it right alongside the fastest desktop PCs we've tested. It's accompanied by an Nvidia GeForce GTX 960M graphics card, which will cope fine with any 3D game.
This level of performance makes tasks like video editing quite feasible. The only catch is the slow 1TB standard hard drive. With four fast USB 3.0 ports available, and one even faster '10x' USB 3.1 Type-C, you can add quicker external drives if you want. Versions of the Zen AiO are also available with a fast 128GB SSD as well as a hard drive.
We liked the Zen AiO, but it's very expensive. If the 4K display isn't essential, you can get cheaper configurations. There's also a smaller 21.5in version with a slower i5 processor.
SPECIFICATIONS
2.8GHz Intel Core i7-6700T quad-core processor • 16GB memory • 1TB hard drive • Nvidia GeForce GTX 960M graphics • 23.8in 3840×2160-pixel screen • RealSense camera • 802.11ac Wi-Fi • Bluetooth 4.0 • 4x USB 3.0 ports • 1x USB 3.1 Type-C port • Gigabit Ethernet • 2x HDMI ports • SD card reader • Windows 10 Home * 434x585x190mm (HxWxD) • 7.3kg
VERDICT:
It's expensive, but the screen is superb, it has a fast processor and it looks fantastic
ALTERNATIVE:
HP Pavilion 27-n n170na
Performance is in the same league, but the 27in Full HD screen is coarse by comparison
Excellent!
It's expensive, but the screen is superb, it has a fast processor and it looks fantastic
Add your review