Asus Z170i Pro Gaming Review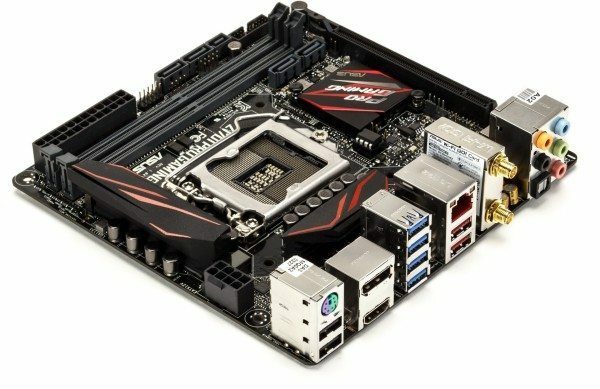 We're expecting a bunch of new mini-ITX offerings to land in the next few weeks as well, from Gigabyte, MSI and ASRock, as well as the highly anticipated Maximus VIII Impact from Asus. For now, though, the Z170i Pro Gaming is one of few options available if you're looking to build a mini-ITX Skylake system.
Asus has also changed its mini-ITX line-up with the launch of Z170, and rather than including a mainstream board along with a pricier ROG Impact board, which has been its strategy since the original Impact launched on the Z87 chipset, the company's cheaper offering now comes under the Pro Gaming banner, with a distinctly snazzy look and feel.
That's a bit of a shame, as the P8Z77-I Deluxe and Z97I-Plus looked both smart and distinctive, while the Z170i Pro Gaming looks very like the early shots of similar boards we've seen from MSI and Gigabyte. Thankfully, the Z170i makes up for its lack of unique aesthetics with features.
The PCB is crammed full of ports and headers, although the first obvious omissions are on-board overclocking and testing tools, such as power and reset buttons or an LED POST code display. That said, few (if any) of Asus' mainstream mini-ITX boards had these features.
Otherwise, there's plenty to talk about. There are three fan headers – two for the CPU and one for a system fan, although there's no dedicated all-in-one liquid cooler pump header as we've seen on several of Asus' full-sized boards. There's a single SATA Express connector at the edge of the PCB, including two SATA 6Gbps ports, but the other two SATA 6Gbps ports are located on the other side of the DIMM slots, which could make tidy cable routing tricky. The fan headers, USB 3 header and front panel connectors are all well-placed though.
Meanwhile, an M.2 port is located the port on the underside of the PCB to save space – a trick Asus implemented with the Z170i Pro Gaming's predecessor – and the port is compatible with SSDs up to 80mm in length. The downside, of course, is that you need to remove the motherboard to access it.
On the top of the board are three heatsinks, all of which are fairly small, including the ones surrounding the CPU socket, so large air coolers should have no compatibility issues. Asus has even squeezed in a small section of isolated audio circuitry for the Realtek-based SupremeFX audio codec, which sports a headphone amplifier. There's also an integrated 802.11ac Wi-Fi module, which has rear connectors for use with the included desktop magnetic antenna.
Finally, the rear panel sports more USB ports than we've seen on some full-sized Z170 boards, although there's no Type-C USB 3.1 port – only two Type-A USB 3.1 (Gen 2) ports are included, which are backwards compatible with previous USB standards. There's a bank of four USB 3 ports plus two USB 2 ports too, so if your setup is USB-heavy, the Z170i Pro Gaming is certainly up to the task.
We've come to expect exactly the same performance from mini-ITX motherboards as their larger counterparts, and Z170i Pro Gaming generally doesn't disappoint. The M.2 port managed read and write speeds of 1,556MB/sec and 669MB/sec respectively using our HyperX Predator SSD – easily as fast as any other board we've tested, and the same was true for the SATA 6Gbps ports' 563MB/sec read and 531MB/sec write speeds.
In our game benchmark, Total War, it also matched the result of its bigger sibling, the Hero, with a minimum frame rate of 58fps, while its total system score of 132,454 is roughly in the middle of the pack, thanks to a slightly lacklustre image editing result. The audio performance was practically identical to that we've seen on Asus' ROG boards too, with dynamic range and noise levels around the 104dBA and -104dBA respectively – results that are very good for on-board audio.
The Z170i proved to be a capable overclocker as well, and the EFI is surprisingly ROG-like in layout and feel, although several ROG EFI features, such as SSD secure erase, are absent. It managed to overclock our Core i7-6700K to 4.8GHz with ease, needing just 1.32V to get there. Sadly, 4.9GHz was a little too far, with neither a 1.48V vcore nor maximum loadline calibration getting a stable result. Even so, the 4.8GHz frequency saw the system score rise from 132,454 to a healthy 147,915. Power consumption rose thanks to the overclock, but the idle total system power draw only increased from 49W to 60W, with load power consumption rising to 166W from 135W.
The Z170i Pro Gaming continues Asus' excellent run of pedigree enthusiast mini-ITX motherboards that nearly match their larger siblings in terms of performance and overclocking. It also has excellent on-board audio, and can handle the latest high speed interface standards.
We've yet to compare it with the competition directly, but early indications are that it's favourably priced and well featured, so we have no hesitation in recommending it for small form factor builds.
The only motherboard likely to beat it in terms of enthusiast features is Asus' own Maximus VIII Impact, but it will also cost considerably more. In the meantime, the Asus Z170i Pro Gaming provides a great foundation for a mini mainstream Skylake build. ANTONY LEATHER
A competent overclocker with loads of features for a reasonable price – a great foundation for a mini Skylake build.
Memory support 2 slots: max 32GB DDR3 (up to 3400MHz OC)Expansion slots One 16x PCI-E 3Overclocking Base clock 40–500MHz, CPU multiplier 8-83x; max voltages CPU 1.7V RAM 1.8VPorts 4 x SATA 6Gbps (Z170), 1 x SATA Express, 1 x M.2 (2280), 2 x USB 2, 4 x USB 3, 2 x USB 3.1 Type-A, 1 x LAN, 6 x surround audio out, line in, mic, optical S/PDIF out, 1 x HDMI, 1 x DisplayPort.