Editor choice
ASUS RoG Strix Z270F Gaming Review
An alternative formula for gaming.
In last month's tested the Strix Z270G Gaming — the micro- ATX entry from ASUS's APC, we new Strix motherboard lineup. This issue, we have its bigger, full-ATX brother in the labs — the Strix Z270F Gaming. This second Strix board feels like it has a lot in common with ASUS's premium and established RoG Maximus board family.
With the Z270G striking similarities to the RoG Maximus Gene, the Z270F does at least have a passing resemblance to a strippeddown Maximus Formula — although that's something ASUS denied when we brought it up in discussions.
That said, regardless of any perceived links within the Maximus and Strix ranges, the Z270F Gaming still presents an interesting option to consider. From an overall design perspective, the Z270F attempts to strike a balance between delivering features orientated towards general performance, gaming and improved aesthetics. And for the most part, it delivers on all three.
Like theZ270G, the Strix Z270F delivers the expected level of performance for this mid-tier of Z270 board.
Gaming speed is in line with what we've previously seen, with strong performance shown in our Far Cry Primal tests, paired with good overall outcomes on the storage I/O across both SATA 6Gbps and NVMe (PCIe x4) storage protocols.
On the other hand, there are faster Z270 options available. Looking purely at numbers, the Aorus Z270XGaming 8 (opposite) is a faster motherboard, but it's also more than twice the price. Bearing that in mind, it's difficult not to give a nod to the effort presented by this more wallet-friendly Strix. And it's perhaps testament to the general high quality of boards on the market today that there is such close competition across a wide price variance — certainly food for thought when considering your PC building budget, and where your resources are allocated.
From an aesthetics perspective, it's difficult not to appreciate the Z270F's subtly muted visual palette, creating a 'less is more' kind of appeal. The lighting options for the motherboard, both direct (RGB LEDs) and indirect (surface reflections) make for a visually intriguing design that can say as much or as little as the user wishes, with lighting finely controllable using the bundled ASUS Aura Lighting software. The unit is rounded out with sleek metal textures, an attractively diffused primary RGB LED lighting feature on the rear I/O shield and two on board RGB headers.
With customisation a key focus for the RGB integration, onboard RGB LED features can be coordinated with a selection of RoG RGB products using the Aura Sync program.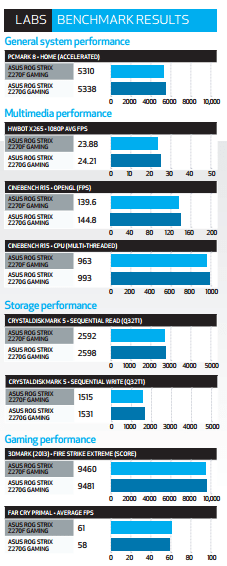 Further customisation can also be achieved with mounting points for 3D printed objects — another frontier for PC customisation embraced by the Strix product range.
Coming from a pedigree of established performance capability, focused features and reliably intuitive user interaction, the Strix Z270F Gaming presents a strong argument for consideration in your next build spec.
Josh Collins
ASUS RoG Strix Z270F Gaming Review
A well-rounded Z270 option, offering appealing features, performance and aesthetics; a strong contender.
Add your review
5-Way Optimization with Auto-Tuning and FanXpert 4 automatically tailors overclocking profiles to your unique build for maximum OC performance and dynamic system cooling
Unmatched personalization with ASUS exclusive AURA Sync RGB lighting, two additional RGB headers and a 3D-printing friendly mount
& Free shipping
Last update was on: 2017-11-18 11:10 pm