Asus B150i Pro Gaming Aura Review
System builders will be attracted moth-like to the Aura of the Asus B150i Pro
Unless you're determined to get an overclockable Skylake CPU and need a Z170 chipset to tweak it, Intel has a wide selection of alternative platforms for its latest processors. Of these, the B150 offers an interesting combination of performance and pricing, which is why Asus placed it in its diminutive but punchy Asus B150I Pro Gaming Aura.
The B150 doesn't overclock or allow for voltage adjustment, and it has just six USB 3.0 ports and only eight PCIe lanes – enough for a single x16 PCIe. If you're building a full size system, then the PCIe limitations might put you off, but with a tiny media-center-centric platform like the B150i Pro Gaming, PCIe lane limits are almost irrelevant.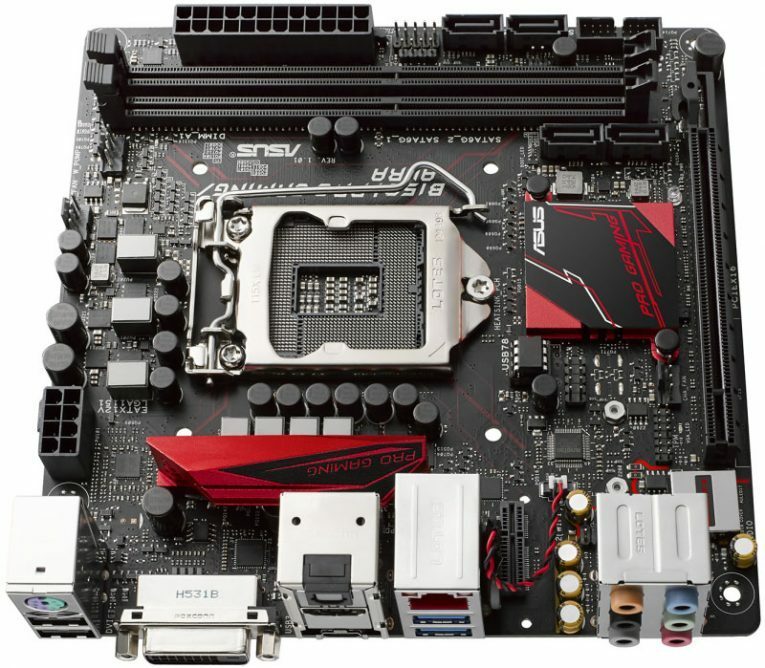 I've seen smaller boards on Intel's NUC systems, but the mini-ITX platform this motherboard uses is as small as you could reasonably get and mount a socketed LGA 1151 processor and DDR4 288-pin DIMM modules. However, things are very snug indeed, with a clearance of about 1mm between the stock Intel cooler and the first memory module.
That said, Asus has shoehorned in a x16 PCIe slot for discrete graphics, four SATA ports, a USB 3.0 header, dual DDR4 slots and three fan headers.
The I/O shield area includes four USB ports (equally divided between 3.0 and 2.0), a Type-C port (USB 3.1 Gen 1), HDMI, DVI, six audio jacks, optical S/PDIF and a combined PS/2 keyboard and mouse port.
On my first inspection, I assumed there wasn't enough room for a M.2 module, but Asus was sneaky here and placed it on the underside of the board. The only snag this, other than the obvious access issue, is that the B150 chipset isn't awash with PCIe lanes, having just eight available to share between all the I/O.
Asus insists that the M.2 has four lanes allocated to it, but I'm not sure if those numbers entirely add up. That said, a high-end M.2 PCIe module used in this slot will still go more than twice the speed of any SATA SSD ever made, so it's largely a moot point.
Another curiosity is the visual tweaks that the 'Aura' series boards bring to the gaming part. In this design the underside of the board is illuminated by ten RGB LEDs that cycle through a rainbow colour spectrum, providing a degree of visual allure. Asus provides a software control tool to allow you to control the colours and cycle patterns, should you have a clear panel enclosure for presenting the effects. You can even make it flash along with music, should that rock your boat. However, this does assume that you'll find a case that is either transparent or has at least one clear side in it.
Benchmarking demonstrated well that the B150i is close to what you might reasonably expect from a full ATX board using the same chipset. Those numbers are less than 5% different from a Z170 board using precisely the same CPU and memory, underlining the amount of technology the various chipsets share.
While many people are drawn to the Z170, had Asus put one on this board, it would be largely underutilised, because there isn't any room for more PCIe slots, extra SATA ports or the like.
My only concern is that if you're prepared to use the micro-ATX form factor, you can get an equivalent board for £25 less than this price. And if you accept H110 chipset, you can have this form factor for about £60. It might not be as pretty as this one, but that extra money saved might fund a faster processor or better/more memory.
Also, if you're going to use discrete graphics, then you'll end up with this tiny motherboard in a micro-ATX case to give sufficient room to the video card and the PSU to drive it. In that scenario, the extra cost of this mini-ITX is a waste, and you'd be better off going with an micro-ATX Asus B150M-A design or similar.
For those who want to build something very compact yet implausibly powerful and spectacular looking, then Asus has delivered something special with its B150i Pro Gaming Aura, but I accept that market is somewhat niche.
I should mention that there's also a wi-fi version of this design with 802.11ac wireless networking hardware pre-installed.
Just make sure you're looking specifically to build a very small system before heading down this path, because that's much of what you're paying for here.
[Mark Pickavance]

Key Features
• LGA1151 socket for sixth-generation Intel Core i7 / Core i5 / Core i3, Pentium and Celeron processors• Intel B150 Express chipset• Dual-channel DDR4 2133 support• SupremeFX Audio• Sonic Radar ll• Intel gigabit Ethernet and LANGuard• RAMCache – uses system ram for high speed cache• M.2 PCIe slot.
LGA1151 socket for 6th Gen Intel Core Desktop Processors
Aura: RGB lighting control for a customized look
Dual-band 802.11ac Wi-Fi + Intel Gb LAN
SupremeFX: Flawless audio that makes you part of the game
Last update was on: 2017-10-18 8:44 pm