Editor choice
Apple MacBook Pro with touch bar (15-inch, late 2016) Review: An amazing laptop for lottery winners
The OLED Touch Bar promises to revolutionize shortcuts, so is it worth the cost?
When it comes to choosing the right MacBook Pro model, it's not just size that usually differentiates the 15-inch models from the 13-inch models. If what you need is high performance, the bigger Pro is where you get it. This is the top-end 15-inch model, in which all components bar memory are improved over the base-level model's 2.6GHz processor, AMD Radeon 450 Pro graphics, and 256GB of storage.
Both models feature the new Touch Bar.
Let's get straight to the Touch Bar. This adaptable strip shows different options depending on what you're doing. Select a file in Finder and it shows options, such as to add tags. Select text in Pages and it shows formatting options. Create a table in your document and it displays controls to add rows or columns.
System dialog options are shown to save choosing one with the trackpad.
Physically, the bar feels great, with a super-smooth matte finish that's different to the iPhone or Apple Watch's glass. It's great at resisting reflections, though the screen quality is a little disappointing compared to Watch's similar OLED screen, and the pixels seem to sit quite deep under the surface. Brightness adjusts automatically, using a separate ambient light sensor to the one for the display and keyboard backlight. You have no control over this — and we're unsure Apple has got it quite right. Usability isn't affected in practice, but we had hoped for a little more vibrancy.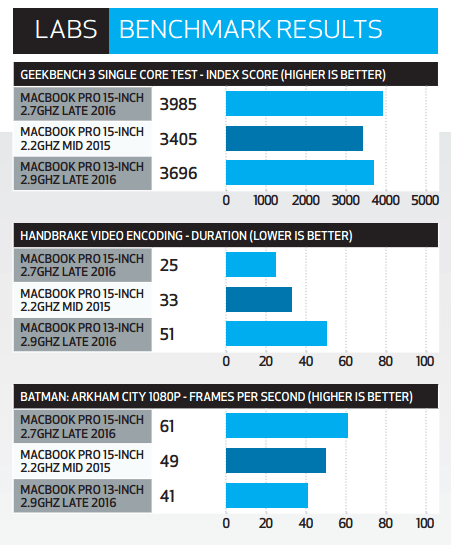 The bar's potential is best revealed in apps like Keynote, where formatting text normally requires switching to the Text pane.
The bar's context-sensitive nature means you no longer have to; with the Arrange pane open, when you click a text box, formatting options appear on the bar. You effectively have two panes open at once, affecting the same box, without extra windows obscuring content.
Shortcuts on the bar are more flexible than key combos, being able to show submenus or precise controls. Pixelmator, say, shows brush size sliders you control with one hand, while your other hand stays on the trackpad.
In System Preferences, you can choose whether the Touch Bar shows app controls and a collapsed Control Strip (some of the features that were previously on the function keys) or just one of those, and what's shown when Function is held down — numbered function keys are an option. You can rearrange items, controls, and add new ones in some apps, too.
Is the Touch Bar worth all the fanfare? It depends on how your apps use it, and your habits. We're using it a lot in Pixelmator and iWork apps, but it has little impact on writing or in Photos, use in iMovie is minimal, and you can't see what's going on in Safari's tab thumbnails (though it's nice when your favorite sites' icons are shown). Still, it didn't take long for us to start reaching for the Touch Bar on other Macs, which tells you something. That's also true of the Touch ID sensor at the bar's right end. Once you start using it, you're completely sold, just like on iPhone.
LET'S GET GRAPHICAL
The processor and graphics capabilities are the real meat here. The quad-core processor makes a huge difference over the dual-core chip in 13-inch models. It finished our video encoding benchmark in just 25 minutes — better than half the time — and it's a solid gain over the 33 minutes it took last year's 2.2GHz 15-inch model. That boost could make a big difference to tasks that use the processor well.
"Shortcuts on the bar are more flexible than key combos, being able to show submenus or precise controls!"
In our Batman gaming benchmark, the 15-inch's Radeon 455 Pro gave almost a 50% improvement over the 13-inch's integrated Iris Graphics 540 chip. In Tomb Raider, the Radeon reached 46.3fps to the Iris's 29fps.
Games tell US a lot about a GPU's power, but in a pro machine like this, rendering 3D real-time visuals isn't always how it'll be used. Many apps, such as Photoshop and Final Cut Pro, use the GPU's huge power to quicken some tasks. In LuxMark, which tests a GPU's speed at OpenCL computations (leveraging the GPU for computing data), the Radeon scored 4,207, while the Iris got 2,700. This can make a big difference to really high-end tasks, but you'll notice it less than you might think for mid-level work. Duplicating layers and adding effects to a huge raw photo in Pixelmator, the Radeon's smoother to work with, yet the Iris is fine for occasional work.
We also tested the Radeon Pro 460 — a custom build option.
Its 4GB memory is double the 45S's. LuxMark rated it 4,566 — not even 10% better. It's the same for games. To be worthwhile, you must use apps like Motion or 3D rendering tools that use the extra memory.
MEMORY LIMITATIONS
Both 15-inch models have 16GB of memory, which is a great starting point for pros but it's also the end point. The Intel chips used here don't support 32GB of the low-power memory Apple uses to prolong battery life. Most will fare fine with 16GB, but it's limiting for some higher-end work. However, having to send data to and retrieve from storage isn't such a hardship given incredible read speeds of 3,231MB/sec and 2,226MB/sec writes.
Storage and memory are soldered onto the logic board, so you must future-proof when you buy. The four USB-C ports work with USB 3.1 (Gen 1 or 2) and Thunderbolt 3 devices, but barely anything uses the USB-C connector right now, so you'll need adapters. These are inexpensive, though a good dock can cost quite a lot. There are bizarre issues too, such as Mini DisplayPort adaptors being hard to find, yet lots of pro displays use it. We get why Apple changed ports, but you'll need to consider the extra costs and hassle.
The new keyboard has very short travel, and the speakers are massively improved compared to previous models — though for pro audio work, you'll want to use headphones or external monitor speakers.
Battery life is still all-day for light work, with screen brightness lowered slightly. You can drain the battery in a little over two hours by letting After Effects run wild but you can get nine hours of use by avoiding intensive apps.
Verdict
Good performance, Touch Bar is great for some apps, yet the model's components are all nearly as fast.
Apple MacBook Pro (2016) Review
It's thin, light and very fast, but also so expensive that it's in danger of pricing out even the professionals.
Add your review
2.8GHz quad-core Intel Core i7 processor with Turbo Boost up to 3.8GHz
16GB 2133MHz LPDDR3 memory
256GB SSD storage
Radeon Pro 555 with 2GB memory
Touch Bar and Touch ID
& Free shipping
2.9GHz quad-core Intel Core i7 processor with Turbo Boost up to 3.9GHz
16GB 2133MHz LPDDR3 memory
512GB SSD storage
Radeon Pro 560 with 4GB memory
Touch Bar and Touch ID
& Free shipping
Last update was on: 2017-11-17 5:45 am