Aorus' X7 v6 looks stunning, and it arrives with its CPU and CPU both overclocked. It's an ambitious design. The mobile GTX 1070's core runs at 1442MHz at stock speed, but the X7 ups the speed to 1468MHz, and you can choose from four more overclocked tiers, allowing the GPU to run at up to a frequency of 1543MHz. The graphics memory is overclocked too, running at 8208MHz.
Likewise, the Intel Core i7-6820HK CPU's stock speed is 2.7GHz with a 3.6GHz Turbo speed, but here it runs at a whopping 4GHz – the beefiest of this laptop's five overclocking levels, its lowest tier being 3.6GHz. Those components make the Aorus special and bring it up against the £2,550 Scan 3XS LG17 Carbon Extreme with its 4GHz Core i7-6700K and modestly overclocked GTX 1080.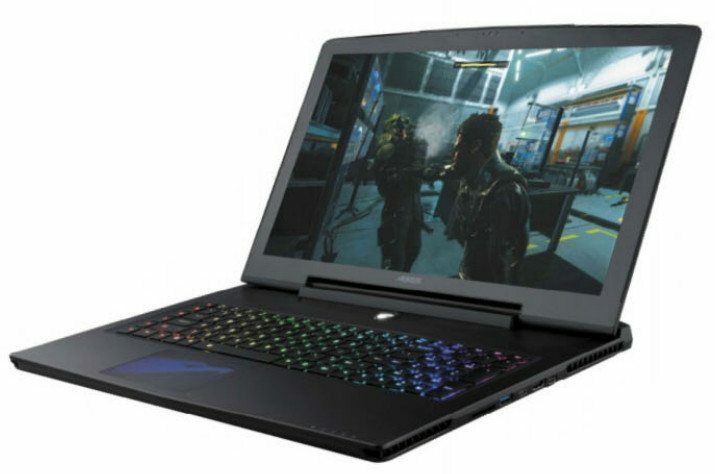 Meanwhile, the X7's 17.3in screen has a 2,560 x 1,440 resolution. We've seen higher resolutions on gaming laptops, but this resolution makes sense: it's sharp enough for the screen size, and the GTX 1070 would struggle to run games smoothly at a higher resolution. The screen also supports 120Hz Nvidia G-Sync, synchronizing the refresh rate with your games' frame rates at up to 120fps. Elsewhere, there's 16GB of memory, a 512GB Toshiba XG3 SSD, Killer-branded Ethernet and 802.11ac Wi-Fi support.
All this top-end hardware sits inside a great-looking laptop. The lid's mirrored logo lights up, the power button is illuminated and the interior has dramatic grilles. There's another Aorus logo on the touchpad, and the rear has chunky, sharp-looking vents. Remarkably, the Aorus also weighs 3.2kg and is only 25mm thick. Both figures are impressive -the Scan is more than 1kg heavier and 1cm thicker. The Aorus also has both USB 3 and 3.1 ports, and the interior serves up two spare memory slots and a free M.2 socket.
The keyboard has six macro keys and customizable RGB lighting. The buttons are comfortably positioned for typing, with middling travel and a soft base, although the action is a little light for gaming. Conversely, the touchpad has snappy buttons that are reminiscent of proper gaming mice, along with a slick surface.
Performance
We ran our initial benchmarks at the X7's default settings, with the CPU at 4GHz and the GPU at 1468MHz. Those options saw the Aorus blitz game tests, with a 70fps minimum in The Witcher 3 being the highlight, along with a superb 40fps minimum in the demanding Deus Ex: Mankind Divided. There's enough power here for 2,560 x 1,440, as well as VR headsets. The processor is no slouch either, with an overall benchmark result of 114,434 – not far behind the Scan. Reducing the overclock to a more modest 3.6GHz saw that result drop to 95,344, which is still decently quick.
However, while the Aorus offers loads of power from its overclocked chips, the svelte system barely coped with the load. With its default overclocks selected, the Aorus' CPU and GPU delivered peak delta Ts of 75'C and 58°C, with the former figure a worry.
The Intel Core i7-6820HK is overclocked to a whopping 4GHz
At these settings, the Aorus produced huge, distracting levels of noise – at peak load, it's far louder than the vast majority of other gaming laptops. Heat distribution is poor too. The keyboard becomes hot, while warm air is pumped from vents all over the system and the underside becomes too hot to touch. Scan's machine doesn't suffer from these issues, and it's quieter too.
By default, the Aorus uses the laptop's Maximum mode, which runs the fans at 5,100rpm. Normal mode set the fans to 4,800rpm, but that made no discernible difference to noise and only increased the GPU temperature by 4°C. The Quiet option reduces the fans to 3,000rpm, which drops the noise levels, but the graphics card's GPU core and memory clocks also drop to 1442MHz and 2000MHz respectively.
The screen also disappoints. Its 351cd/m2 brightness level is fantastic, but its 0.55cd/m2 black level is poor – and that means an underwhelming 638:1 contrast ratio that leaves games looking washed-out and flat. The 7.124K color temperature is cool as well, the average delta E of 5.88 is average and the screen's 81 per cent sRGB coverage ratio is lower than most other laptop screens. Sadly, dropping the brightness to a more palatable 150cd/m2 didn't shift the contrast or colour accuracy issues, and using the X7's various colour modes made barely any difference either. The 120Hz G-Sync feature is great, but the Scan's 4K screen offers more quality in almost every department.
SPECIFICATIONS
CPU 4GHz Intel Core i7-6820HK Memory 16 GB 2400MHz DDR4 Graphics Nvidia GeForce GTX 10708GB Screen 17.3in 2,560 x 1,440 Nvidia G-SyncIPS Storage 512 GB T0shiba XG3 NVMe M.2SSD, 1TB hard disk Networking Killer Gigabit Ethernet, dual-band 802.11ac Wi-Fi Weighting Ports 3 x USB 3 4 x USB 3 Type-C 2 x audio, SD card slot HDMI, mini-DisplayPort Dimensions (mm) 428x305x25 (WxDxH) Operating system Wndows 10 Pro 64-bit Warranty One year parts and labour return to base
On the plus side, the Aorus has a surprisingly capable sound system. With 2W speakers and two subwoofers, it churns out deep, detailed bass and solid, sparkling high-end frequencies.
Ourfinaltest, battery life, yielded no surprises. The 94Wh unit is large, but the overclocked components drained it in almost an hour of gaming, while it lasted for nearly three hours in an application test.
Conclusion
The Aorus X7 v6 makes a huge first impression with its great design and overclocked components, and there's no denying its speed, or its high-quality speakers and touchpad. However, there's also no denying the X7's numerous faults. The tweaked components make the Aorus too loud and hot, and the screen is disappointing fora laptop at this price.
The keen design and overclocked chips push up the price, but that also pushes the Aorus into the Scan's territory. That system is thicker, heavier and uglier, certainly, but it's quicker, quieter, andhasamuch better screen. Aorus should be commended for trying some new ideas, but the firm has tried to cram too much power into this small machine, and it suffers as a result. Its an eye-catching and innovative option, but if you want this level of portable gaming power you're currently going to need a beefier laptop chassis.
MIKE JENNINGS