AORUS GA-Z270X-Gaming 5 Review
'The AORUS brand is off to a good start with the GA-Z270X-Gaming 5."
Whether you're shopping for laundry detergent, ice cream, or a PC part, brand name is likely something that weighs into your decision. And while you probably spend more time researching a motherboard than a laundry detergent, it's easier to find high-end products if you know the brand in question specializes in quality. AORUS is a premium gaming brand of GIGABYTE, and up until today, AORUS has been mostly known for notebooks. The GA-Z270X-Gaming 5 is one of the first AORUS motherboards, and it also serves as our first look at the Z270 chipset.
GIGABYTE isn't going away as a motherboard brand, nor will its G1 Gaming series, we're told. The AORUS brand, similar to ASUS' ROG brand, is aimed at gamers and is where you'll find the most innovative, cutting-edge motherboard additions. The GA-Z270X-Gaming 5, for instance, provides some interesting new twists for onboard lighting and fan controls. Higher-end AORUS motherboards, such as the GA-Z270X-Gaming 7 or GA-Z270X-Gaming 9, also feature built-in support for liquid cooling with blocks designed by EK Water Blocks or Bitspower.
The RGB lighting on the GA-Z270X-Gaming 5 is dazzling. AORUS provides LEDs all around the board, and the illumination is customization via the RGB Fusion utility. There are multiple lighting zones, each of which can have a different color and effect, including modes to pulse a single color, cycle through the entire 16.8 million color spectrum, and sync with music or PC conditions, such as CPU temperature. The GA-Z270X-Gaming 5 can also synchronize lighting with select GIGABYTE graphics cards and third-party light kits. For the latter, the GA-Z270X-Gaming 5 provides an RGBW light strip pin header to support a wider array of LED light kits.
The Z270 chipset is quite similar to the Z170 chipset. For right now, one of the notable differences is that Z270 provides four additional PCIe 3.0 chipset lanes (up from 20 in Z170 to 24 in Z270) for more port flexibility. The GA-Z270X-Gaming 5 takes advantage of the extra chipset lanes to deliver two M.2 ports (type 2242, 2260, 2280, 22110), a U.2 port, two NICs (the Killer E2500 and Intel's i219V), two USB 3.1 ports, and three PCIe xl slots.
Many Z170 motherboards feature similar or identical connectivity, but such a setup generally requires several ports to share bandwidth. For example, we've reviewed several Z170 motherboards where you could connect two M.2 drives and a U.2 drive, but doing so shuts off all of the SATA ports and the bottom PCIe xl6 slot. The GA-Z270X-Gaming 5 allows you to fill up both of the two M.2 ports, the U.2 port, and four of the 6Gbps SATA ports, while only losing the bottom PCIe xl6 slot.
The Z270 chipset also arrives alongside Intel's desktop Kaby Lake processors, and we tested the GA-Z270X-Gaming 5 with Intel's Core i7-7700K. Intel's Skylake processors, such as a Core ¡7-6700K, can also work on this board, or any other Z270 motherboard. The compatibility isn't a huge point in Z270's favor though, because many Z170 motherboards support desktop Kaby Lake chips via a firmware update. Another possible reason to jump to the Z270 chipset is support for Intel's Optane technology. Although not yet available, SSDs with Intel Optane memory are anticipated to use Intel's XPoint technology to provide speedy storage.
Priced at $194.99, the GA-Z270X-Gaming 5 falls on the lower spectrum of AORUS Z270 motherboards, yet it has almost all of the high-end performance capabilities of the more expensive boards. For example, you can install up to 64GB of DDR4-4000 memory, as well as a 3-way CrossFire or 2-way SLI graphics card configuration. The GA-Z270X-Gaming 5 also features Hybrid Fan pin headers that automatically detect the type of cooling device connected.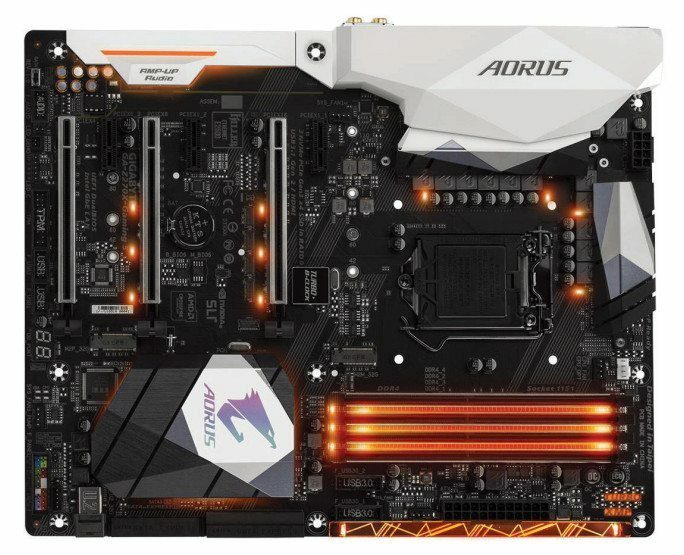 We tested the GA-Z270X-Gaming 5 using both Intel's Core ¡7-6700K and the Core i7-7700K. The benchmark results with the Core i7-6700K matched up with what we've seen from recently tested Z170 motherboards. Moving to a Core i7-7700K bumped
anywhere from 6 to 12.5%. The largest gains were seen in SiSoftware Sandra's 2016 tests, while improvements in Cinebench 15 and POV-Ray 3.7 were a modest 6.3% and 7%, respectively. Pairing the GA-Z270X-Gaming 5 with GIGABYTE'S GeForce GTX 1080 Xtreme Gaming helped to produce healthy frame rates (all above 87fps) in our game tests.
The AORUS brand is off to a good start with the GA-Z270X-Gaming 5. Bright RGB lighting throughout the board makes it incredibly easy to customize the look of your PC, and device support is everything we've come to expect from a GIGABYTE motherboard. We look forward to seeing other AORUS motherboards this year.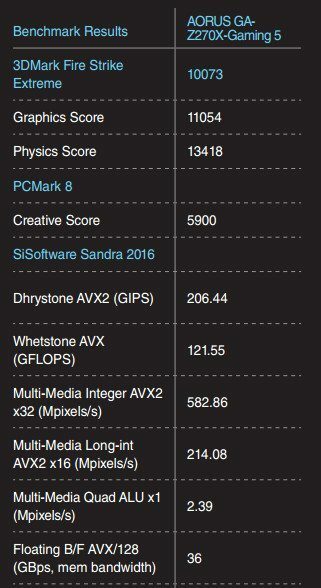 Supports 7th/6th Generation Intel Core Processors
Intel USB3.1 Gen2 with USB Type-C
Sound Blaster-FI MB5+ALC1220 1200b SNR HD Audio
RGB FUSION with Multi-Zone LED light Show Design- 2 Zones
Smart Fan 5 features 6 Temperature Sensors and 5 Hybrid Fan Headers
& Free shipping
Last update was on: 2017-11-15 2:17 am