Adaware Antivirus Free 12
Min requirements: Windows XP/ Vista/7/8+/10 File size: 2.4MB (installer only)
Adaware has been protecting computers from spyware and other threats since 1999 and, over the years, it 's developed into a full-blown anti-malware solution. The latest version has undergone a comprehensive redesign, with a brand-new look and feel that could win back many former users.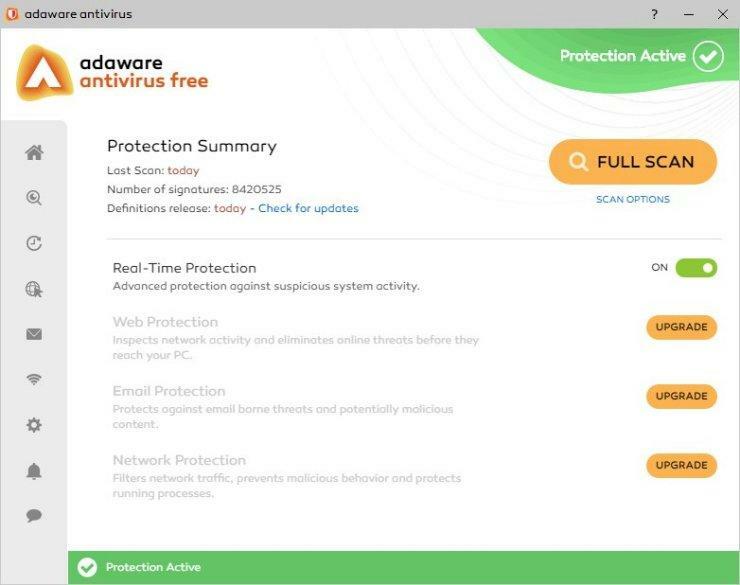 The first thing you'll notice is the streamlined installer, which is only a couple of megabytes to download.
The full installation still takes quite a long time to complete, but you can just run it in the background and get on with other tasks in the meantime.
The new interface sports a smarter white, green and orange color scheme, with a grey strip down the left-hand side that provides access to all the software's features. From top to bottom, they are: Home, Scan Computer, Real-Time Protection, Web Protection, Email Protection, Network Protection, App Management, Notification Centre, Help Centre and Activation.
The bulk of the listed features – including Web, Email and Network Protection – are only available in the paid-for Pro edition, but you still get on-demand, real-time and scheduled scanning in the free version. The on-demand protection is much faster in this new release, and the real-time component has also been improved. The software automatically scans all downloads for potential threats before they have a chance to infect your system.
Like the latest versions of AVG and Avast, Adaware will detect if you already have an antivirus program on your PC and install itself in Compatible mode if you do. This will provide you with a reliable second line of defense that won't clash with your existing security software.
Protect your PC using Adaware Antivirus Free 12
Adaware Antivirus Free offers several types of scan. Click the magnifying-glass icon on the left to go to the Scan Computer screen,

1

then choose from Quick (checks active processes for signs of malware),

2

Full (checks all resources and files)

3

and Custom.

4

Click the Edit Schedule link

5

if you want to schedule a Full or Quick scan.
Scroll down to access more options.
You can adjust the Performance Settings,

1

which will let you change the priority of your scans; and view the Report List,

2

which shows details of findings in any previous scans you've carried out. You can also exclude specific files, folders or extensions from scans,

3

and view any files that have been quarantined.
The Real- Time Protection section lets you toggle background protection on or off

1

(it's off by default if you are running the software in Compatible mode). The cog icon

2

takes you to the App Management section where you can customise the software by locking Adaware with a PIN,

3

enabling and disabling notifications

4

and more