Acronis True Image 2015 Unlimited Review
Back up your entire PC in the cloud and on a hard drive.
Making a comprehensive backup of your computer, and keeping it up to date, is a chore many of us don't bother with. Acronis tries to make this mundane but essential task as straightforward as possible by including unlimited online storage with its True Image 2015 Unlimited backup program. Although the package is described as "unlimited", Acronis says that users won't be allowed to store much more than 3TB of data, but this should be sufficient to keep all but the most monumental collections of files safe from fires, burglaries and other disasters that can befall local backups.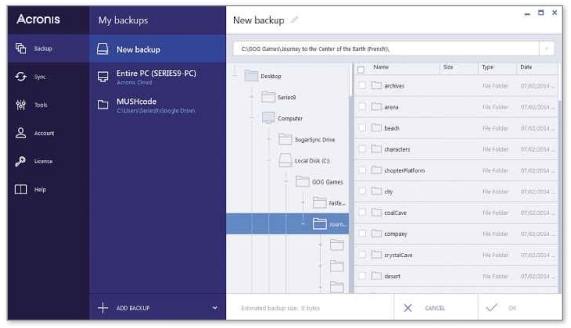 You will of course need a broadband connection with a fast upload speed.
A standard ADSL2 connection gives you a maximum upload speed of 1Mbps. Assuming you achieve that speed, 100GB of data would take around 28 hours to upload. If your connection is slower, it could take as long as a week. Fortunately, True Image can pause and continue uploading your data whenever you want. Moreover, to save time, once you've uploaded your initial backup, subsequent backups only upload the changes you've made since your last backup.
It keeps files safe from fires, burglaries and other disasters that befall local backups.
Of course, you don't have to back up your entire system if you don't want to.
It's easy enough to select specific partitions, folders and individual files to back up, including any data you may have stored on a NAS. However, browsing through large numbers of folders -especially if they're crammed with lots of files – is a pain. The interface quickly becomes sluggish and cramped, and it's hard to navigate the more folders you open. The skinny scroll bar is easy to miss with your cursor and – annoyingly – you can't scroll using the keyboard.
There are alternatives to backing up online. Like the cheaper standard version of True Image (which doesn't include online storage), the Unlimited edition supports a range of local backup locations. As you would when backing up to online storage, simply select what you'd like to back up and then choose where you'd like to save it to. This can be an external hard drive, an FTP server, a shared folder on a NAS, another computer, or a blank DVD/Blu-ray disc.
True Image seamlessly supports password-protected shared folders, prompting you to enter the username and password for the folder as part of the initial backup configuration process. Backing up to an external hard drive is by far the fastest and easiest way to back up your entire computer, with even a first-time backup taking a matter of minutes or hours rather than days.
You can schedule both online and local backups to run daily, weekly, monthly or automatically in the background whenever files you're working on have changed. True Image can also keep past versions of files so you can revert to them in case you make a change you later regret. To this end, True Image lets you set the number of file versions that are to be stored. Should you need to recover files from a backup, you do so via a web interface. If you've backed up locally, you'd use Acronis's built-in file browser or Windows Explorer instead.
REQUIREMENTS
Windows XP SP3 or later (excluding Vista) • Minimum 1GB of memory • 1GHz Intel Pentium processor or faster« 1.5GB of available hard-drive space
Other features include the option to create a rescue disc to help restore your data if your PC suddenly fails to boot. There are also Android and iOS apps that let you view and access files you've backed up to Acronis' online storage.
Acronis True Image 2015 Unlimited has plenty of useful features, but we're not fans of the awkward interface. For most users, particularly those who don't have a fast enough internet connection for large online backups, there are free alternatives that will serve just as well.
ALTERNATIVE:
Paragon Backup & Recovery 2014 Free Edition Free
A fussier interface and no online storage, but this free program has.
Protect and recover your entire, system including e-mail system including email, music, photos, videos, documents and all settings - locally and online.
New! Back up your entire system online. If your physical backup is lost or damaged, you can count on the secure Acronis Cloud to protect you.
NEW! - Universal Restore enables you to restore from any PC to any PC
Bare metal recovery - Recover a system disk directly from the cloud in case of drive failure
NEW! - Faster upload speeds
Quickly recover your entire system or just the files you need
Last update was on: 2017-11-08 4:37 pm