Best value
Acer Aspire S13 Review – Aspiring to be the Best
For people who are looking for a notebook that is great for work while still remaining slim and lightweight with great value for money to boot, the Acer Aspire S13 should be on your list. With its competitive pricing and considering what comes bundled with it, I was curious to see how well the Aspire S13 can achieve its aspirations as a device offering the best fusion of performance and build.
SUPERIOR PERFORMANCE
First things first, the Aspire S13 is fast; not to the point of breaking the sound barrier or equaling the speed of light, but it requires no time at all to boot up, shut down or even open a Windows program. One great feature introduced into the Aspire S13 is the wireless MU-MIMO Wi-Fi adapter, allowing you to have highspeed internet even when it is extremely slow.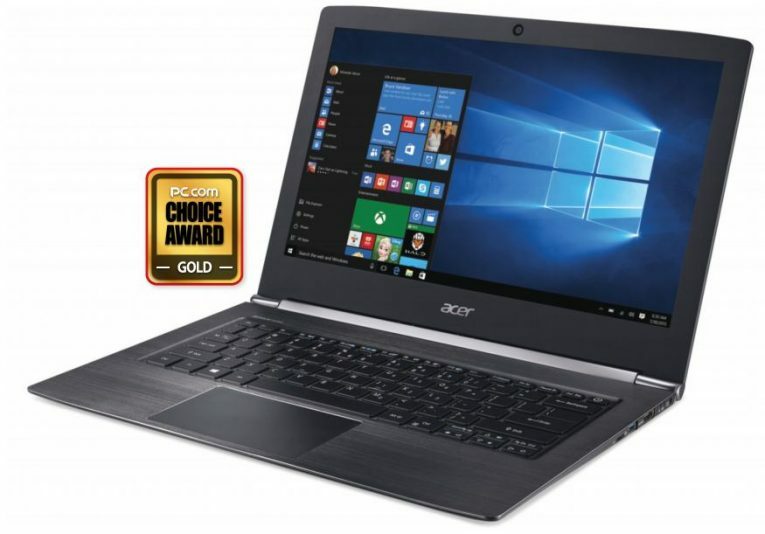 Thanks to its Intel i5 processor, the Aspire S13 is capable of not only providing quick boot up time, but also ensures that there will be no lag involved during the entire duration as it stays on. This is also partly due to the 128GB SSD hard drive, allowing you to enjoy the wonders of not having to wait for anything ever again.
HIGH MOBILITY
Weighing in at only 1,3kg while still being 14.8mm thin, the Aspire S13 is by far the best laptop to have in terms of mobility. It also comes with a 13.3-inch full HD LCD screen, which is a great start for users who are looking for a laptop to get work done or to game with. What actually makes the Aspire 13 stand out from the hoi-polloi is its glossy and metallic look, giving off the impression of quality while remaining highly affordable.
RICH DISPLAY
The Intel HD Graphics 520 injects a full 1080 HD display into the laptop making the display sharp and rich in colour. I have no complaints with the graphics as Windows 10 looks astonishingly beautiful on this laptop. The 4GB RAM also doesn't cause any problems to the system and can help you multitask easily, flipping windows to windows without any lag at all.
Gaming on the Aspire S13 is also relatively smooth with no lags or spikes throughout my time with it. However, the frame rates tend to drop if you're playing games that requires way too much for the Aspire S13 to handle. One way to counter this is to keep your settings to its bare essentials to have a smooth and clear gaming experience.
HD CAMERA
One of the most surprising features of this laptop is its HD camera, which is marvelous. Video conferencing is easily attainable wherever and whenever. It's even labeled as Certified for Skype for Business on the laptop. However, when I opened up the camera, the image looks extremely grainy and seemed more like an oil painting in a laptop, which is intriguing; Acer could have given us a high megapixel camera.
LOVED BY ALL
For a start, this is an excellent laptop for the fresh grads and windows lovers, as it provides more than what a basic laptop could offer. It's really good for surfing, gaming, working and travelling. The laptop is a bit pricey however, but if you want to ask me how about buying it? I would say go for it as you will never regret it. It's the best laptop you can find for its specs.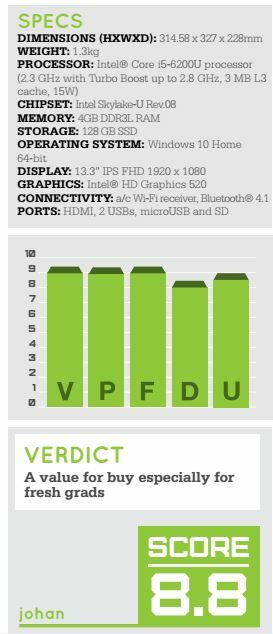 Specfifications
SPECS DIMENSIONS (HXWXD): 314.58 x 327 x 228mm
WEIGHT: 1.3kg
PROCESSOR: Intel® Core i5-6200U processor (2.3 GHz with Turbo Boost up to 2.8 GHz, 3 MB L3 cache, 15W)
CHIPSET: Intel Skylake-U Rev.08
MEMORY: 4GB DDR3L RAM STORAGE: 128 GB SSD
OPERATING SYSTEM: Windows 10 Home 64-bit
DISPLAY: 13.3" IPS FHD 1920 x 1080
GRAPHICS: Intel® HD Graphics 520
CONNECTIVITY: a/c Wi-Fi receiver, Bluetooth® 4.1
PORTS: HDMI, 2 USBs, microUSB and SD
6th Generation Intel Core i5-6200U Processor 2.3GHz (Up to 2.8GHz)
13.3" Full HD Widescreen IPS Comfy View LED-backlit Display
8GB LPDDR3 Memory, 256GB SSD
Windows 10 Home
Up to 11-hours Battery Life
Usually ships in 24 hours
& Free shipping
Last update was in: 2017-10-15 10:01 am
6th Generation Intel Core i5-6200U Processor 2.3GHz (Up to 2.8GHz)
13.3" Full HD Widescreen IPS Comfy View LED-backlit Display
8GB LPDDR3 Memory, 256GB SSD
Windows 10 Home
Up to 11-hours Battery Life
Last update was on: 2017-10-15 10:01 am
Acer Aspire S13 Review - Aspiring to be the Best
A value for buy especially for fresh grads
Add your review