Is it time to replace your creaky old desktop PC?
Andy Shaw examines nine new models
Laptops are compact and convenient but if you want a powerful PC that's built to last, it's better to go for a desktop model. Standard PC components are cheaper than their smaller laptop equivalents, so you get significantly more power for your pennies, and what you lose in portability, you make up for in internal space for upgrading.
None of the PCs reviewed here come with screens, keyboards, mice or any other peripherals. If you're replacing an existing PC, simply swap out the box and use your current kit. If you want to buy a whole new set-up, the suppliers we've reviewed here will be more than happy to sell you any extras you may need, or you can shop around for the best deals.
HOW WE TESTED
We put all the PCs through their paces using our Windows benchmark suite, which gives an overall score based on a series of tests including office tasks, image editing and video encoding.
We also tested the computers' ability to run games and other graphically intensive tasks, pushing them to their limits with gaming benchmarks that run Dirt Showdown and Metro: Last Light Redux at their highest settings.
Palicomp AMD Avenger  www.palicomp.co.uk
The Palicomp AMD Avenger shuns the flashy case design of most desktop PCs and opts instead for a medium-sized plain black box that won't take up too much space on or below your desk. It only has two USB 3 ports on the front, though there are more (four USB 2 and four USB 3) on the back.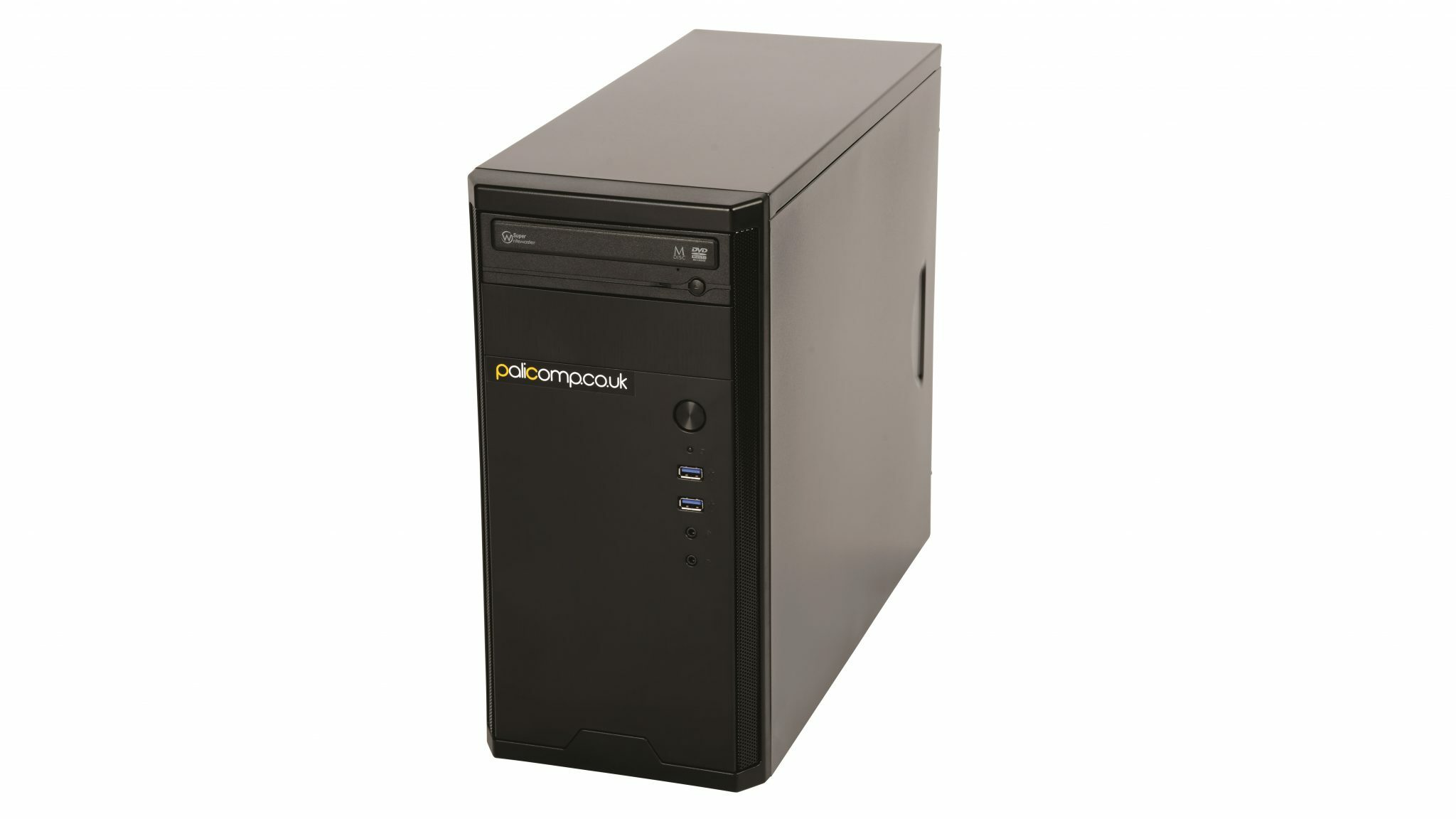 The PC comes crammed with great components. Palicomp has overclocked (made to run even faster) AMD's Athlon X4 880K processor to 4.5GHz and paired it with an excellent graphics card featuring AMD's GTX 960 chip. It's also equipped with a best-of-both-worlds dual hard-drive setup, with a 240GB SSD to get Windows and programs launched at top speed, alongside a 1TB hard drive to store your files on.
Despite the smaller-than-average case, there's still some room to upgrade, including spare memory slots for boosting the PC's 8GB of RAM. However, with two hard drives already installed, there's no space for any extra 2.5 or 3.5in drives, though there is a spare 5.25in bay below the built-in DVD-RW drive.
In our tests, the PC performed well. Its mid-table performance of 64 didn't set the Windows speed tests alight, but it was only four points behind the second-place Chillblast Fusion Nitro, which is impressive given the extremely tough competition in the top half of this group. The installed SSD makes the PC feel faster than its performance in these tests might imply.
The AMD Avenger put in an exceptional performance in our gaming tests, running our Dirt Showdown test at more frames per second than any other PC in this group. It was also joint first in the Metro: Last Light Redux test, alongside the Bronze Awardwinning Box Cube Captain.
VERDICT ★★★★★
The Palicomp AMD Avenger is built into a relatively small case but it still has some room inside to upgrade, with space for extra memory and a 5.25 in drive. However, you shouldn't need to upgrade any of its components any time soon, because they have been carefully chosen to provide a good level of performance. This was borne out by the PC's results in our tests-it dominated the games tests and performed well enough in the Windows test too.
Cyberpower Infinity X33 SE www.cyberpowersystem.co.uk
The Cyberpower Infinity X33 SE comes in a large case, so it's more amenable to upgrading than the Gold Award-winning Palicomp PC, although its motherboard is a bit on the small side. It has two 5.25in and seven 3.5in bays free, but there's no 2.5in tray ready and waiting for an SSD, and only a 1TB hard drive installed. It's a well-ventilated case and, although it doesn't come with its own fan, we didn't notice any overheating and there's space to add fans later if you need to.
Performance was excellent, coming second to the Palicomp in our Dirt Showdown test, and fourth in both the Metro: Last Light Redux and Windows performance tests, which kept it firmly in the top half of this group across the board. It doesn't have as many easily accessible USB ports as some of its rivals, with just one USB 3 and one USB 2 at the front, but it has six more on the back – two of which are USB 3.
VERDICT
This offers more future upgrading potential than the Gold Award-winning Palicomp PC and the performance was very similar in our tests. It doesn't have an SSD, though, and you'll need a 3.5in adapter if you want to install one.
Box Cube Captain www.box.co.uk
The Box Cube Captain's case is more aesthetically pleasing than our other two award winners, and there's plenty of space inside for extra components, which means it has room for future upgrades. Box has already taken advantage of this by installing internal Wi-Fi hardware (the Cube Captain is the only PC in this group to have this), so if you are setting it up away from your router, you won't need a separate adapter to connect it to the internet. Although it doesn't come with an SSD, it's the only one of our award winners that has the correct attachments in place to add an extra 2.5in model without needing an adapter.
It performed well in the games tests, coming joint first in the Metro: Last Light Redux test and fourth in the Dirt Showdown test. It was third from bottom in the Windows benchmarks, though, which is a bit disappointing.
VERDICT
The Box Cube Captain is good at running games but fell behind our main award winners in our Windows performance tests. Its attractive case has plenty of room for upgrading and adding components further down the line.
BEST OF THE REST
We reviewed six more PCs that didn't quite make it into our awards. The Mesh Elite Icarus CS (www.meshcomputers.com) came top of our Windows benchmarks by some margin, but it didn't do so well in our gaming tests, so is less of an all-rounder. Meanwhile, the Chillblast Fusion Nitro (www.chillblast.com) came second to the Mesh in our Windows tests but was short on upgrading potential.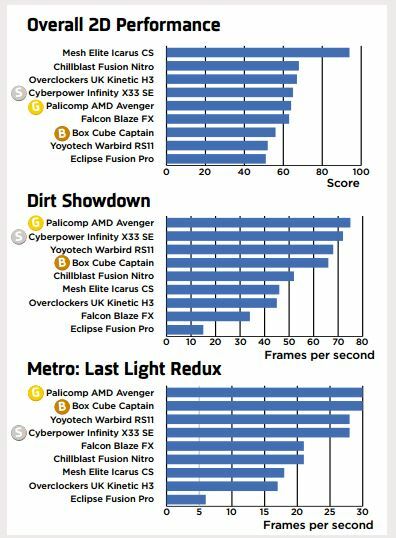 If you want something more upgrade-friendly, the Overclockers UK Kinetic H3 (www.overclockers.co.uk) has a cracking case with stacks of room but its performance in our gaming tests was disappointing. Rounding off the four-star reviews is the Yoyotech Warbird RS11 (www.yoyotech.co.uk ), which came third in both our gaming tests but put in a disappointing Windows performance, coming second from last.
The Falcon Blaze FX (www.falconcomputers.co.uk) ended up in the bottom half in all our tests and its case hampers future upgrading. More disappointing was the Eclipse Fusion Pro (www.eclipsecomputers.com), which came last in all the tests we ran.
OUR VERDICT
We gave our Gold Award to the Palicomp AMD Avenger, which proved to be a good all-round performer. It could do with a little more internal space but you can't have everything in a PC, and its excellent components mean you won't have to upgrade any time soon.
If future-proofing is important, our Silver Award-winner is a good alternative. The only downside is that it doesn't have an SSD, so it doesn't feel quite as nippy, even though its hardware performed similarly to our Gold Award-winner in tests.
The Box Cube Captain fell behind the other award winners in our Windows test but still performed well in our gaming tests, earning it our Bronze Award. It also has a roomy case, with lots of capacity to upgrade, and was the only PC to come equipped with Wi-Fi.