Don't fear to tread
5 of the best treadmills to handle your winter miles
30 Dec 2021
A treadmill is likely to be one of the biggest cash investments you'll make in your running, so you want to ensure you choose the best model for you. Luckily, we've done the legwork: we tasked our RW Lab team with putting the best to the test. Five panellists trialled each machine, feeding back on their ease of use, design and performance, as well as how smooth and stable they were at all speed and incline settings. This data was used to calculate an overall score for each machine, select the top performers you see here and decide which one emerged with the championship belt.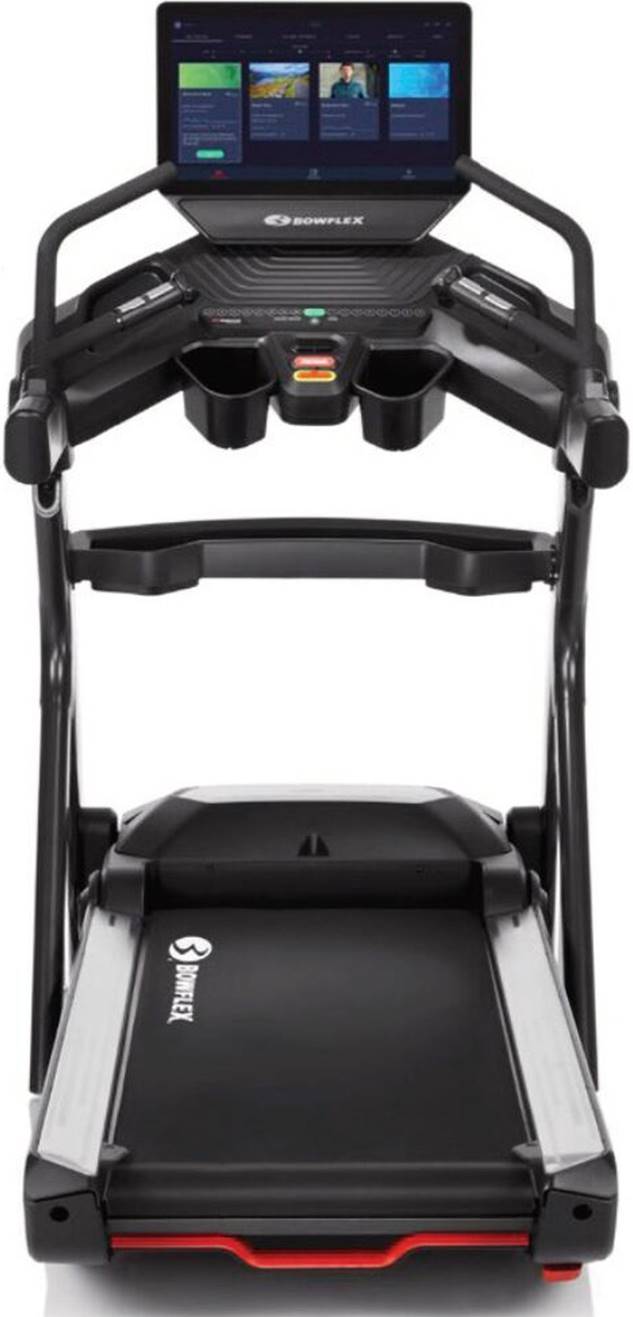 EASE OF USE: 9.3/10
DESIGN: 9/10
PERFORMANCE: 9.5/10
VALUE FOR MONEY: 6.4/10
OVERALL SCORE: 92.3/100
Low-tech treadmill sessions may have soured your relationship with the 'mill – steady-pace miles staring at a wall, anyone? Fortunately, the Bowflex leaves little room for boredom. Boasting an impressive range of gradient settings, from 20% to -5%, it also links to the brand's JRNY app, which collects your performance data before providing personalised workouts, as well as offering virtual scenic running routes and streaming services including Netflix, Prime Video and Disney+. These are displayed on its vibrant 22" touchscreen, which even the least tech-savvy among our testing team found easy to navigate. As a result, we were able to scroll through JRNY's extensive workout library to find a session to suit all fitness levels and goals.
The Bowflex is undeniably a big machine, even when the belt is folded away, but this extra size means it delivers a roomy running belt and sturdy base, allowing for comfortable, wobble-free runs. If you've got the space and want to upgrade your indoor miles, this is the machine for you. fitness-superstore.co.uk
specifications
MAX SPEED (MPH): 12.4
MAX INCLINE: 20%
MAX DECLINE: -5%
MOTOR (CHP): 3.5
RUNNING SURFACE:
56cm x 152cm
SCREEN:YES
APP: JRNY
FOLDABLE: YES
REQUIRES SELF­ASSEMBLY: NO
Peloton Tread Review
Best for motivation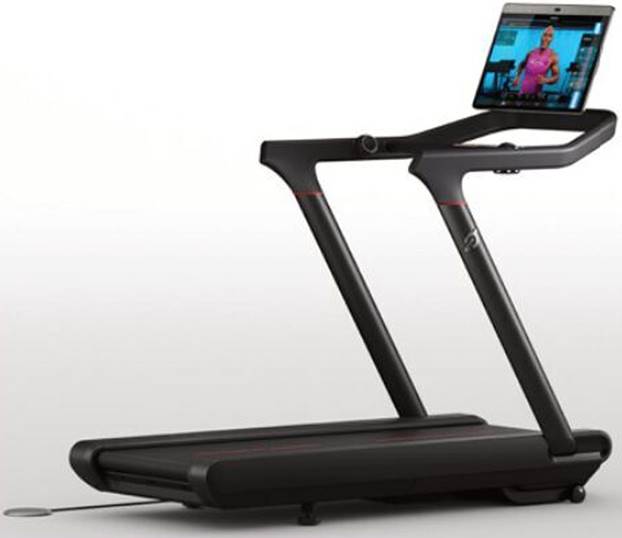 EASE OF USE: 9.3/10
DESIGN: 9.4/10
PERFORMANCE: 9.3/10
VALUE FOR MONEY: 7.6/10
OVERALL SCORE: 91.6/100
Treadmills take motivation­sapping short days, cold showers and chilly conditions out of the equation, but that's not the only way they can reignite your running mojo. This Peloton machine offers a plethora of instructor- led running sessions (as well as strength, yoga and even meditation classes for cross-training days) through the brand's app. Trainers beam through the bright touchscreen, providing a seemingly limitless supply of energy and guidance to help you through eachworkout. You can also see how fellow members of the Peloton clan have performed thanks to live leaderboards – something that quickly exposed our thinly veiled competitive streak.
The belt perfectly balanced bounce with firmness, allowing us to generate plenty of power with each stride while providing a comfortable amount of cushioning. Testers also raved about the easy-access adjustable speed and incline dials on the arms, rather than the usual buttons on the control panel.
The innovative tech and expansive app make the Peloton Tread a great option for getting you engaged with the indoor run experience. onepeloton.co.uk
specifications
MAX SPEED (MPH): 12.5
MAX INCLINE: 12.5%
MAX DECLINE: NONE
MOTOR (CHP): 3
RUNNING SURFACE: 50.8cm x 150cm
SCREEN:YES A
PP: THE PELOTON APP
FOLDABLE: NO
REQUIRES SELF­ASSEMBLY: NO
Echelon Stride Auto-Fold Connected Treadmill Review
BEST FOR SMALLER SPACES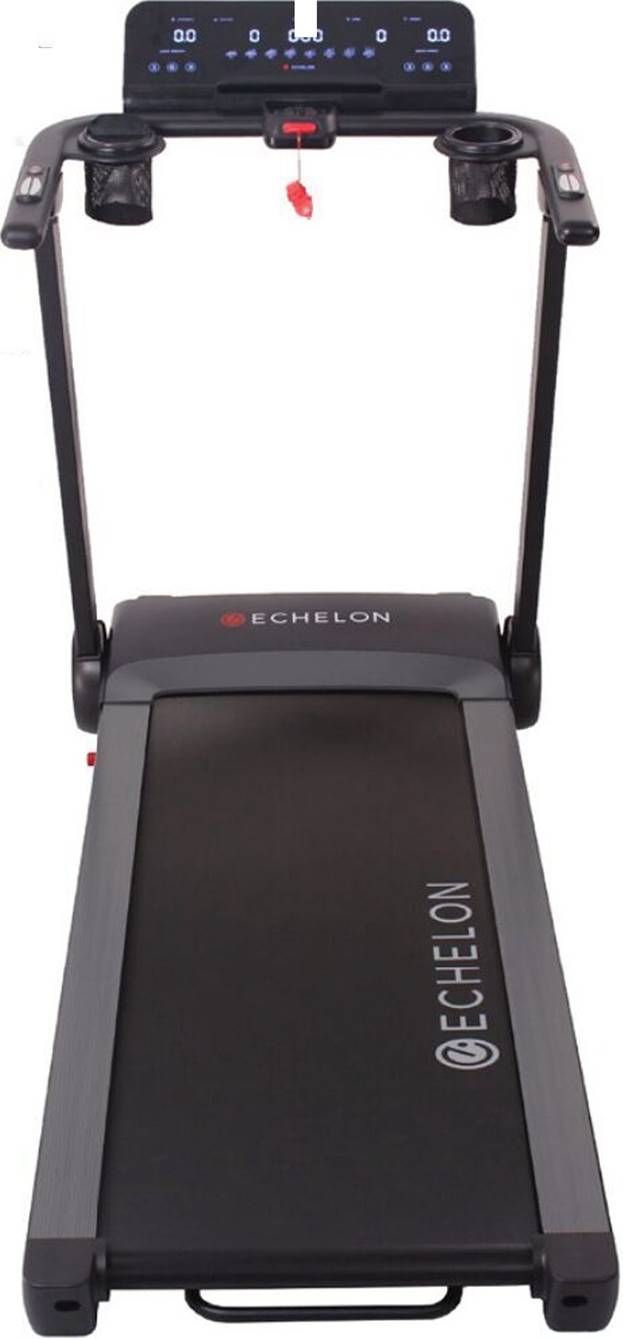 EASE OF USE: 8.6/10
DESIGN: 7.5/10
PERFORMANCE: 7.7/10
VALUE FOR MONEY: 5.6/10
OVERALL SCORE: 77.4/100
Short on space but still want a top treadmill? No problem. This machine is a fraction of the size of many of its rivals and folds away with the push of a lever, meaning it can be stored against a wall or under a bed. It saves additional space by not including an in-built screen. This needn't be seen as a weakness, however, as it can be connected to an iPad for access to the Echelon Fit app.
Though the tablet did cover the control panel, and some workout stats as a result, the app impressed our testers with its huge selection of workouts. Some more experienced runners commented that they would have liked more of a challenge than the 10% max incline could offer, but the compact design and substantial range of sessions via the app make this a good option if you're short on space and not looking for any steeper hill sessions.
echelonfit.uk
specification
MAX SPEED (MPH): 12
MAX INCLINE: 10%
MAX DECLINE: NONE
MOTOR (CHP): 1.75
RUNNING SURFACE:
50.8cm x 140cm SCREEN: NO
APP:
ECHELON FIT FOLDABLE: YES REQUIRES SELF­ASSEMBLY: NO
NordicTrack Commercial X32i Review
BEST FOR HILL RUNNERS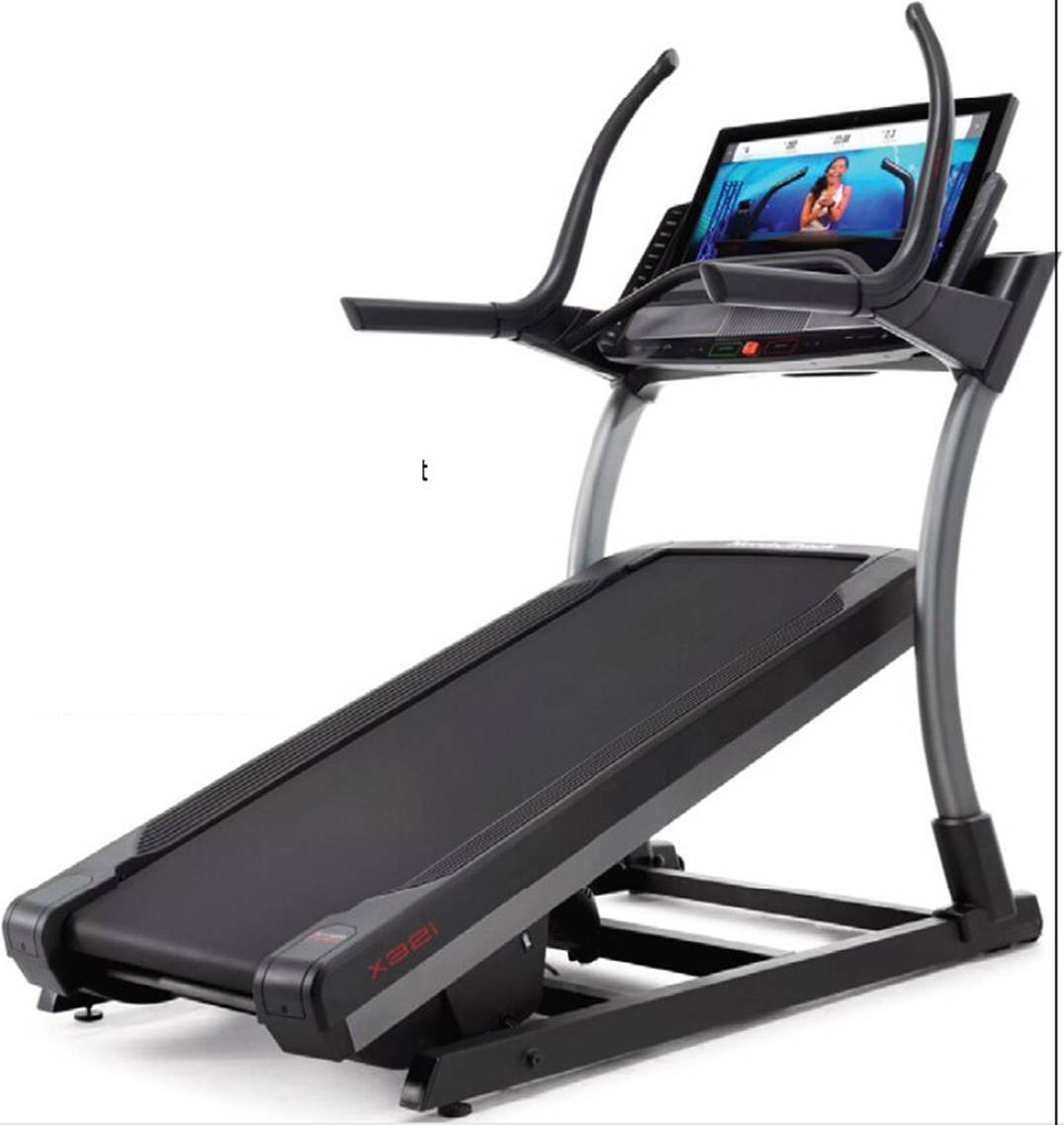 EASE OF USE: 6.4/10
DESIGN: 8.5/10
PERFORMANCE: 9.4/100
VALUE FOR MONEY: 6/10
OVERALL SCORE: 88.8/100
If you can't get to the mountain, bring the mountain to your living room (or spare bedroom, or garage). The NordicTrack offers an unmatched 40% maximum incline, which allows it to provide realistic virtual runs in the world's best hilly locations via the iFit app – we enjoyed our run in Hawaii.
If you fancy a change of pace, you can also stream on-demand studio classes. In some sessions, the machine is programmed to automatically adjust your speed and incline as you go, saving you from the usual toggling process and leaving you free to focus on your run.
There was zero wobbling at any speed, but the belt provided plenty of bounce underfoot. Speed and other stats are clearly displayed on the screen, too. On the downside, the touchscreen could've been more responsive and sometimes lagged, and you'll need plenty of space to fit this machine. But if you're after an immersive experience and the chance to take your hill sessions indoors, this is great. nordictrack.co.uk
specifications
MAX SPEED (MPH): 12
MAX INCLINE: 40%
MAX DECLINE: -6%
MOTOR (CHP): 4.25
RUNNING SURFACE: 55cm x 165cm
SCREEN:YES
APP: IFIT
FOLDABLE: NO
REQUIRES SELF ASSEMBLY: NO
Decathlon Domyos Compact Treadmill Run 100 Review
Best Value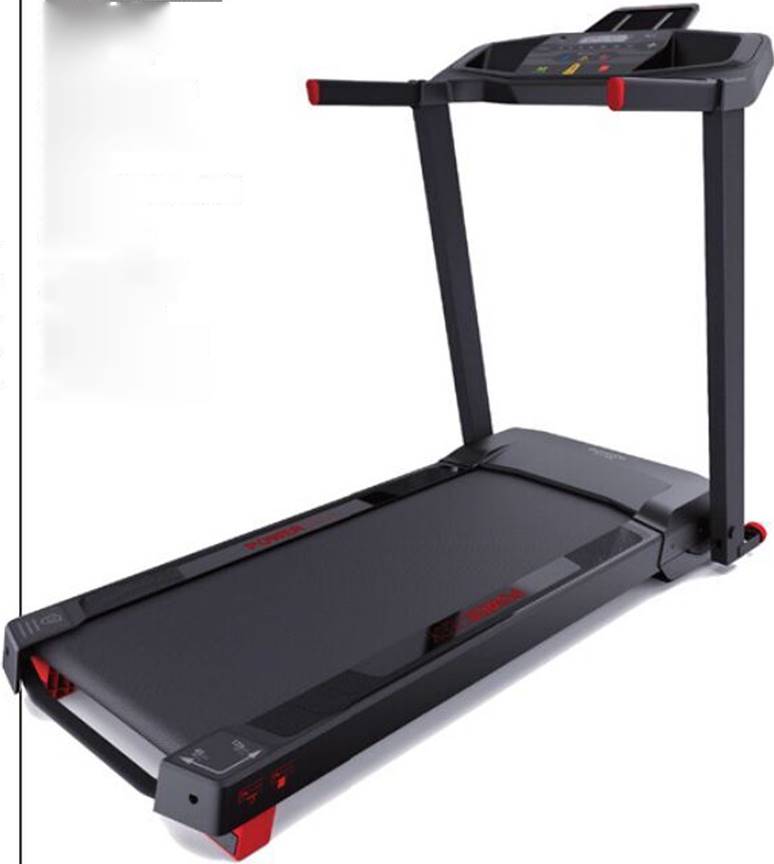 EASE OF USE: 8/10
DESIGN: 7/10
PERFORMANCE: 7.5/10
VALUE FOR MONEY: 8.8/10
OVERALL SCORE: 76.3/100
We love an innovative bit of kit here at RW, but sometimes there's a lot to be said for simplicity – and that's exactly what the Domyos delivers. It might not have the steep inclines, shiny touchscreen and fitness app connectivity of its competitors, but it still fills the primary function of a running machine impressively, allowing you to enjoy a good, stable run indoors. It also won't take up too much room and, most importantly, is a lot easier on the wallet than other tech-loaded models.
The absence of any digital gradient settings was a big miss (you have to lift the machine up by hand for a 3% incline) and larger testers said the smaller belt felt a tad cramped. Information displayed on the control panel is limited, though there are 30 preset interval programmes to work through. The belt moved smoothly and the frame stayed shake-free as our team racked up the miles, making this a great budget option for those happy to put in miles without too many technological bells and whistles. decathlon.co.uk
specifications
MAX SPEED (MPH): 8.7
MAX INCLINE: 3% (MANUAL)
MAX DECLINE: NONE
MOTOR (CHP): 1.25
RUNNING SURFACE: 45cm x 120cm
SCREEN: NO
APP: NONE
FOLDABLE: YES
REQUIRES SELF­ASSEMBLY: YES