SCORE: N/A • URL: WWW.NVIDIA.COM
CURRENT PRICE: GENERIC MODELS START AT $490
Landing in September of the year, selectingNVIDIA's GeForce GTX 970 was a tough call. It was an extremely tight race between NVIDIA and AMD for GPU of the year, as the Radeon R9 290X had a lot going for it.
Ultimately though I have to tip my hat to the GeForce GTX 970 for several reasons, and not all of them are sheer performance related.
In fact, AMD's R9 290X actually beats out the GTX 970 in several games. Not many though, even though AMD seemed to resolve the frame pacing issues that plagued its products in 2013. Overall the GTX 970 seems to be the faster card in the majority of games, but that's not the main reason it's taking out PC PowerPlay's top spot as Graphics Card of the year. It's NVIDIA's ongoing commitment to delivering value-added features that really make a difference that sees this chipset taking out the number one place.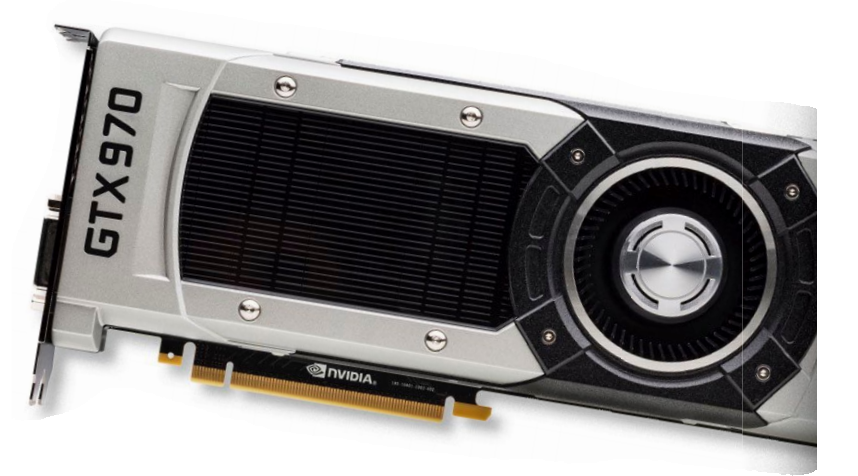 Anybody who has used NVIDIA's ShadowPlay game recording feature will attest to what a game changer this is. Able to suck down your gameplay videos at 60 frames per second in 1080p, while barely making a performance difference, ShadowPlay has become the preferred weapon of choice for Twitch streamers and those who just want to capture their glory moments. That's just one of the features supported by the GTX 970 – anybody who has played the Batman games with PhysX turned on will know just how good this proprietary technology looks. Admittedly it is much more of a drain on performance, but whacking in a second, slower NVIDIA card can help no end in this regard.
I wrote a tutorial about downsampling in 2014, where gamers with powerful graphics cards could render their games at higher resolution than their display, creating a level of antialiasing not often supported by today's DX11 games with their fancy post-processing.
Whelp, NVIDIA made that guide obsolete when it released the Dynamic Super Resolution feature, which makes downsampling an absolute breeze. The list of new features goes on, with the recent release of Multi Frame Anti Aliasing, a new technique for smoothing out jaggies without smashing framerates.
There's also the issue of temperatures.
Unlike AMD's insanely hot polygon burners, the GTX 970 range stays nice and cool, leading to a simpler, stable system. It also makes overclocking a tad simpler, as there's not so much heat to extract from the system.
So there you have it – if you're on the fence about which of 2014's GPUs to buy, anything based around the NVIDIA GeForce GTX 970 gets the official PC PowerPlay GPU of the Year Big Rubber Stamp of Approval.