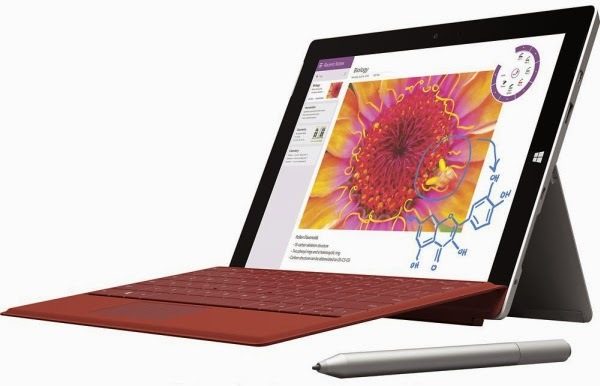 David Briddock investigates the new Surface 3 tablet and the demise of Windows RT
For decades, Microsoft has been viewed as a software-only organisation. It relied on other companies to create the hardware to host its operating systems, applications and development tools. Only occasionally did it reveal a Microsoft-branded mouse or other computer accessory.
Today, things are very different. It has decided to push the boundaries of hardware technology by exploiting innovations from its Microsoft Research Labs to build a range of industry-leading products. Examples include the Kinect gaming technology, the upcoming HoloLens augmented-reality headsets, the health and fitness multi-sensor Microsoft Band and its Surface range of Windows tablet/laptop devices.
The launch of the Surface Pro 3 range in 2014, the third incarnation of the Surface platform, pushed all the right buttons for many consumers. As a result, sales soared and devices simply flew off the shelves, causing shortages in quite a few countries on more than one occasion.
Yet despite being a worldwide success story, the Surface Pro 3 models are generally viewed as high-end consumer tablets. Even with recent discounts, the entry-level Service Pro 3, plus another for the type cover.Not everyone is able or willing to pay this premium tablet price, despite the Pro's power and flexibility – especially when there are a selection of competitively priced Windows tablets to choose from.
Microsoft is, of course, well aware of this problem. After all, this is the market the now discontinued Surface RT models were supposed to capture (more on this subject later). But now there's an all new member of the Surface family.
At the beginning of April, Microsoft announced the Surface 3, its new entry point device to compliment the Pro 3 range.The case is made from the same strong magnesium alloy. It has a high-resolution touchscreen, 8MP rear-facing and 3.2MP front-facing cameras, a full-size USB 3.0 port, a Mini DisplayPort, a micro-SD card reader, a raft of sensors and a ten-hour battery. Wireless communication includes wi-fi 802.11 a/b/g/n/ ac, plus Bluetooth 4.0, and there's even a SIM-enabled 4G LTE version.So how has Microsoft been able to undercut the prices of the Pro 3 models?
Firstly, it has a fan-less quad-core 1,6GHz Intel Atom x7 processor rather than a faster but more expensive Intel Core processor. Even so, this is a high-performance Atom processor with a 2.4GHz turbo boost mode and advanced power management. Most importantly, with Intel inside, a Surface 3 runs the full version of Windows 8.1 plus every existing and upcoming Windows application, tool or utility.
Secondly, the screen is smaller, at 10.8 inches as opposed to the Pro's 12 inches, although the 1920 x 1280 resolution means it retains the 3:2 aspect ratio.The fan-less Atom chip and smaller screen means the device is thinner (8.7mm) and lighter (622g) than a Pro 3, yet it's still a rather thick package. Microsoft say this is down to the full-sized USB 3.0 socket, which is huge compared with a micro-USB or the new USB-C.As for storage, there's a base 64GB SSD plus 2GB RAM model or a 128GB SSD and 4GB RAM option.
Other differences include a three-position stand, rather than the fully adjustable one on the Pro. There's a selection of type cover colors, but now the stylus also comes in four colors. However, the stylus is now a optional extra, but you'll need one to get the most from Microsoft's OneNote, Adobe's Photoshop and Illustrator or the StaffPad music composition app.
As we've seen, the Surface 3 runs the full version of Windows, yet you may recall Microsoft's previous entry-level Surface devices ran something called Windows RT. This is because the Surface RT devices used a lower-cost ARM chip rather than an x86-compatible Intel processor.
However, the problem with Windows RT apps is that they have to be recompiled specifically for the ARM platform. And, in the end, not enough of these RT-flavor apps became available, so despite a significant cost advantage, a Surface RT consumer ended up with a far less practical computing device.
With the introduction of the Surface 3, we can be assured the Windows RT experiment is over. This particular operating system is now obsolete – a direction many observers predicted when Microsoft announced a trade-in deal for older Surface RT and Surface Pro models.
Now it's Windows 8.1 for everyone, with a free upgrade to Windows 10 when it appears later this year.
The Surface 3 just like the Surface Pro models, the type cover keyboard is not included, but this time the stylus isn't included either. Buy both and you'll need to reach into your pocket.
But remember, the Surface 3 is able to run the full version of 64-bit Windows and any Windows-compatible application. With a type cover, it becomes an affordable and lightweight alternative to a laptop. And it's far more flexible than a similarly priced Apple iPad.Even better, the release of Windows 10 isn't far away. Not only can Surface 3 owners upgrade for free, but Windows 10 will have Microsoft Office pre-installed, the Cortana personal assistant, the new Spartan web browser, Xbox gaming and much more.In addition. Surface 3 owners receive a free one-year subscription to Office 365 Personal (including full versions of Word, Excel, PowerPoint, Outlook and OneNote), as well as an impressive 1TB of OneDrive storage. There are a few useful pre-installed apps too, like Drawboard PDF.One of the key questions is whether Microsoft will offer a student discount. This would certainly help educational establishments and parents seeking to equip their offspring with a flexible and powerful computing platform – although they'll still need to purchase a type cover and stylus.
The Surface 3 start shipping on 5th May and will be available in 26 markets just a few days later. However, go to a Microsoft Store today and you can try the Surface 3 for yourself. And if you like what you see, you can pre-order on the microsoftstore.com website or via selected retailers.Will the Surface 3 be a success? For some the price may still be a little high, but taken as a total package it offers value for money. Plus it's a far more flexible option than a similarly priced Apple iPad.
So it looks as if it could perhaps sell well. And when Black Friday comes around this year, you'll probably be able to purchase a Surface 3 with bundled stylus and type cover.