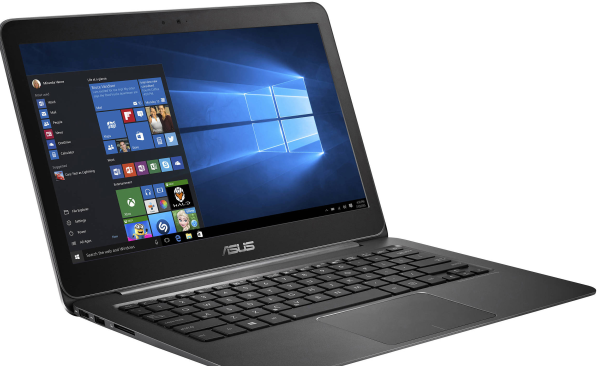 An excellent Windows 10 laptop
Asus' ZenBook UX305 was one of our favorite laptops of 2015, and now it's been updated to make it even better. The choice of finishes – Obsidian (black), Aurora (silver) or Ceramic (white) – and a minimalist metal chassis unspoilt by clunky plastic panels give it the appearance of a far more expensive laptop.
This upmarket feel isn't just skin deep. Thanks to a processor from Intel's latest M series (which generates less heat than its predecessors), the UX305CA doesn't require a fan to expel hot air. This not only means it has one less mechanical component that can go wrong, but it also means you can work in complete silence.
That's partly because the M3-6Y30 processor dawdles along at 0.9GHz, but rattles along at 2.2GHz when required, running Windows 10 as quickly as the more conventional i3 processor. Having said that, this new model barely kept up with its predecessor in our speed tests – possibly because it was trying to avoid overheating. Therefore, you should probably look elsewhere if you have video editing or game playing in mind, but it feels entirely comfortable as a general purpose laptop. A higher-spec version comes with a more powerful M5 processor 128GB isn't a huge amount of storage, but the SSD loads and saves files, and switches between programs much quicker than a traditional hard drive. If you need more room, make use of the SD card slot; it won't work as fast, but means you can get another 128GB. Alternatively, use the slot to transfer files from other devices, such as your camera, without the need for USB cables.
If you do need wired accessories, there are three fast USB 3.0 ports (of the standard variety rather than the new Type-C version). The only output for a second screen is a flimsy MicroHDMI, and there's no Ethernet unless you add an adapter, but the latest 802.11ac Wi-Fi is built in.
Where the UX305CA comes into its own is its screen. It's the perfect size – 13.3 inches – making the laptop small enough to carry, but large enough to see what you're doing – and has an incredible 3200×1800 pixels. Using Windows 10's scaling options, the extra resolution makes everything sharper rather than smaller. If your eyes are up to it, you'll find you can fit more on your screen; if not, appreciate the crispness.
Comparisons with Apple's laptops are inevitable. Despite some similarities with the 12in MacBook, including the M-series processor and non-touch high-resolution screen, the ZenBook is a bigger machine, so it's not quite a direct rival. Even so, we can't help noticing that the cheapest 12in MacBook, costs nearly twice as much. The 13in MacBook Air, nearer the UX305CA's size, has a more powerful i5 processor, but starts for 8GB of memory and 128GB of storage with a relatively coarse standard-resolution display.
These expensive prices make the UX305CA the much better deal, and because it's also a pleasure to use, it earns our highest recommendation.
VERDICT
Keep in mind that it's not a high performer, but for everyday tasks this is a better laptop than it has any right to be for the money.
SPECIFICATIONS
0.9GHz Intel M3-6Y30 dual-core processor • 8GB memory • 128GB flash storage • 13.3in 3200×1800-pixel screen • Webcam • 802.11ac Wi-Fi • Bluetooth 4.0 • 3x USB 3.0 ports • MicroHDMI port • SD card reader • Windows 10 Home • 12.3x324x226mm (HxWxD) • 1.2kg • One-year warranty.