VERDICT
The Aorus X3 Plus is a light and very desirable gaming laptop with a gorgeous high-res screen and a high price.
THE X3 PLUS is a light, thin 14in laptop with a specification that will excite even the most nonchalant gamer. With an Nvidia GeForce GTX 870M graphics chip, high-performance mSATA storage and a powerful processor inside, it's a highly desirable laptop.
The chassis looks and feels like a high-quality piece of engineering, with spaceship-style vents at the rear and a slightly curved matt-black metal lid that gives it an understated style. The X3 Plus is portable for a gaming laptop, too, weighing just 1.8kg and with a height of 22.9mm when closed.
The backlit keyboard is pleasant to use, although it rattles quite a lot. Like Aorus's X7, the X3 Plus has a column of five macro keys down the left-hand side of the keyboard and a sixth G button at the top that lets you switch between five banks of macros, giving you access to 25 macros in total. The G button's backlight changes colour when you switch banks, so you can see which you're using.
BUTTON UP
The touchpad uses integrated buttons but only the very bottom of the pad clicks, which may take some getting used to. Unfortunately, important gestures such as two-finger scrolling are hobbled by the fact that they don't work in the bottom quarter of the touchpad where the mouse buttons are.
The X3 Plus's built-in Wi-Fi adaptor is compatible with the 802.11ac Wi-Fi standard, so you can enjoy higher Wi-Fi speeds when connected to an 802.11ac router. It will, of course, work with 802.11n routers too.
For storage the laptop has two 256GB mSATA SSDs that are configured in RAID 0 to provide 512GB.
That may be enough storage for many users, but you'll soon fill it if you have lots of games, music, video and so on.
Powering the X3 Plus is a quad-core 2.4GHz Intel Core i7-4860HQ processor.
This powerful chip uses Hyper-Threading to create a virtual core for each physical core performance. The chip can also Turbo Boost to 3.6GHz when cool enough. To keep the temperature down, however, the laptop sucks in and expels air at a rapid rate, and the X3 Plus's rear-facing exhaust fans became particularly loud whenever the machine was under moderate load. They're not as loud as the X7's fans, but then the XT's are in a league for their own for noise. In High Performance mode, the X3 Plus was consistently warm, even when idle. It didn't become uncomfortably hot, though, and when running less intensive programs such as a web browser or word processor the fans remained very quiet.
In our PC benchmarks the X3 Plus achieved an excellent score of 98 overall, which is just two points off our desktop Core i5-3570K-based reference PC. It performed particularly well in the multitasking test, where it scored 103, so it will handle multimedia tasks with ease.
SPOT ON
The X3's gorgeous IPS screen has a massive 3,200×1,800 resolution. Our calibrator showed that the screen displays 94.1 per cent of the sRGB color gamut, and even the most vibrant colors showed a high degree of accuracy. This and its 1,429:1 contrast ratio in a high level of detail in even the most challenging images, games and videos. It's very bright, too, at 404cd/m2, so you may want to turn it down a little As is common with high-resolution displays on small devices, some Windows 8 applications struggle to scale appropriately. However, scaling is gradually becoming less of an issue as app developers update their software. Some popular applications still appear tiny, but at least Google Chrome can now handle high-resolution displays, for example.
A significant benefit of the X3 Plus's high resolution is that you can run 3D games beyond Full HD, but this is a challenge for the Nvidia GeForce GTX 870M graphics chip. Dirt Showdown, for example, ran at a smooth 50.1fps with Ultra detail at 1,920×1,080, but at 3,200×1,800, the frame rate dropped to a jerky 25.8fps. Reducing the graphics quality to High at the same 3,200×1,800 resolution hugely improved the frame rate, raising it to an excellent 62fps. However, the small screen makes the difference between Full HD and 3,200×1,800 almost undetectable, so we'd stick with smoother visuals at Full HD.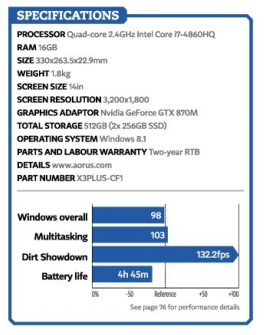 Battery life was impressive for a gaming machine. The X3 Plus lasted for four hours and 45 minutes in our new, tougher tests.
Aorus's X3 Plus is a technical marvel, with a great screen and superb performance. If you can't afford the price, however, look at the Chillblast Defiant 2 Mini. It has good mid-range gaming performance and is much cheaper.
Intel Core i7 2.6 GHz
16 GB
512 GB Solid-State Drive
13.9-Inch Screen
Last update was on: 2017-05-20 3:41 am